Ohio Gov. Mike DeWine announced an order to require the use of face masks throughout seven counties, including Cuyahoga County, effective at 6 p.m. July 8.
The other counties included are Butler, Franklin, Hamilton, Huron, Montgomery and Trumbull counties.
The Ohio Department of Health issued the order. The decision came after speaking with health commissioners in the seven Ohio counties at a red level as indicated in the Ohio Public Health Advisory System.
Those commissioners told DeWine the virus is spreading out of family gathering, tourist destinations, funerals, churches and some workplaces.
DeWine noted the increasing hospitalizations, ICU admissions and deaths from the coronavirus were concerning.
The order will stay in effect as long as these counties are in a red level or if they increase to the purple alert level. If the counties drop to a level two, then the requirement will drop off.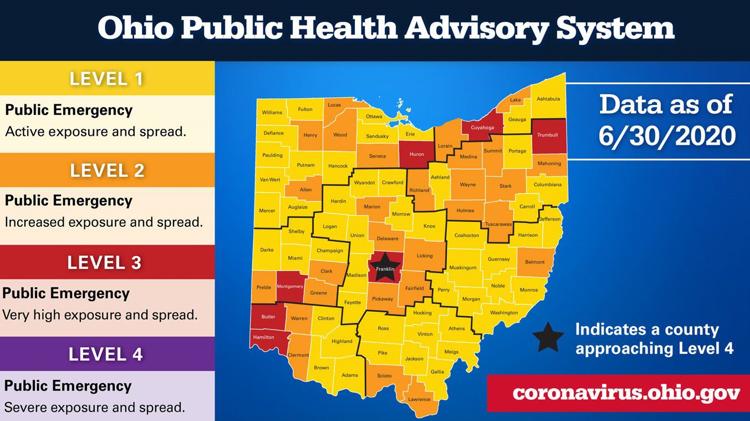 In these red counties, DeWine said people will be required to wear masks in the following circumstances: When they are in any indoor location that is not a residence; when they are outdoors and are not consistently able to maintain a distance of six feet or more from individuals who are not members of their household; or while they are waiting for or riding, driving or operating public transportation, taxi, private car service or a ride-sharing vehicle.
People who violate this order can be punished with a misdemeanor, DeWine said. Local authorities will enforce it.
"This is the norm, this is what is needed for Ohioans to stay safe," DeWine said. "If we are not able to successfully do this and carry this out, we're going to see this virus take command again and that is not a situation we would want."
This order does not apply to children under the age of 10 or any minor or person who cannot safely wear a face covering.
This order does not supersede any guidelines issued for schools.
The order also reflects the mask guidance that has existed for employees and businesses under their health and safety guidelines, which does not require a person to wear a mask if their physician advises against it, if wearing a mask is prohibited by federal regulation, if communicating with the hearing impaired, when alone in your office or personal workplace and other similar measures.
"These orders really go hand-in-hand with what experts have been telling us," DeWine said.
Face masks have previously been required in some Ohio cities, including Beachwood, Cleveland and Columbus. 
Lt. Gov. Jon Husted said it is not up to business to enforce this on their customers.
"This is up to state and local officials to enforce this but it is up to the business to comply and encourage compliance with these rules," he said.
On a short-term basis, the Ohio Department of Health has issued an order for allowing contact and non-contact competition to resume for all sports, Husted said, if teams agree to all of the guidelines in the order.
Those guidelines include:
Testing of all players, coaches, athletic trainers, support staff and officials before travel and competition.
Daily symptom assessments.
Athletic trainers must wear a face covering while attending to a player.
Coaches and officials are strongly recommended to wear a face covering when possible.
Strict social distancing by players who are not actively engaged in practice or competition.
Immediate isolation and medical care for a participant who develops symptoms.
Players will not have to wear a mask when playing.
Husted said the order was intended for sports camps that were already scheduled and to accommodate the ESPN basketball tournament.
"It's basically a one-week window that allows these things to occur," he said. "In doing so, we hope to learn from what happens and how they do this to make sure that it can be done well and safely. We fully intend to give more guidance at the end of this on what we intend to do with sports."
Ohio has 58,904 total cases of COVID-19 and 2,970 total deaths, the Ohio Department of Health reported July 7.  
The total number of individuals who have been tested in Ohio is 892,731. 
The ODH reports 8,383 individuals have been hospitalized, and 2,101 have been admitted to the ICU due to the coronavirus.
The individuals who have tested positive range in age from less than 1 year old to 109 years old, with a median age of 45.
Cuyahoga County accounts for 8,048 of the cases, 1,612 hospitalizations and 379 deaths.
If you have questions regarding COVID-19, call 833-4ASKODH (833-427-5634) or visit coronavirus.ohio.gov.