BEXLEY – Ohio Gov. Mike DeWine and Chabad Columbus Rabbi Areyah Kaltmann may have stood together to honor Jewish culture and heritage at a menorah lighting Dec. 23 at the governor's residence, but the journey to that day started more than 70 years ago with the bravery of their fathers.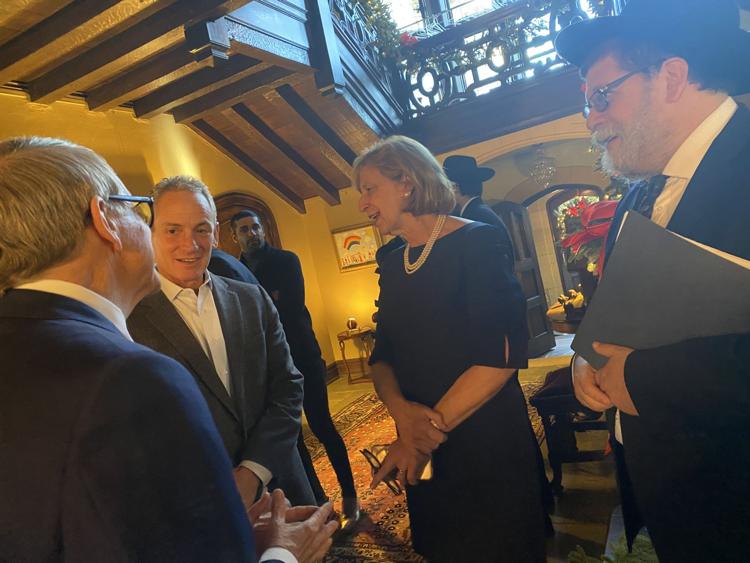 In spring 1945, Pvt. Richard DeWine, the governor's father, was a soldier in the U.S. Army's 103rd Infantry Division that arrived at the newly liberated Dachau concentration camp in Germany. He later returned to America to raise a family, and while he seldom spoke about his time at war, DeWine told his children he would never forget what he had seen in Dachau.
That same spring in 1945, about 300 miles north of Dachau in Halberstadt, Germany, Yossi Kaltmann, the rabbi's father, was a 17-year-old Jewish prisoner who was rescued from a concentration camp by the 9th Armored Tank Division. He also made his way to America and raised a family.
A little over two weeks ago, on an unseasonably warm and sunny afternoon, the governor and the rabbi met to perform a special mitzvah: lighting a menorah and celebrating Chanukah.
More than 70 people, including first lady Frances DeWine, Lt. Gov. Jon Husted, New Albany City Council member Marlene Brisk and 40 rabbis from throughout Ohio gathered in the Parkview Avenue home's ornate foyer. In a nearby parlor festooned with lighted garland, a tree and poinsettias, a silver menorah stood atop the grand piano.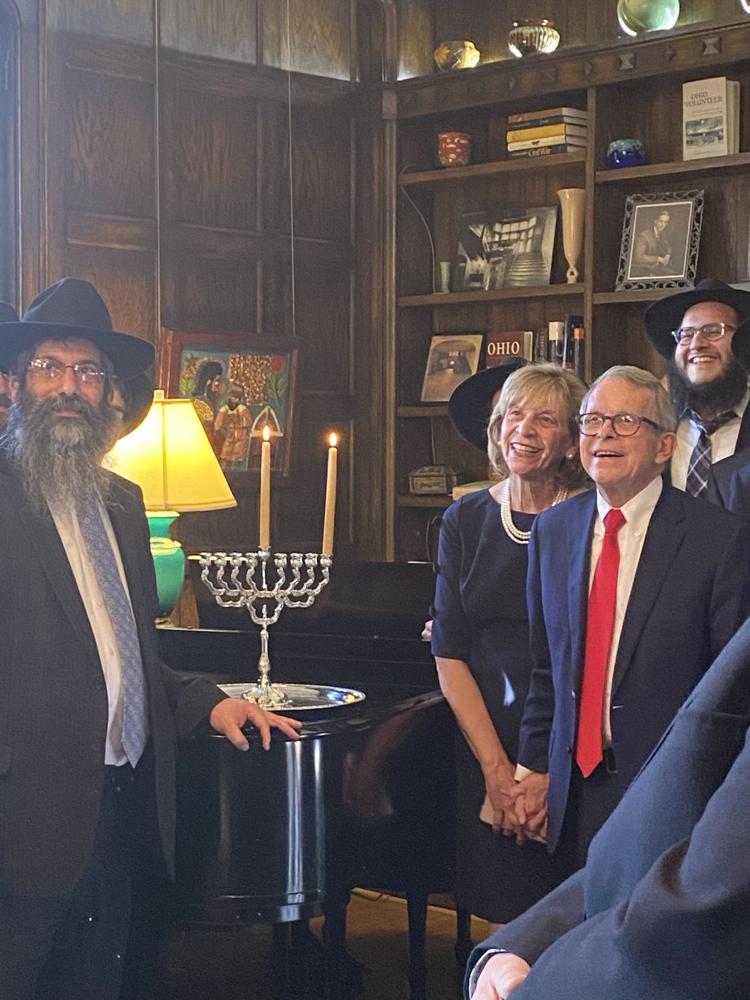 It's unknown how many years it has been since a lighted menorah became part of the official residence's holiday decor, but DeWine, who is Roman Catholic, said adding the menorah to the holiday seasonal celebration is important because understanding and respecting different religions is a way to build community.
"This is an opportunity for us to have members of the Jewish faith in our home, to be together," DeWine said. "When you can break bread together and be together, it's important. And there is no better time than the holidays."
Also in attendance were Ohio Rep. Dave Greenspan, R-Westlake, Ohio Rep. Casey Weinstein, D-Hudson, and Howie Beigelman, executive director of Ohio Jewish Communities.
"I think it's amazing that the governor and the community show this level of support to the Jewish community," Brisk said.
DeWine added that including Jewish traditions and embracing Jewish culture in Ohio is one way he can speak out against anti-Semitism.
"As governor, I am concerned with the anti-Semitic actions and the hate crimes we are seeing in the country and the violence. Anytime I have a chance to denounce that, I think it's important," he said. "It certainly is very concerning, and it should concern all Americans, no matter what their faith is. "
Before the gathered guests, Kaltmann shared the wartime stories of his father and the governor's father. He thanked those in attendance and expressed appreciation to DeWine and Husted for being friends of the Jewish communities across the state.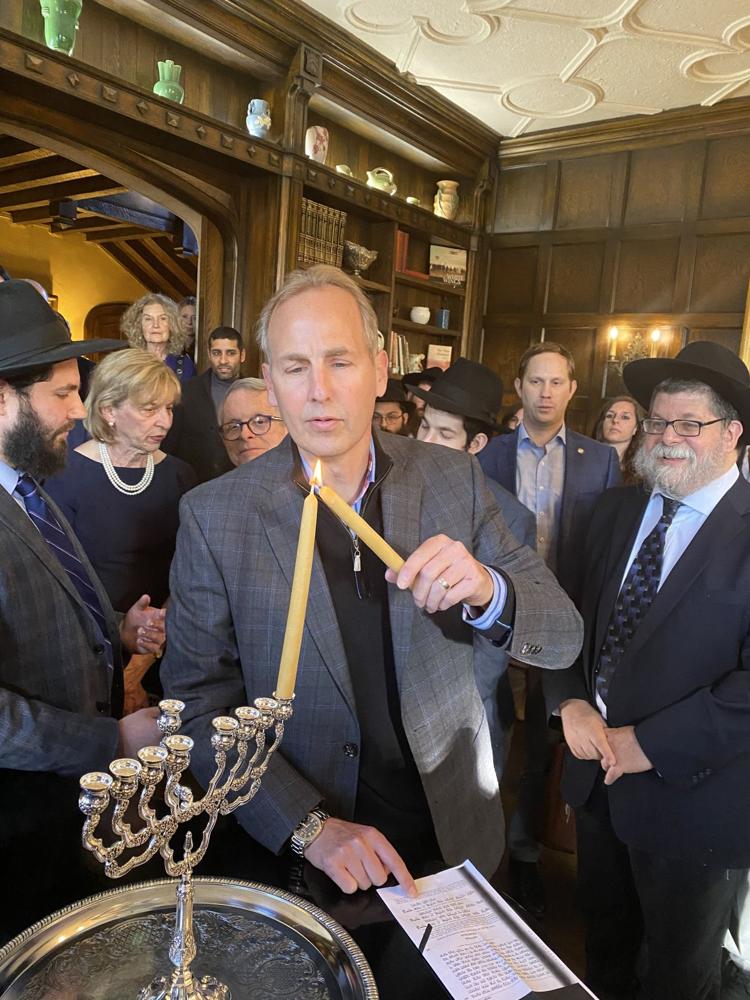 "Thank you, governor, for being our shamash, the main candle on our menorah, who lights up millions of Ohioans with hope, strength and the courage to banish darkness and bring redemption to our world," Kaltmann said.
During the ceremony, the governor lit the shamash candle, then Chabad Center president Eric Rubin said the blessing and lit the first candle.