Two days after the Greater Cleveland Food Bank broke ground for a community food distribution center, its president and CEO accepted the Isaiah Award for Human Relations from AJC Cleveland.
In introducing Kristin Warzocha, David Hexter, AJC's Isaiah committee chair, spoke of the extraordinary challenges posed by COVID-19 in the past year.
"The 2020 Isaiah Award for Human Relations recognizes an organization that exhibited dedication, attention and commitment to the Greater Cleveland community before, throughout and beyond this pandemic," Hexter said. "We have been amazed by the way in which the Greater Cleveland Food Bank adapted so quickly to the growing needs of the Cleveland community."
Hexter said the food bank distributed 47 million pounds of food to more than 350,000 people in 2019 in what he called a typical year.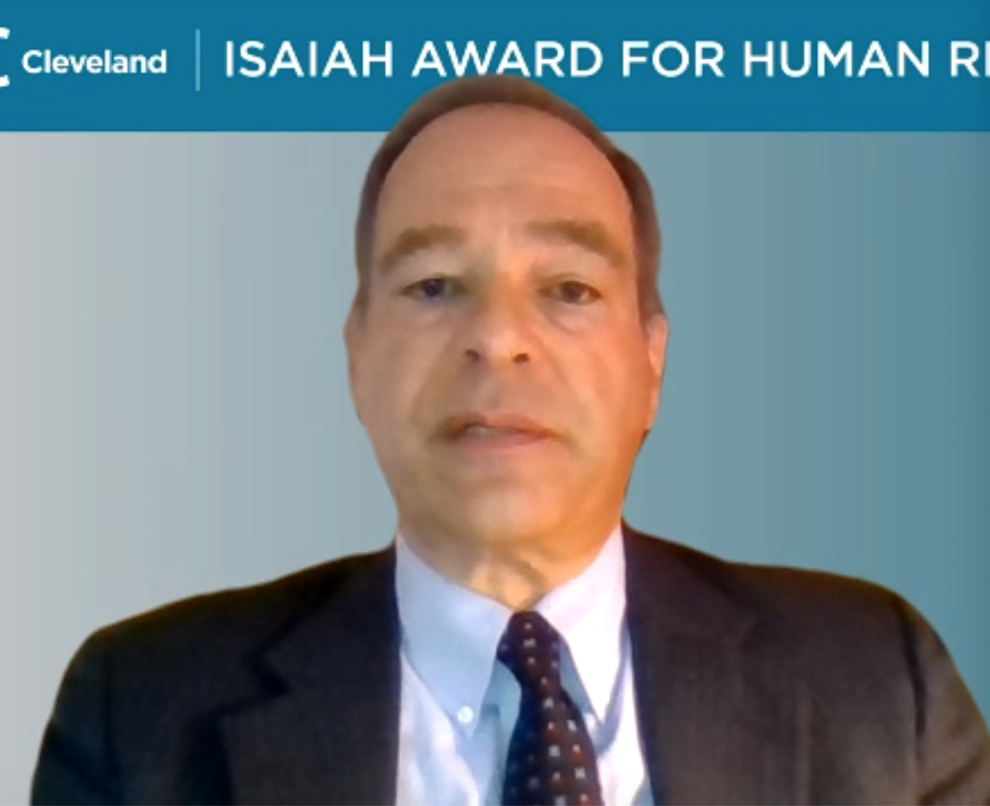 "2020 was not typical," he said, adding the staff and volunteers had to figure out how to distribute an additional 9 million pounds of food to 62,000 new households, "much of the increase due to COVID-19."
As businesses closed at the beginning of Ohio's shutdown in March 2020, the demand for food went up and 1,400 volunteers called in to cancel their commitment. While 21,000 volunteers typically volunteer to help distribute food, in 2020 the number was cut in half as a result of the pandemic, Hexter said. In addition, meals sites and food pantries closed as a result of the pandemic restrictions. Meanwhile, food donations from grocery stores and others were down 50%, he said.
The food bank offered drive-through pickup at its Cleveland facility. In the second week, 1,600 families came clogging city streets. A municipal lot was used, and the number of families served peaked at 3,600.
Today, he said, the average is 2,500 families, with cars lining up at 9 a.m. for 1 p.m. distribution, and the Ohio National Guard has and continues to assist, with 49 full-time guardspeople assisting at the drive-through and making deliveries to individuals.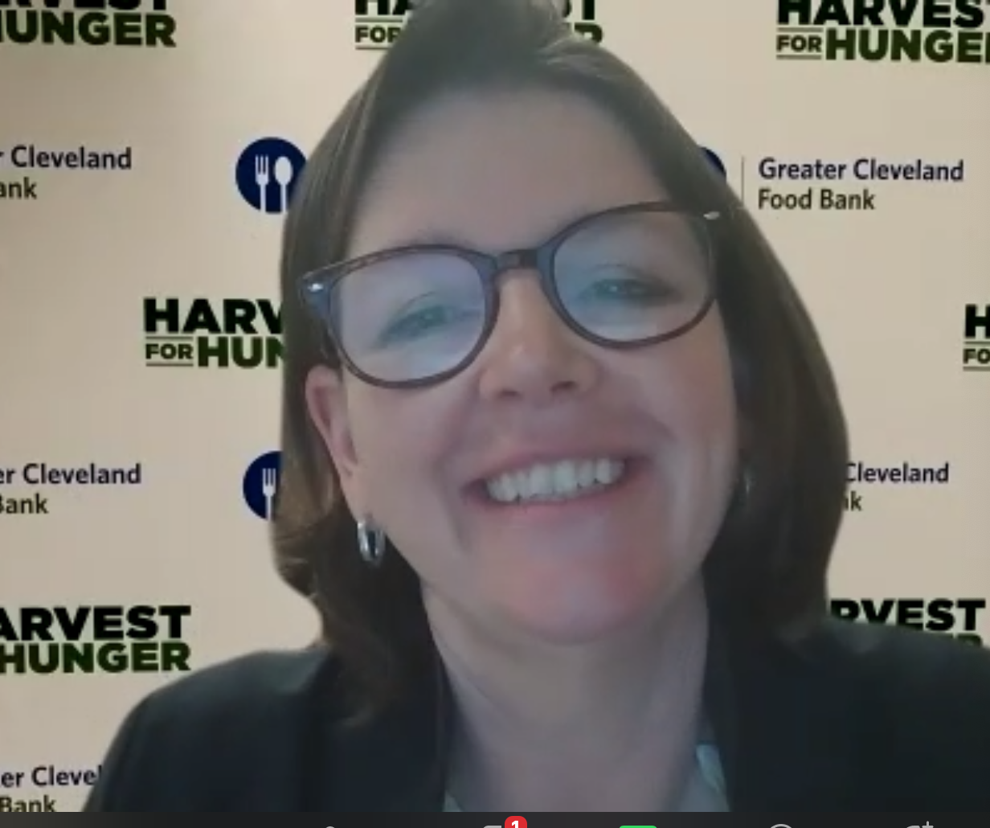 "The economic issues caused by COVID have made our challenges even worse," Warzocha told the more than 100 attendees who were on the call for the virtual ceremony. "Now one in six people are food insecure not knowing where their next meal will be coming from. Sadly Cleveland has the highest poverty rate of any large city of the U.S. and more than one in four senior citizens in the Cleveland area are at risk for hunger."
Warzocha spoke of the demographics of the poor.
"The fact is the people hit hardest by this pandemic are women, people of color, and low-wage workers, constituencies we have been serving for years. A person of color is more than twice as likely to be food insecure. That's unacceptable."
Lee C. Shapiro, regional director of AJC Cleveland, led a keynote discussion called "Building Bridges, Strengthening Community" with Margaret Mitchell, president and CEO of the YWCA of Greater Cleveland, and Marsha Mockabee, president and CEO of the Urban League of Greater Cleveland.
They discussed building allies, structural racism and keys to change.
"One of the things that just amazed me – at least me, I would have never guessed this would have happened – but we closed our doors at the Urban League of Greater Cleveland March 18, 2020, we went strictly to a technological platform of delivering all of our services," Mockabee said. "I have never guessed that would have been possible. The outcome has been, we are serving two to three times the number of individuals on the virtual platform than we were serving with the doors open face to face."
She said the Urban League now has a new model of capacity building, and that giving has been at a record high.
Attendee Anne Meyers spoke of her own admitted ignorance on certain race issues.
"I can tell you how many of my friends of color were shocked that I didn't know anything about Juneteenth," she said, referring to the June 19 commemoration of the emancipation from slavery. "The whole idea of caste and racism is not something that many of us who are relatively deep thinkers I think have ever connected."
Referring to the AJC's report on anti-Semitism, Shapiro added that she believed Jews were surprised "about the disconnect between how we feel about anti-Semitism and how the general community does, and how little is known."
Mitchell said, "The dominant culture gets to control the narrative," adding that one way to think about eradicating racism is to think about it as an arc, with the 'A' standing for acknowledgment and addressing the issue on the individual basis, the 'R' stands for redressing on the organizational level. The 'C', she said stands for commitment and continuous improvement.
"The redress sometimes has to be bold in order to shake up what has always been," Mitchell said.
She said she has done a lot of reading about the redress and reparations following the Holocaust.
"After there have been spikes, you also see the ability to jump on and ensure that anti-Semitism is rare and brief, rare and brief," Mitchell said. "This is the work of AJC and so many organizations. And so it creates an incredible model for us to think about how we want to think about anti-blackness."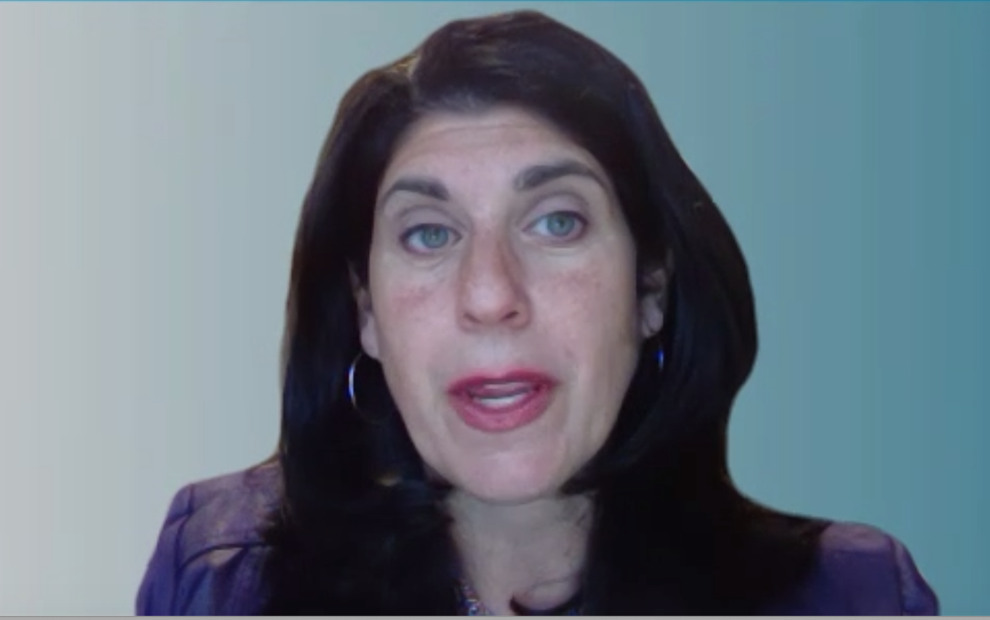 In her introduction, Rachel Uram, AJC Cleveland president, spoke of AJC's mission to change policies.
"While there is much darkness recently, there is also much hope," she said. "Working with partners like many of you, we continue to raise our collective voice, affect today's discourse, create better understandings and drive change. By doing so, we can make our world a little bit better, a little more just, a little more at peace."
---
Publisher's Note: Gregg A. Levine is a member of the Cleveland Jewish Publication Company Board of Directors.