David Gregory, a CNN political analyst, was sitting in the office of then-President George W. Bush when he was asked by the president a rather surprising and arresting question that made Gregory aware of the Jewish journey he already started.
"He said, 'Gregory, how's your faith?'" he recalled in Bush's infamous accent during an appearance at Park Synagogue Main in Cleveland Heights. "My initial instinct was, 'How's my faith? None of your damn business how my faith is.' But that's not really how I felt. By then I was thinking a lot about that question."
The question would become the title of Gregory's latest book focused on his journey, which he spoke about  during the Park150's speaker forum Oct. 18. As an adult with a family and success in his journalistic career as a White House correspondent and later as  host of NBC's "Meet the Press," he was beginning to challenge himself to ask the larger questions about what mattered to him. 
He began studying Torah and lighting Shabbat candles that would later lead to a "full-fledged Shabbat dinner." Coming from being a 15-year-old boy with an alcoholic mother, absent father and lack of community or faith in God, he started praying and opening his heart to God. By doing this, he was able to rekindle his relationship with his father before his death. When he was fired from "Meet the Press" in 2014 after six years at the helm, he leaned on his faith.
"President Bush's question struck me then and now as probably the most important question I have ever been asked or to ever ask of anyone else," he said.  
His talk, a nod to Park's former forum series held from the mid-1960s to mid-1980s, came two weeks before the midterm election, but lacked any prediction of who might win. Instead, he offered a darker view of American politics. 
"Both sides are selling fear of the other to get their people to the polls," he said. "Like any self-respecting journalist, I'm no longer in the prediction business; that hasn't gone so well. But I feel safe, unfortunately, predicting that we are mired now and I think we'll remain in political muck. Political affiliation has become not just a statement of what you believe government should do or shouldn't do, it's become a declaration of what kind of person you are and the media – I have to say -– isn't helping." 
He sees media as something that is forcing people to take sides and major news organizations seem to have a political base to satisfy, rather than an audience to inform. Viewers have the ability to tailor what they watch or read, and much of it, he said, is hindering the ability to understand each other. He called for a return of our best selves through spiritual citizenship, which asks to live through values, something that can be used when talking about politics in the public square.   
His relationship with Israel is complicated. His wife is Protestant and he has raised three Jewish children in the Reform movement. Israel matters for what it stands for, he said, and he claims to be a dedicated Zionist, but he doesn't feel that Israel loves him back as he isn't recognized as a Jew because his mother isn't Jewish.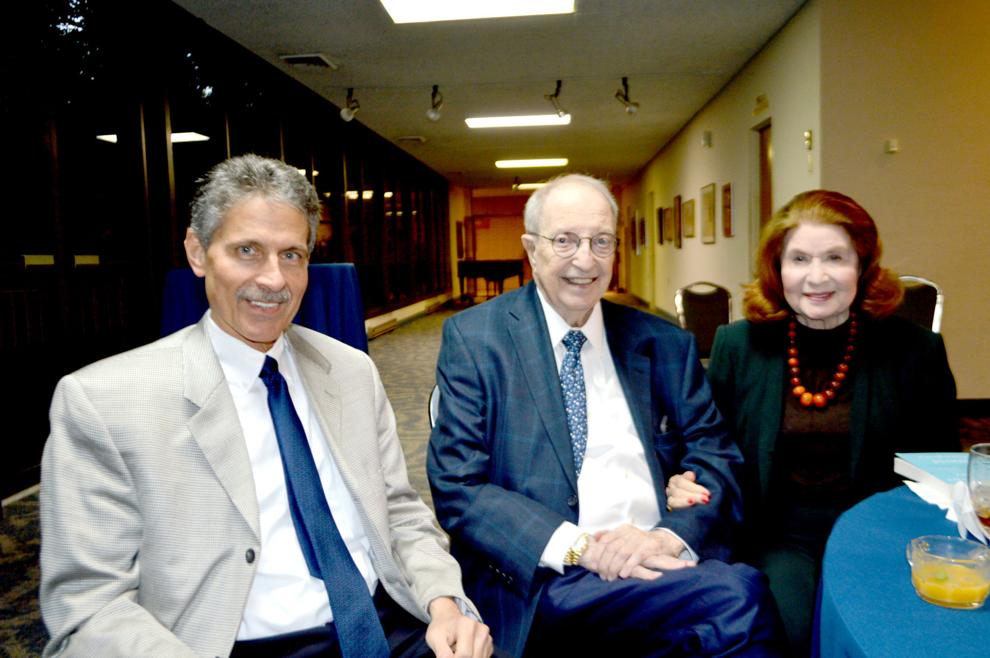 "The outgoing head of The Jewish Agency, Natan Sharansky, told The Times of Israel that religious leaders in Israel see the Reform movement as a cult," he said. "They think we are a part of a cult. Is a family like mine part of the problem or part of the solution? I don't know. I would love to have Jewish grandchildren. Will it happen? I don't know. ... But I am doing my best. I pray, I study, I seek to understand what it means to be Jewish in a meaningful and relative way." 
After the talk, Rabbi Joshua Skoff of Park Synagogue said it can be healthy to hear of someone else's journey as it can be a way to understand the person.
"When you go through a journey, it means you evolve," he said. "You go from one place to another, your opinions probably change. I don't think people recognize and respect people's journey anymore."
The most compelling point of the night for Park Synagogue president Mark Froimson was Gregory's willingness to share personal and vulnerable stories of his life. Froimson, who said he was surprised by the lack of political topics during the talk, thought it was the openness and vulnerability that connected the audience to Gregory. 
"Most of us look out into the world today and we tend to be in a society where we look at the most positive images on Instagram or Facebook or whatever," he said. "We don't often recognize everybody in the room around us, everybody on social media has, everybody has feelings, has weaknesses. To have a public figure remind us of his own vulnerabilities helps to bring it back into all of our lives and gives it that sense of humility." 
The Cleveland Jewish News is the media partner of Park Synagogue's 150th anniversary and will continue to share stories and images to commemorate the synagogue's long-standing presence in our community during the Synagogue's year-long celebration.