Violet Spevack, the Cleveland Jewish News Cavalcade columnist of more than 50 years, turned 104 on July 15.
Over her more than 50 years at the CJN, she interviewed hundreds – if not thousands – of people.
Her favorites? Mickey Katz and son, Joel Grey, the Cleveland native who won an Academy Award for his portrayal of the master of ceremonies in "Cabaret."
Spevack told the CJN she still misses her native Denver, although she is also a booster of Cleveland – and relocated here when she was just 4 years old.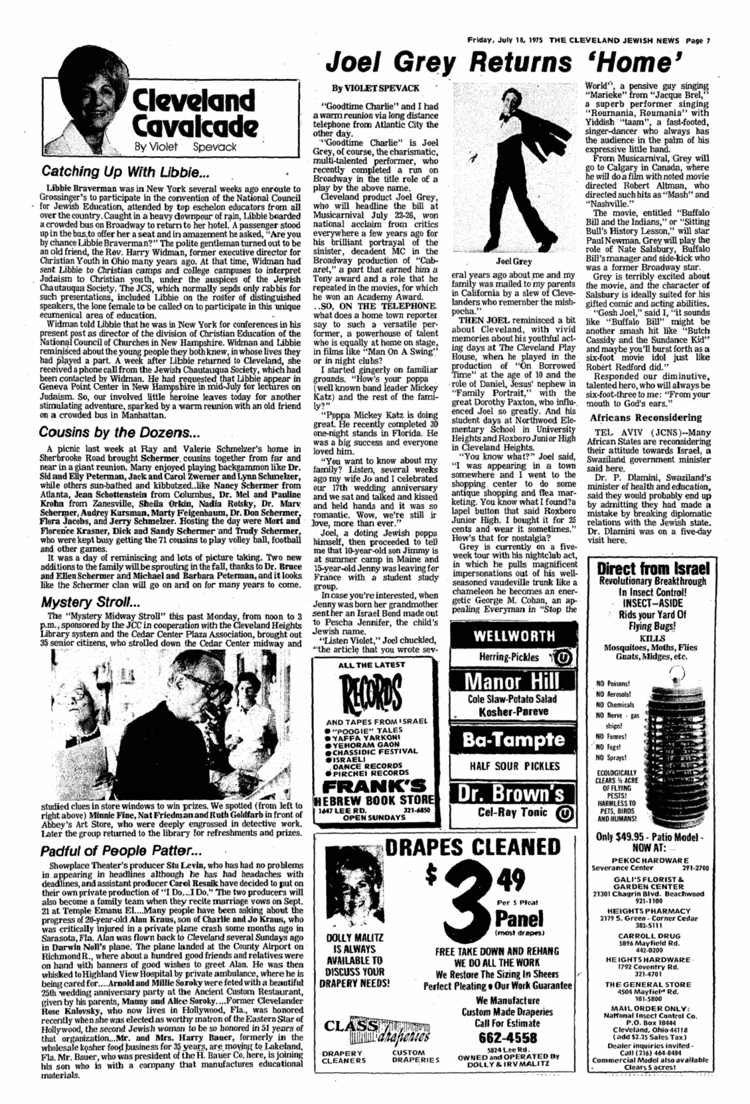 Born Violet Goldhammer in 1916, she came to Cleveland in 1921 with her mother and siblings after her father died of influenza during the Spanish flu pandemic.
The family lived on Somerset Avenue off East 105th Street, then in the heart of Cleveland's Jewish community.
She went to the Cleveland Jewish Center, the precursor to Park Synagogue on East 105th Street, known as the Shul with a Pool. She said she loved learning Hebrew and using the library.
She spent summers at Camp Wise, then located in Euclid on the shores of Lake Erie, where she developed pride in her Jewish identity.
"That was a big part of my growing up," she told the CJN on July 27. "We lived in tents and we sang songs, and we got to know what we were all about. I think camp is very important in a child's life, and I'm glad it was a part of mine."
With encouragement from two English teachers, Spevack began writing in the fifth grade, and later co-edited her high school newspaper, the Glenville Torch.
She was offered a scholarship to Cleveland College, but World War II intervened, spiking those plans. Instead, after graduating from high school, she sold hats in the basement of the May Co. downtown for $1.99 a piece.
She met David Spevack on her way to a Hadassah dance in Toledo. The two sat in the back seat of a car singing together, and he put his arm around her shoulder. By the time they got to Toledo, she invited him to the dance, and the two later married. He died in 2013 at 101.
The Spevacks first lived in Cleveland, then in University Heights, and their children graduated from Cleveland Heights High School. They were among the founding members of Temple Emanu El, now located in Orange.
In her first Cavalcade, March 5, 1965, Spevack introduced herself and her breezy look at the social scene.

"GETTING TO KNOW YOU – through this column – will be an exciting and challenging assignment," she wrote. "Just keep me informed on interesting sidelights that you'd like to share with others … As for myself, with husband Dave to take care of, and three children, I manage to keep busy teaching Sunday School, giving speeches, and writing columns! Hope to meet you in this one."
Spevack was inducted into The Press Club of Cleveland Hall of Fame in 2013.
Spevack's children are Bonnie Chisling of Beachwood and Longboat Key, Fla.; Dina Spevack of Santa Monica, Calif., and Jeffrey Spevack of San Luis Obispo, Calif. She has four grandchildren and five great-grandchildren.
Chisling said her mother wrote constantly, including plays for Temple Emanu El and for every family occasion.
"It was a happy childhood," Chisling told the CJN. "We sang a lot."
As a child, Chisling said being out with her mother could pose a bit of a challenge, though.
"Violet was always busy talking to people," Chisling said. "When you were out with Violet, you vied for her attention."
She said her mother enjoys people, a quality that she believes may have contributed to her longevity – along with genes.
"She has a zest for life," Chisling said. "She has a vibrant personality. And she always found the good in everybody."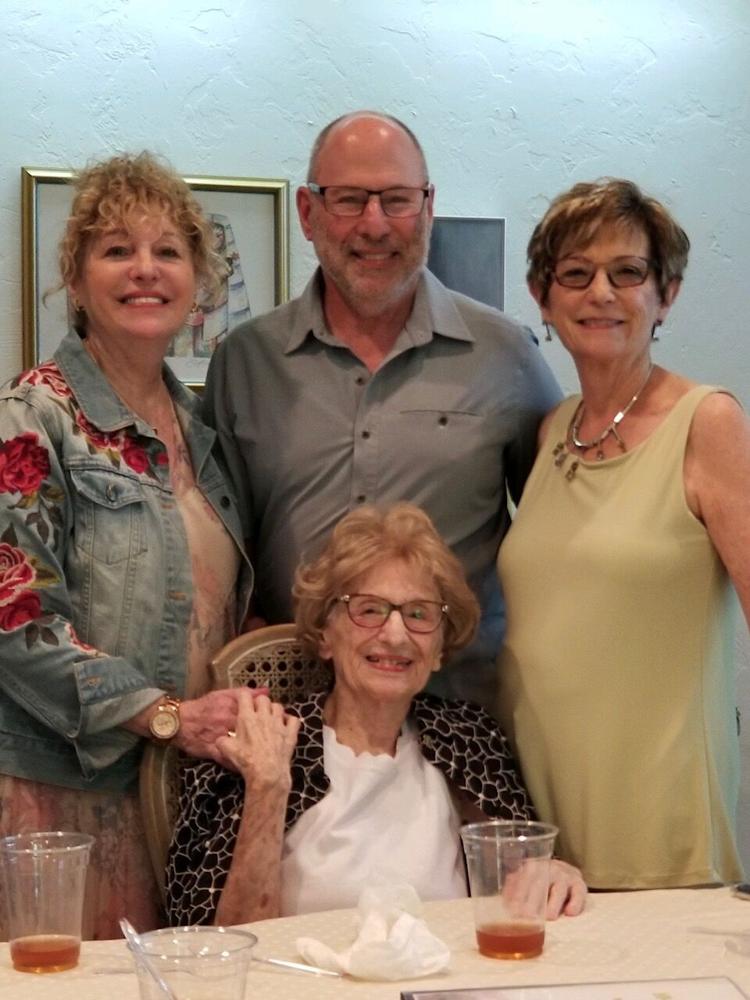 The Spevacks led interfaith seders and trips to Israel and to various countries around the world.
In that same debut of her Cleveland Cavalcade column, Spevack offered, among others, the following tidbits about prominent Jewish Clevelanders: "Ed Sand, of Sand's Delicatessen, has been invited to represent the Fancy Food Retailers of the Midwest at the New York meeting of the National Association For Specialty Food Trades . . . The faithful fans of our Eunice Podis followed her to New York to attend her concert at Carnegie Hall . . . Victor Gelb, in his work with PACE, is actively involved in 'Right to Read' Program ... He not only gave the program its name but is helping to enroll illiterate adults to enable them to learn to read and write . . . William Gould and Associates, architects and planners, have been retained by the Musical Arts Association to locate a site and develop a program of facilities for a summer home for the Cleveland Symphony Orchestra which will bring to Cleveland an atmosphere of musical culture comparable to that of Tanglewood and the Boston Symphony."
Spevack said she still finds people interesting and Cleveland interesting.
"If you look about you, you'll find that the world is a very interesting place," she said. "Everybody has something interesting within them, and if you're a writer, you'll find that something."