Holocaust survivor Erika Taubner Gold, who has often spoken out against bigotry and discrimination, was one of 10 inductees of the Cleveland Heights High School 39th Distinguished Hall of Fame May 3.
Gold accepted the medal from her granddaughter, Jacqueline Gold, who was one of 10 student Imagemakers to choose the inductees.
"Mrs. Erika Gold, or Granny as I call her, is a Holocaust survivor and has become a tireless worker to fight discrimination, intolerance and hate," Jacqueline Gold said from the stage of the Heights auditorium. "She is a speaker and docent at the Maltz Museum of Jewish Heritage. … My grandmother taught me to speak out against injustice, to be honest and to be strong. She is one of the lucky ones who survived, and I know that I am also here because of that luck."
Gold was also given a second honor by the Heights Schools Foundation: the Hilary Ancker Award, a lifetime achievement award in memory of a 1986 alumna.
"Every time I talk to any of the student groups," the 1952 graduate said, "I tell them to take advantage of their education and learn something extra if they can, because the only thing that we own is what's in our own head, and I learned that by experience."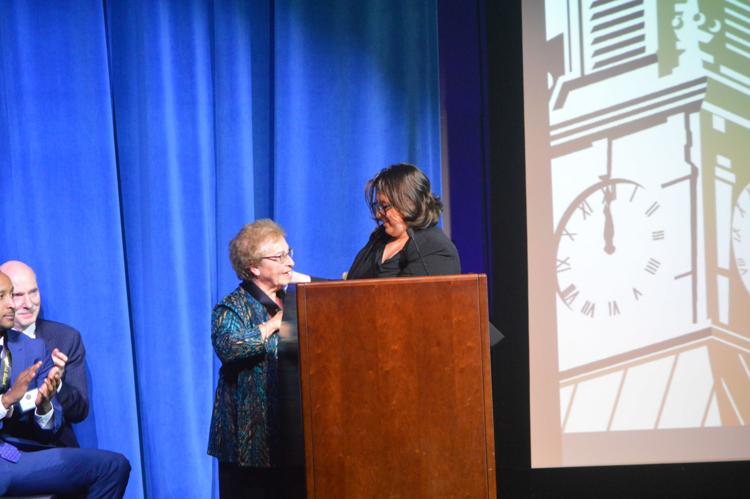 She said her skill as a seamstress helped smooth her way at Heights High – twice. As punishment for being late, she was told to make clothes for a doll, winning the heart of the girls' dean, Mrs. Wallace, after she produced a "cute" dress. 
Later, she jumped in to make alterations when the school play lead's costume didn't fit.
"The biggest surprise was, they nominated me to the National Thespian Society without ever uttering a word from the stage," she said.
Actress Clea Lewis, class of 1983, spoke of her family lineage at Heights High. Her mother, Joanne Waxman Lewis, was previously inducted into the school's hall of fame. Her great-aunt Roz Pitts – who was placed at Bellefaire orphanage after her mother died – was a 1932 graduate.
Lewis recalled the student smoking lounge and the school's open campus during her first year as a student in 1979, both abolished by the following year. 
She said being in Heights Singers and playing a sidekick in "The Pajama Game" helped prepare her for her career.
"In fact, at some level, I can trace my role as Ellen's sidekick, Audrey, back to my early days at Heights as 'Poopsie,'" Lewis said, referring to Ellen DeGeneres' sitcom "Ellen." "So, you can't always control the role that you are given, but if you put your heart and soul into it, you can shine no matter what your part is." 
Deborah A. Kohn, class of January 1967, founder 
Deborah A. Kohn, class of January 1967, founder and principal of Disk Systems Consulting, named many teachers in her remarks.
"These educators and leaders encouraged me to take chances, helped me to build a better character and gave me a voice when I needed to be heard," she said. Jerry Leonard, director of Children's Theater on the Heights, "autographed my Peter Pan poster saying 'Debby, Always fly high as you did here at Wiley.'" 
Kohn donned her letter sweater, which she won as a cheerleader, the only way that girls could letter at the time.
Today, she volunteers with the Anti-Defamation League in San Francisco and as a docent at San Francisco's Contemporary Jewish Museum. 
Marc S. Pollick, class of 1971, is president and founder of The Giving Back Fund, a philanthropic consulting organization.
"It's my belief that nobody accomplishes anything truly important in life alone," Pollick said. "We all do it with the help of others."
He said he stands on the shoulders of "giants" Elie Wiesel, Rabbi Harold Kushner and Jonathan Kozol. With Wiesel, he created the Elie Wiesel Institute for Humanitarian Studies. At the age of 28, he became director of Miami's Holocaust Memorial and Education Center.
"(M)y mother passed away the night before my first day at Heights High School," Pollick said. "But I can tell you with absolute certainty that what I learned from her in the all too short 15 years that I had her in my life was responsible for everything that I have accomplished. And so this great honor truly belongs to her."
David Skoke, class of 1968, is the founder of Helping Feed Atlanta, a non-profit dedicated to feeding the hungry.
"When I was younger, the question that I hated to hear was, what do you want do with your life?" he said. "Those questions always bummed me out because I never knew what I wanted to do. In fact, it wasn't until I was 40 years old, I found my passion."
Skoke said he first approached Whole Foods in Atlanta about donating produce to the hungry and then approached Costco relentlessly for three years to do the same. Later, Skoke's broader wish came true: Feeding America was given permission to pick up surplus produce from every Costco store.
"So, this little nonprofit in Atlanta helped change Costco's corporate policy, and we're now helping feed millions," he said.
Also inducted were: coach/trainer and former professional basketball player Jr Bremer, class of 1998;  television writer and producer Vincent Brown, class of 1982; Washington, D.C., Council Chair Phil Mendelson, class of 1970; Katrena Carr-Perou, class of 1998, who is executive director of Inquiring Minds NYC; and artist, speaker, author and screenwriter Hari Ziyad, class of 2009, who did not attend the ceremony.