When her father disappeared from her life, Natalia Alonso was given no explanation about when he would come back.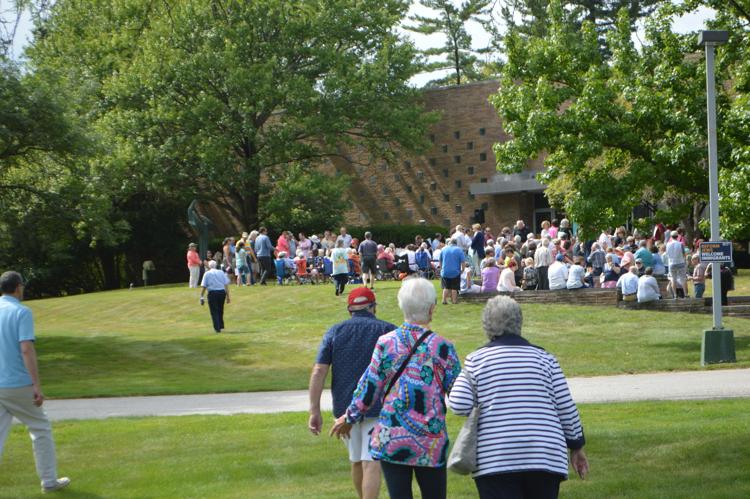 She was 4 or 5 at the time.
"They kept it quiet," the 16-year-old junior at Fremont Ross High School in Fremont told the Cleveland Jewish News. "A lot of friends, they don't know if their friends have been documented because we don't talk about it, and we shouldn't be talking about those types of situations because it's very personal. So as a kid, they didn't tell me what was going on. They tried to keep it quiet so that we wouldn't cry about it, but we knew deep down our father wasn't coming home. We might not have known why but we knew our father wasn't coming home."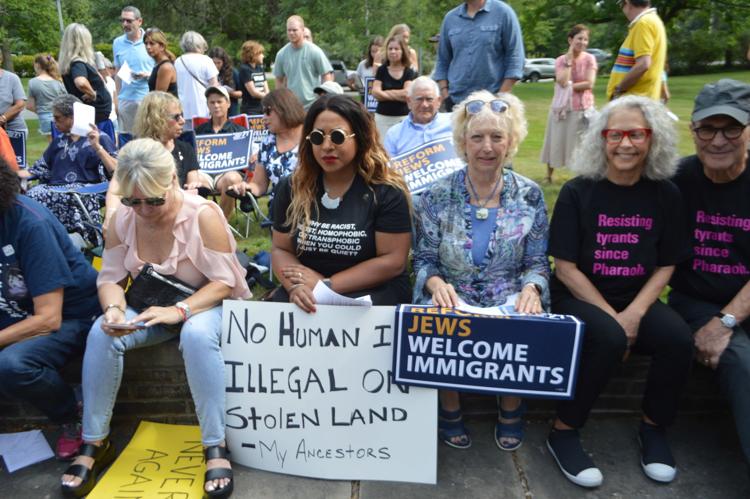 Alonso was a featured speaker during a vigil called #CloseTheCamps organized by four groups and held outside Suburban Temple – Kol Ami within sight of Chagrin Boulevard Aug. 11 timed to coincide with Tisha B'Av, a fast day that coincides with the destruction of the Temple in Jerusalem as well as the expulsion of Jews in Spain in 1490 and other key catastrophic events in the history of Jews.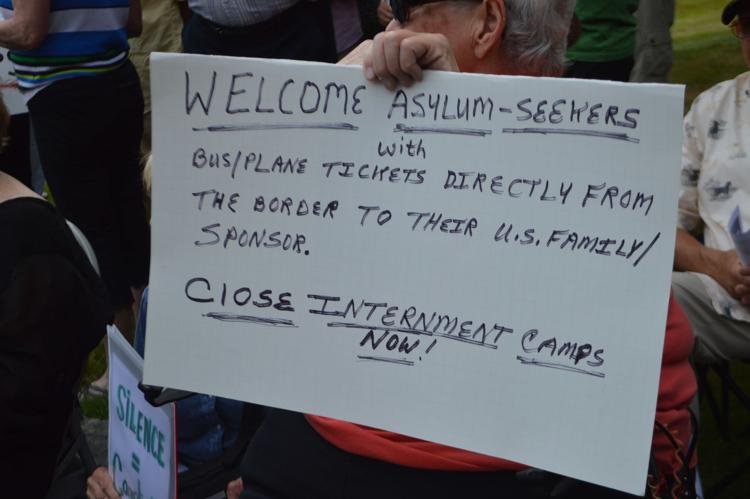 The National Council of Jewish Women, Bend the Arc, Truah and the Ohio Religious Action Center of Reform Judaism organized the event to highlight the plight of undocumented immigrants who are being detained. Rabbi Allison Vann, spiritual leader of the Beachwood temple, hosted the vigil. 
"You see, although I am older now, those feelings still hurt," Alonso told the approximately 350 people gathered. "I can't imagine what these kids are going through in these camps. It's worse for them because they don't know where they're at. They don't know what's next. And that is a reality. 
"You see, we have a humanitarian crisis right now. Children are being locked up. And that is not right. They don't even have their parents by their side to help them cope with what's going on. They are by themselves. You see, not only is it children that are in these cages, it is children all around the United States. There are raids occurring everywhere. We had one just this summer. I don't know if you all remember the raids in Salem, the raids in Sandusky."
In June 2018, a U.S. Immigration and Customs Enforcement raid of a meat-processing plant in Salem resulted in 146 arrests for immigration violations.
Now, Alonso is committed to helping other children and families, whose lives have been devastated by immigration raids and detentions. On her Facebook page, called Losniñosdecorsos, she lists personal care items needed by those affected. Her intention is to deliver the supplies directly to families.
On Aug. 7, 680 people were arrested and detained in immigration raids in Mississippi food processing plants. Some 300 were later released, but Alonso pointed out that they are now jobless.
"Although they are being released, that does not mean they can go to work," she said. "They are not having an income coming in so they can pay for what they need on a daily basis. That's over. That's done. So, I ask you all, Cleveland, please help us out one more time."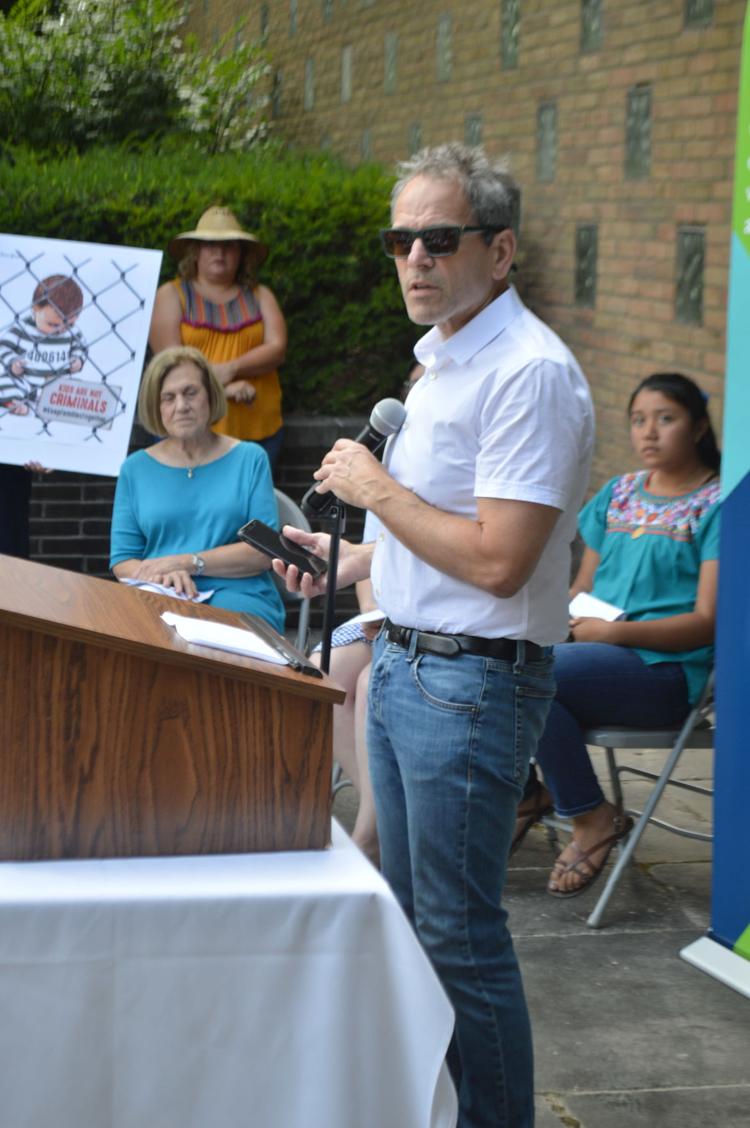 David W. Leopold, chair of immigration law at Ulmer & Berne LLP in Cleveland, also spoke.
"I am the son of a Holocaust survivor," he said, "Perhaps that's what led me to this work. But what I do know standing here today ... we face a white supremacist attack on our country, focused on immigrants, focused on people of color, and yes, as we know from our neighbors in Pittsburgh, from our brothers and sisters in San Diego, focused on Jews." 
Leopold was comparing the Aug. 4 mass shooting at a Walmart in El Paso, Texas, to the shooting at the Tree of Life Congregation in Pittsburgh in October 2018 and to the shooting at Chabad of Poway in California in April.
"I can't think of a more appropriate community to stand up for the injustice being perpetrated on immigrants across this country and at the border as the Jewish community," he said. "it is such a source of pride that each one of you has come here today to stand up truth to power what is right in this country bringing our country back to what we know it should be, not what some clique in Washington thinks that they want it to be." There was applause. "I've been going to the border since 2010. I've been going to the border, and I've seen children kidnapped by customs and border protection, dragged across the border and dropped in Ciudad Juarez, perhaps the most dangerous city not in a declared war zone at 4 in the morning to fend for themselves. We've seen the specter of families seeking asylum in this country, seeking refuge in this country, that's why my parents came here. I'm sure that's why many of your parents and grandparents came here, being subjected to squalor and danger in Juarez because the United States government under the current administration has said they cannot apply for asylum in the United States. … At the same time, locking up children, not giving them soap, not giving them water, children have died. People are dying because of this administration."
"This is about cruelty for cruelty's sake," he said. "It's shameful, and it will forever remain a stain on the United States." There was applause.
"The president of the United States has made it very clear that he intends to get re-elected off immigration, off dehumanizing immigrants, off of making them subhuman, we all know what that term means, locking them in camps. …
"We cannot live forever in this country with a permanent underclass of slaves called undocumented workers," he said, and there was applause.
Leopold told the group that it is legal to apply for asylum in the U.S. regardless of how a person arrived. 
"A woman who is trafficked into this country, a child who is trafficked into this country, a woman who was beaten up by her U.S. citizen husband is protected by the violence against women act," he said. "We have U visas and T visas to protect people without papers who are victims of crimes, witnesses of crimes."
Leopold said children who are separated from their parents and placed in a system designed for unaccompanied minors, "that system does not have any mechanism to reunite these kids."
"This was intentional, this was cruel, this was inhumane and this was criminal," he said. There was applause.
In addition, Leopold said, referring to coverage by the Washington Post and New York Times, President Donald Trump has profited by exploiting undocumented laborers on his golf courses.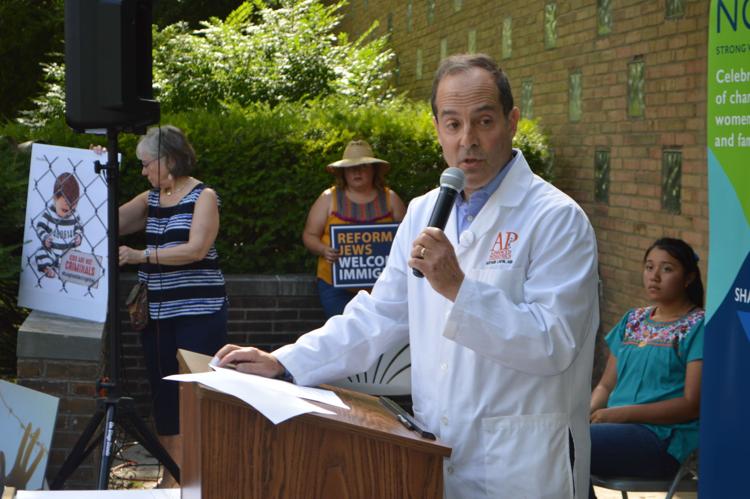 Dr. Arthur Lavin, a pediatrician, spoke about the deleterious and lasting toll of childhood trauma on adults. He also spoke about the history concentration camps, first used in Cuba, and of the anniversary of the expulsion of Jews during the Spanish Inquisition. 
He quoted, chanting in traditional melody, words from the Book of Lamentations traditionally read on Tisha B'Av.
"In 1492, the tool the nation used was forced expulsion and conversion," he said. "In 2019, the tool that nations use is the camp, or to be more precise, concentration camp." 
Lavin spoke of six actions that those gathered could do. He recommended reading Timothy Snyder's "On Tyranny," continuing to rally, writing representatives in Congress, "text, post, write," registering voters and transporting them to the polls.
"Let us go from here, go from today, and shine a light on this outrage, and end it," he said. 
After the protest, Lavin said he is working with Doctors Organized for Healthcare Solutions to try to help immigrants in need of health care. 
"The most effective intervention to help people in emergency situations in detention is for a lawyer representing the person to get a doctor to write a letter documenting the nature of their medical emergency," Lavin told the Cleveland Jewish News. "That action more than any other can connect a person who may be dying of a particular disease, may lose a limb because of a particular disease to get help before that life or limb is lost."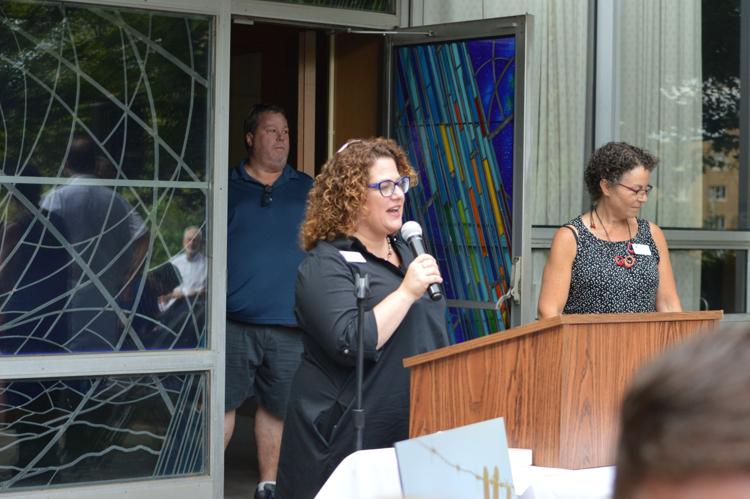 As part of her remarks, Vann said, "The immigrant community is not to be maligned. They are not scary. They are what makes America beautiful."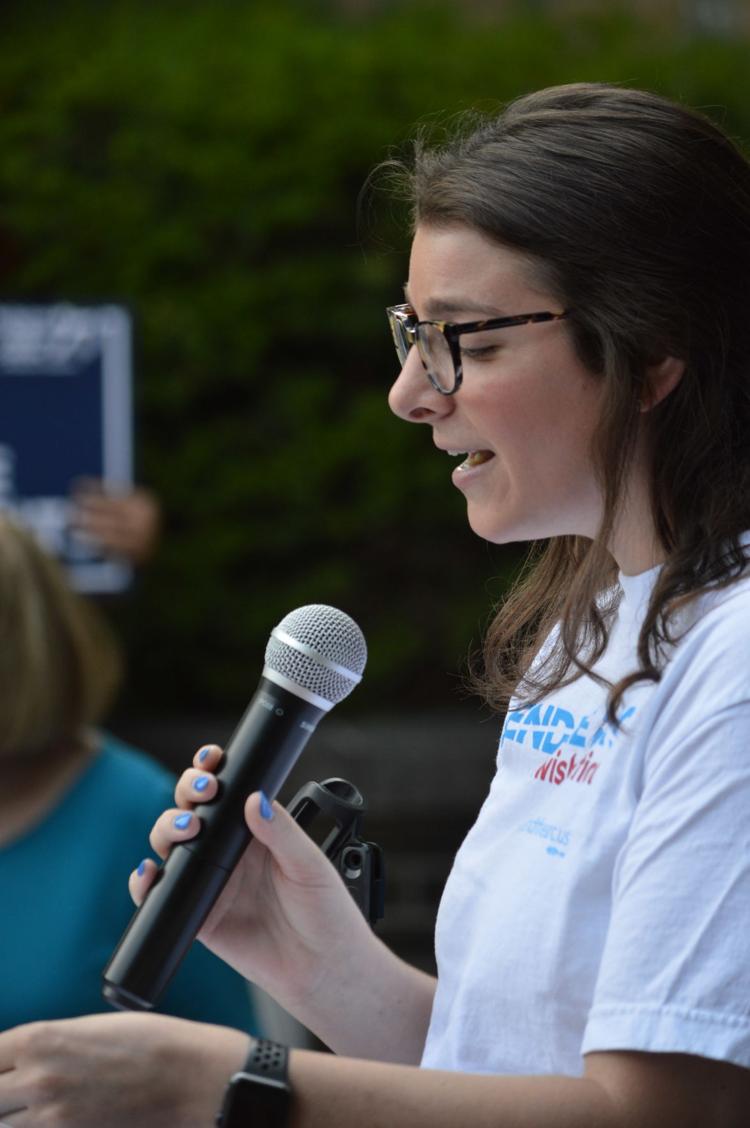 Jamie Collins, representing Bend the Arc, read a Prayer for the Undocumented.
"We weep with parents who don't know where their children are and wonder if they are safe," she read, "if they have food to eat, if they have someone who has outstretched an arm to them. We pray you give courage to these families. … Oh G-d, we ask that you unharden hearts. That you fill leaders with compassion and loving kindndess, that you help powerful people to remember we are all created in the image of G-d and we all deserve dignity, that children have a birthright to love and safety. We pray that you will be with us as we return again and again to our leaders asking them to let our people go. We don't ask for signs and wonder but for the most basic things: parents holding their children, children enveloped in a parent's loving embrace."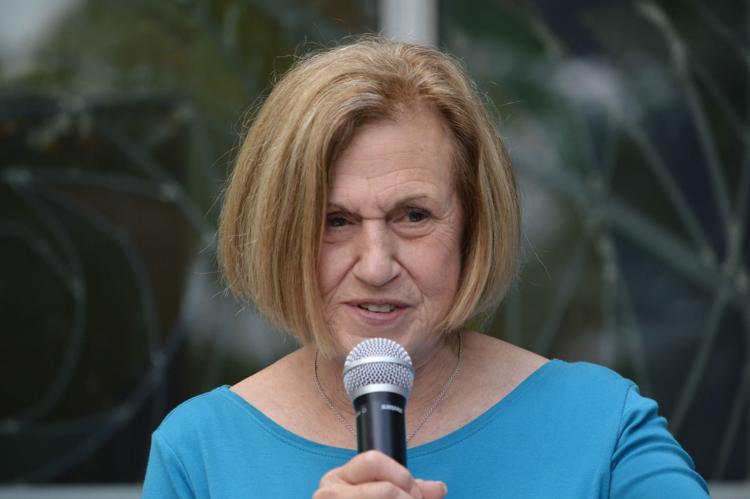 Elaine Geller, president of National Council of Jewish Women Cleveland section, recognized Ohio Rep. Terrence Upchurch, D-Cleveland, who attended the protest at the invitation of the NCJW.
"We heard the speakers. We felt the speakers. We have to do something. Today we're going to do one of them," she said. Programs for the event included telephone numbers for U.S. Sen. Sherrod Brown, D-Cleveland, and U.S. Sen. Rob Portman, R-Cincinnati, along with a script for those opposing the use of detention camps. "Call our senators and demand that the camps are closed. Now it's Sunday, so you probably won't get a live person on the other end. That's OK. Leave a voice mail. Let's deluge the voice mail systems."
The program opened with Deb Rogers, interim musical director at Suburban Temple, leading "Hine Ma Tov" and ended with her leading the sung prayer for peace "Oseh Shalom Bimromav."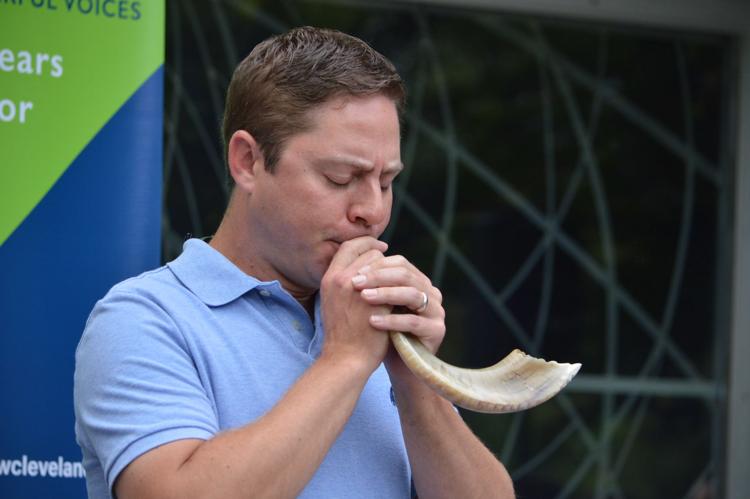 Adam Oakley of Anshe Chesed Fairmount Temple blew a single long blast of the shofar to close the vigil.
Vann said it was Suburban Temple's first time holding such a vigil. 
"I thought it was beautiful," she said, adding that the action was impactful. "I thought it was a real meeting of the minds of four organizations that really care about this issue and really worked together beautifully."
Alonso said her father, now a U.S. citizen, has helped in her effort to support people in Mississippi.
"He's really thankful for everybody helped him … when he didn't have anything," she said, adding the support she's received has been unexpected. "A lot from all around the world, as a matter of fact, even from outside the United States, so it's been crazy amazing support."