Stanley Bernath estimates that he tells the story of how he survived the Holocaust 10 to 15 times a year. He's recounted his experience in front of students and professionals at schools, colleges and businesses for more than 40 years, along the way providing insight that's helped shape and inform countless perspectives.
But the 91-year-old Lyndhurst resident understands that, like all survivors, the day will come when he can no longer share his story. At least not in person, that is.
This past August in Los Angeles, Bernath participated in a program that will forever preserve his story of survival, which includes his experience in the ghetto and how a Nazi soldier dropped bits of food to Bernath from a guard tower at Mauthausen concentration camp in Austria.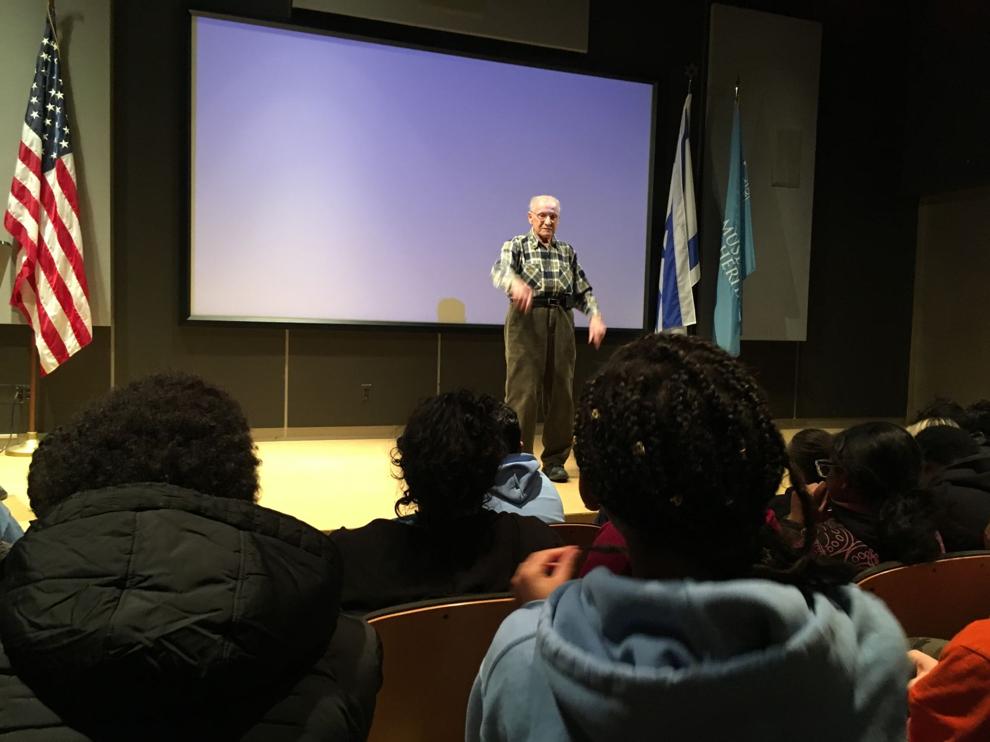 In a Hollywood studio, Bernath sat under a dome – similar in structure to a playground geometric dome climber – fitted with more than 6,000 lights and 100 cameras. There, he answered 430 questions during a 10-hour, two-day span for the USC Shoah Foundation's New Dimensions in Testimony oral history project – a project he said he was honored to take part in. 
The project has recorded 15 Holocaust survivors' biographies that will be turned into interactive holograms that allow people to have lifelike conversations with survivors.
"Eight years from now, 10 years from now, there will be no survivors left," Bernath said. "Now if you want to see me ... you can go (to a museum) and ask me questions."
How it began
About two years ago, the Maltz Museum of Jewish Heritage in Beachwood heard of the foundation's project and reached out to collaborate. Through this relationship, the Maltz Museum selected four survivors in March 2017 to be sent to Los Angeles and the Shoah Foundation chose Bernath the following April for the level of cognizance he displayed and his personality. 
"When one bears witness to (Bernath's) survival of the Holocaust, his voice and storytelling draw you in like he is talking directly to you, and his personal story is inspiring," said Kia Hays, who is program manager of the Shoah Foundation's New Dimensions in Testimony. "We knew that this sense of presence would make his New Dimensions in Testimony interview extraordinarily compelling. He also has a great sense of humor which we thought might make its way into his testimony, and it did."
The images of the survivors are produced by the University of Southern California's Institute for Creative Technologies in cooperation with the USC Shoah Foundation, which is a nonprofit founded in 1994 by Jewish film director Steven Spielberg to preserve Holocaust and other genocide survivor testimonies.
While the images may be perceived as holograms, the technology hasn't quite reached that point. Instead, the image is produced using a special illusionary technique and two-dimensional technology to give the appearance of a hologram. However, the testimonies are recorded at various angles so that if holographic technology advances, the recordings can be reproduced and keep up with the technology.
Memory project at Maltz
In tandem with its Shoah Foundation partnership, the Maltz Museum is embarking on its own Survivor Memory Project to preserve survivors' stories with this new technology. 
"These survivors are dying out, and if we don't tell their story, the naysayers will find a way to say (the Holocaust) never really happened," said Ken Liffman, who chairs the Survivor Memory Project. "This is the wave, right now, of the future for learning techniques." 
When future students visit the museum, they will be able to ask Bernath questions like, "Where were you born?" "Do you believe in God?" and "How did you survive?" Those questions are processed by technology similar to Apple's Siri, an intelligent personal assistant that uses voice queries and a language-user interface, and are turned into video segments that can play back Bernath's recorded responses verbatim, as if he were actually there. 
"You have to be able to communicate (their experiences) to the kids in a way that they will comprehend," Liffman said. "That story may need to be told more than once, and it may need additional individuals. But I can't think of a better way to raise awareness of what happened than through this particular program."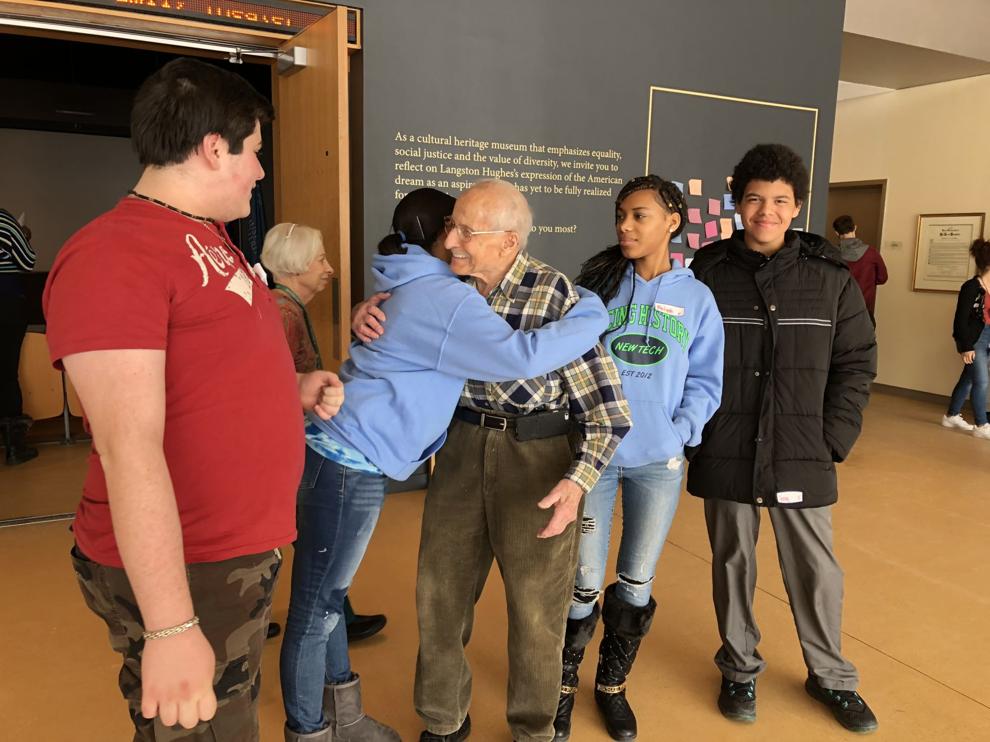 The plan is to have a beta test of the hologram image come to the Maltz Museum during the summer in a temporary location, where visitors can pose questions to Bernath. 
The museum is in phase one of its campaign to create a permanent exhibit, which includes acquiring and setting up the technology and included sending Bernath to Los Angeles because that is the only location that can currently film the testimonies. The goal of phase one is to raise $400,000, and Liffman said the museum is more than halfway there and plans to roll out the permanent exhibit within the year. 
While the museum hasn't decided where this technology would be housed in its building, Liffman said they wanted to start gathering testimony from survivors while they are still able to tell their stories. 
Bernath shares message
Through his speaker appearances, Bernath said he passes on three lessons he's learned and hopes it will continue when he's gone. 
"Never give up, no matter how bad it seems, always believe in yourself and no one is any better than I am – and I'm not better than anyone else," he said. "Hatred is off my shoulder. You can't live with hatred because that is like a parasite infecting your brain."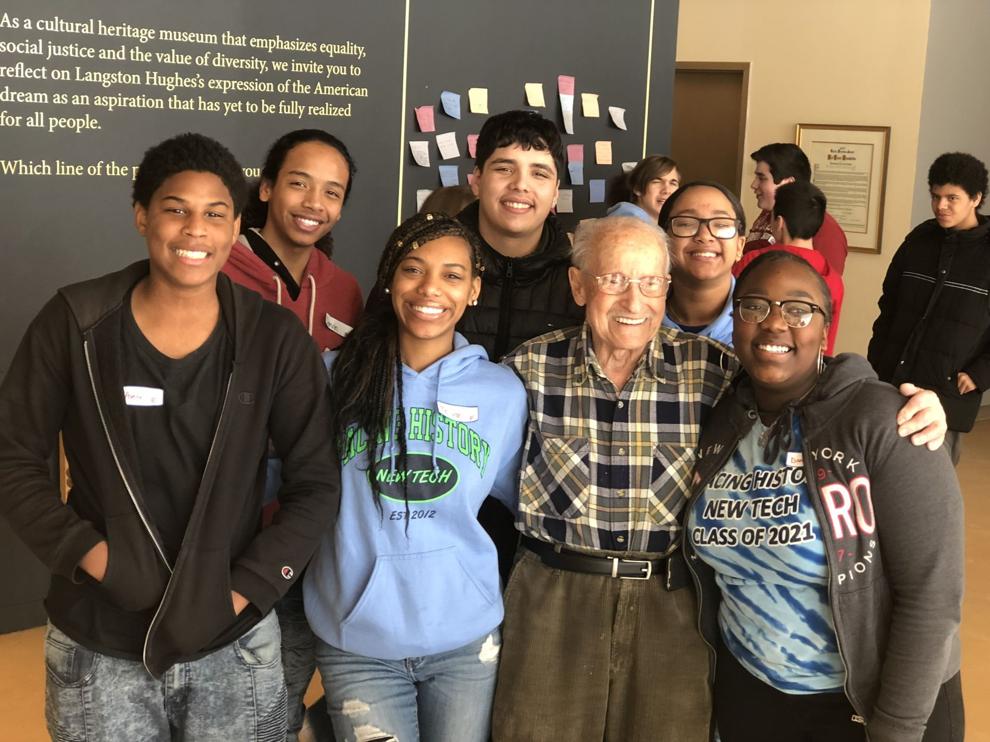 Recording Holocaust survivors and turning their testimonies into holograms is one part of the Shoah Foundation's New Dimensions in Testimony project. According to its website, the foundation has interviewed other witnesses to genocide, like the 1937 Nanjing Massacre, and intends to continue gathering survivors to educate future generations.
Completed holograms of other Holocaust survivors can be seen at the U.S. Holocaust Memorial Museum in Washington, D.C.; Illinois Holocaust Museum and Education Center in Skokie, Ill.; CANDLES Holocaust Museum and Education Center in Terre Haute, Ind.; Holocaust Museum Houston in Houston; and the Sarah and Chaim Neuberger Holocaust Education Centre in Toronto, Canada.