Holocaust survivor Roman Frayman joined about 200 people July 23 to protest President Donald Trump's U.S. Immigration and Customs Enforcement policies.
The protest was held at the Geauga County Safety Center in Chardon, which serves as the county jail as well as an ICE detention facility. Frayman spoke of the importance of taking action in the face of evil.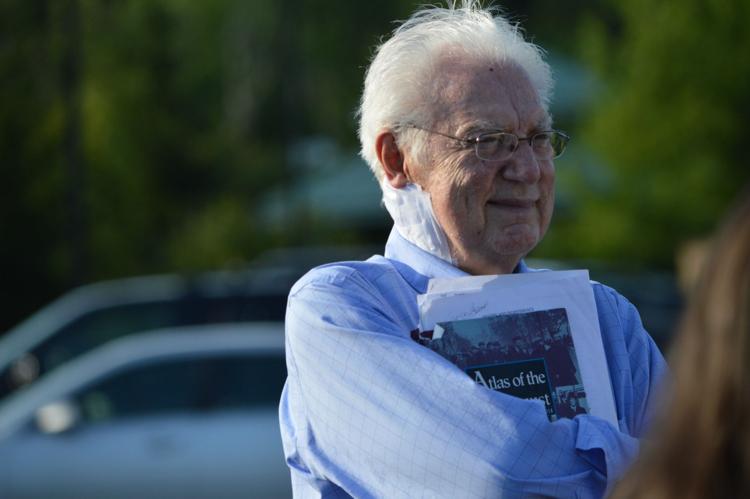 "The world is too dangerous to live in, not because of the people who do evil but because of the people who sit and let it happen," he said, quoting Albert Einstein.
Frayman also spoke of Adolf Hitler's ability to mesmerize and brainwash German children in the lead-up to World War II. By the time those children entered the German army, he explained, they had been taught to view Jews as "untermensch," or subhuman.
"So, when you've been brainwashed for 10 years and you kill a Jew, it's like killing a rodent, stepping on an ant," he said. "They have no feeling."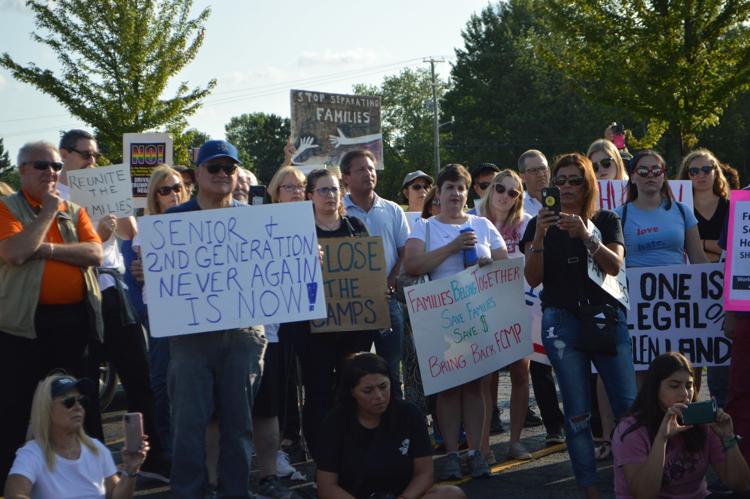 In addition, he shared details of his early life. Frayman was born in Poland and was 16 months old when the Nazis invaded Poland in 1938.
"And in that seven-year period, I was in some ghettos, never in a concentration camp, but I might as well have been in a concentration (camp) from what I saw," he said. "I saw boxcars being loaded with Jews. I saw elderly people shot. And that's all before I was 5."
Those early childhood experiences left their mark, he said, suggesting the same might happen to children who are detained by ICE. 
"Something traumatic that happens to you, you never forget," he said. "They did a study on child survivors. Many of us have issues. We mask them, we hide them. I don't think the trauma of what I went through will ever go away. And in some fashion, I feel my children also have had some issues about what happened to me."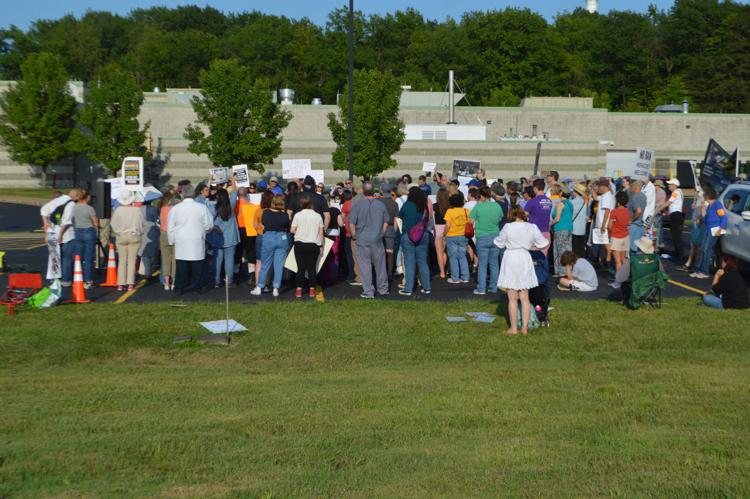 Frayman offered words of encouragement to the protestors.
"I am thrilled about what you're doing," he said. "Please do the right thing." 
Dr. Arthur Lavin, a Beachwood pediatrician, spoke about the research regarding toxic stress "in which a child's emergency alarm system is set on chronic overload."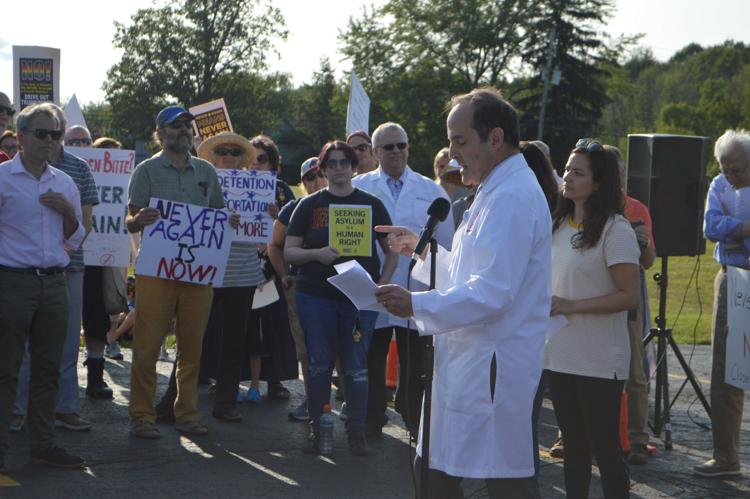 "That leads to increased rates of heart attack and cancer later in adult life and terrible mental health disabilities later down the road," he said, referring to child detainees. "That's happening right now."
At the conclusion of the protest, Lavin called Jews to action.
"There should be no other community more than the Jewish community that recognizes when picking on a group as a tool to concentrate power," Lavin told the Cleveland Jewish News. "There's no other community besides the Jewish community that should understand better what happens when that occurs, the amount of suffering and the horrible things that follow. So, we are here today because the Jewish community is saying to the Americans, 'this is happening right now.' Power's being concentrated. People ... aren't afraid to be cruel and cause terrible harm, and if we don't do something, much worse will follow."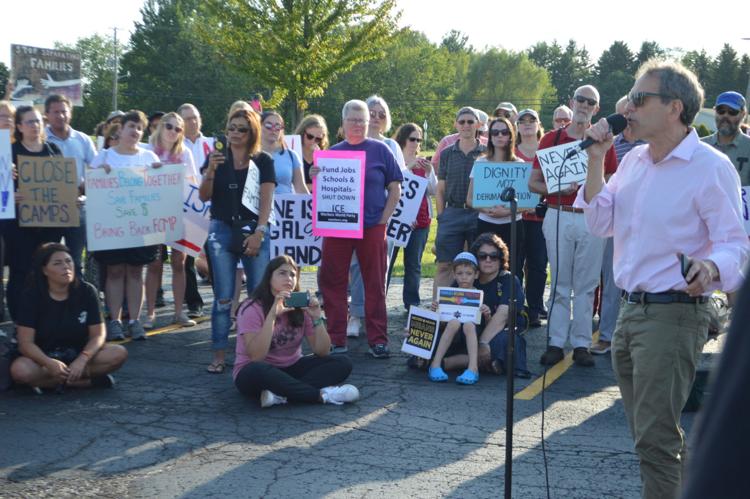 David W. Leopold, chair of immigration law at Ulmer & Berne LLP in Cleveland, is the son of a Holocaust survivor and the grandson of a decorated pilot in World War I who fought for Germany.
"I was just inside this detention center," he said. "You know the word 'detention' is a sanitized, bureaucratic word. It's a jail. It's a prison. People are locked up inside. The immigrant that I met with is locked up in there. He's treated like a common criminal – someone who's been convicted of murder. What's his crime? He's not a U.S. citizen."
Leopold singled out Trump.
"What appalls me is the occupant in the White House who cages children, the occupant in the White House that separates children last year with no fundamental plan to reunite these kids – and that was on purpose," he said. "They used the system for unaccompanied minors that had been in place, and that system – use your logic – does not involve reuniting because they are unaccompanied. This is criminal, what they did. In most states, that's felony kidnapping." 
Leopold said the U.S. government just expanded its use of "expedited removal," until this week a procedure he said was used to deport recent border crossers without hearings.
"They expanded expedited removal to the entire country as of today," he told those at the protest. "Don't kid yourself. Everybody in this group, everybody you meet, could be exposed to expedited removal used in the wrong hands. This is an unprecedented expansion of power."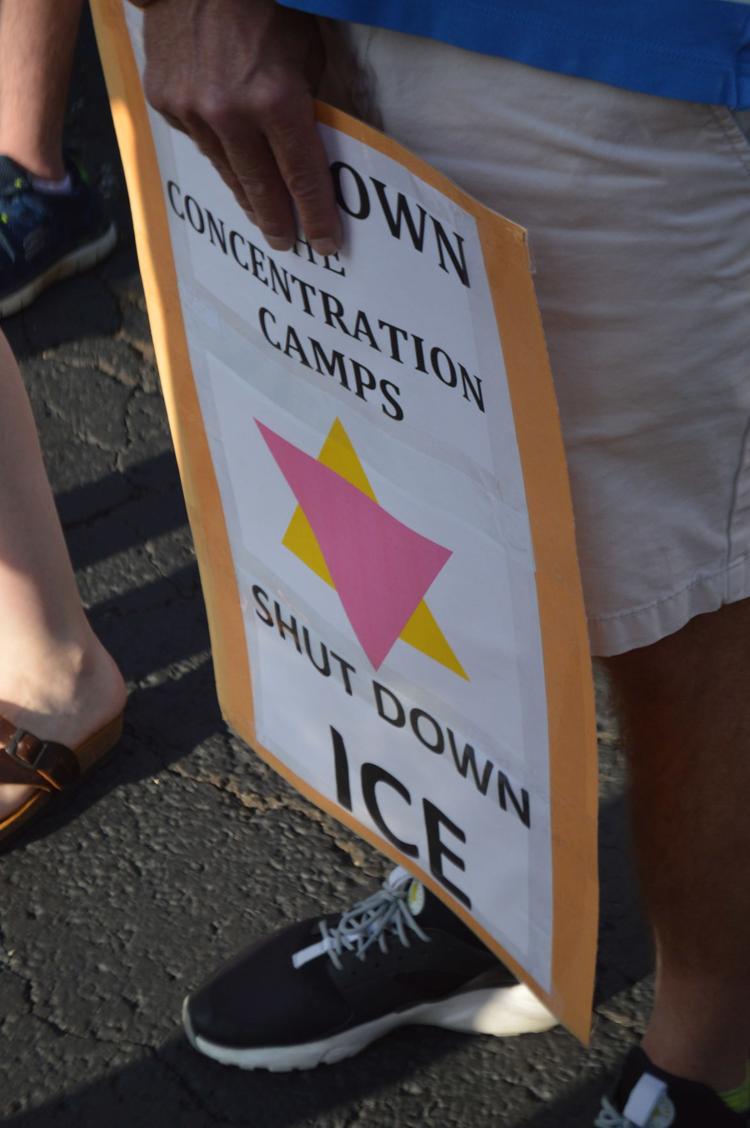 Leopold predicted Trump will use expedited removal – removals without hearings – to increase mass deportations.
"Let's get this criminal out of the White House," he said. "Let's restore the promise of our country."
Greg Deegan, former social studies teacher at Beachwood High School, also addressed the group.
At the conclusion, the participants chanted, "No hate. No fear. Immigrants are welcome here" and "This is not a safety center."
Elana Ross, who grew up in Shaker Heights and just graduated from Washington University in St. Louis, said she has noticed a lot of complicity around this issue.
"I'm glad that I'm seeing Never Again Action rile up the Jewish community because I think it's time that Jews made more noise," she said. "And I think it's, yes, about being Jewish, but it's about being a human being who recognizes that there are other human beings kept in cages (and) treated like animals because of who they are, and that's messed up."
Never Again Action, according to its website, is "a mass mobilization calling for Jews to shut down ICE and hold the political establishment accountable for enabling both the deportation machine that has separated immigrant families across the U.S. for decades and the current crisis at the border."
Ross held a sign of Hillel's famous call to action, "If I am not for myself, who will be? If I am only for myself, what am I? If not now, when?"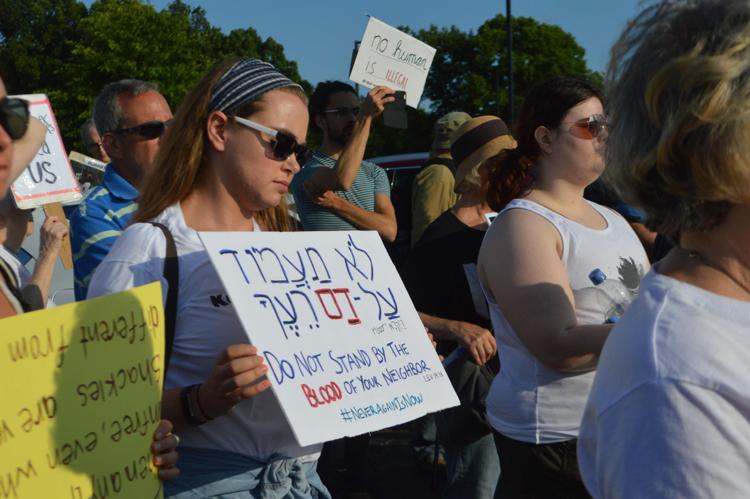 Monica Sass, who held a sign with Hebrew lettering during the protest, grew up in Pepper Pike and is about to start graduate school in law and social work at New York University.
"Just because it's not a full-blown genocide," she said, "doesn't mean that we shouldn't be standing up and taking action in supporting immigrants and folks who are being targeted by Trump and (Vice President Mike) Pence's immigration policies."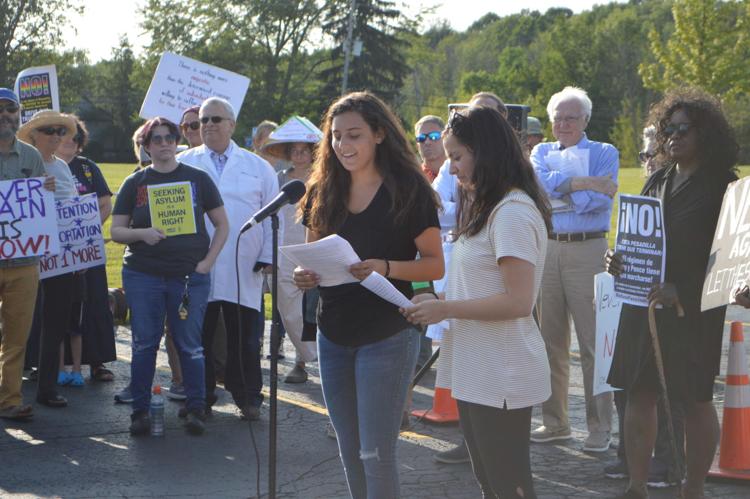 The event was organized by Lexi Stovsky and Sydney Eisenberg through Never Again Action, which held its first action June 30 in New Jersey, resulting in 36 arrests. Stovsky and Eisenberg introduced each speaker and spoke of Judaism's call to social action. 
Both women graduated from Beachwood High School in 2015 and 2016, respectively. Eisenberg will be a senior at the University of Michigan in Ann Arbor in the fall and returned to Northeast Ohio for the protest.
"We have always both shared a passion for activism and social justice," Eisenberg said after the formal protest. "This facility really respected our right to protest and gave us the space to do that. So, hopefully, more people continue to come here to use their voices and show that we don't agree with what's going on here."
Stovsky is a digital marketing manager and lives in downtown Cleveland.
"Moving forward, we already have the attention of the people who believe the same things as us and are interested in defunding ICE and kind of stopping the raids and arrests of undocumented people," Stovsky said July 24. "But we need to do more peaceful rallies and protests like we did last night in order to get the people who are working in these facilities – and maybe the more moderate voices who are on the fence about our ideology or progressive people's ideologies – because that's how we'll create change."