Ohio has had 1,043,729 total cases of COVID-19, the Ohio Department of Health reported April 13.
The number of reported cases increased by 2,340 from April 12 – above the state's 21-day average of 1,948. 
The ODH has changed how it releases COVID-19 deaths in the state after conducting a review of the process. Deaths will be verified by coded death certificate information received from the National Center for Health Statistics, which can take some time to receive, according to a note on the ODH website. Death information is not available daily and will be updated twice a week moving forward. 
Ohio residents account for a total of 18,917 COVID-19 deaths, the ODH reported April 13; the median age of those who has died is 80. 
The individuals who have tested positive range in age of less than a year to 111 years old; the median age is 42.
The total number of tests conducted in Ohio is 11,393,126. The daily percent positivity of confirmed laboratory tests is 6.2%, with a seven-day moving average of 4.6%, according to data from April 11.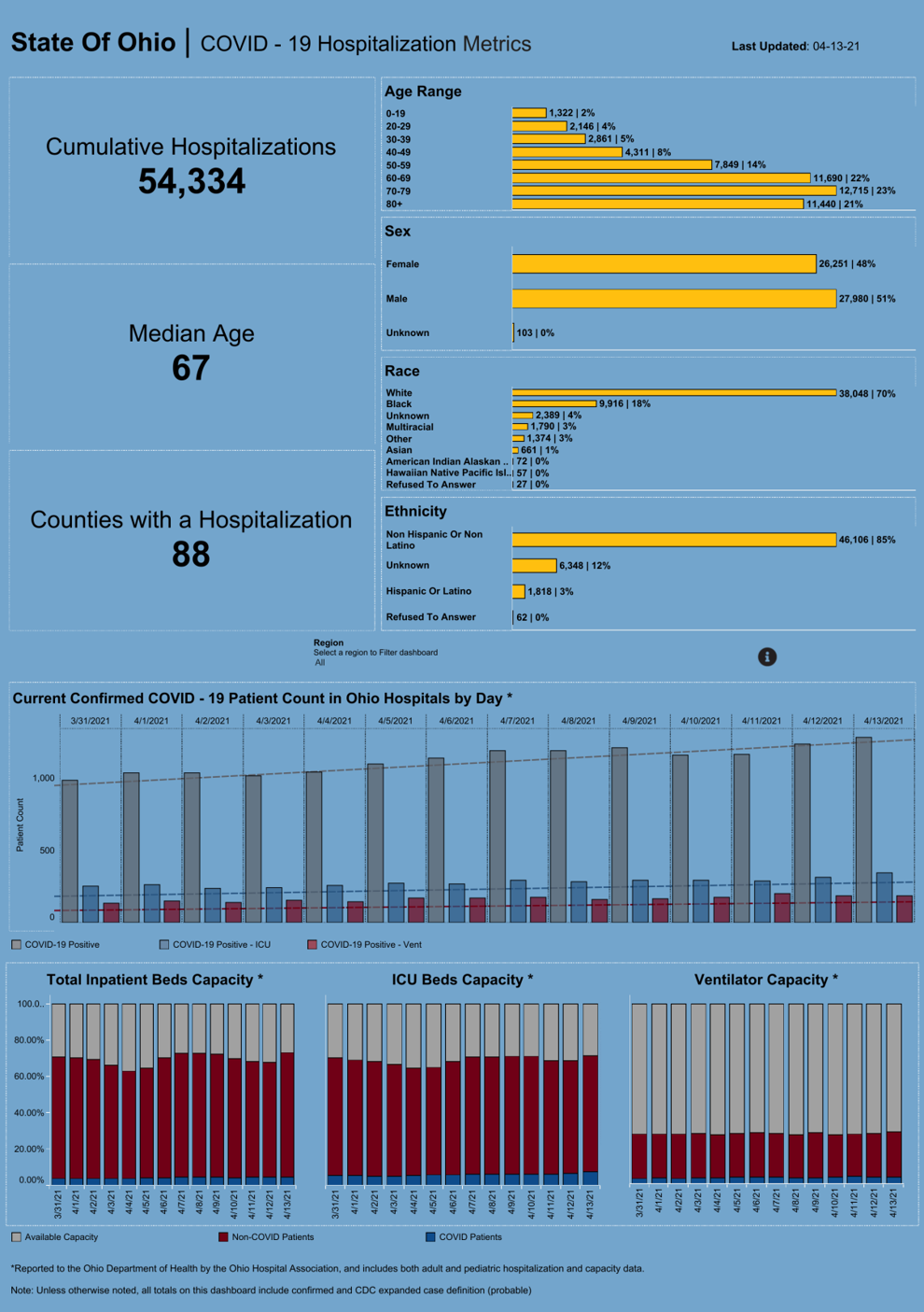 The ODH reports 54,334 cumulative hospitalizations, and 7,562 individuals have been admitted to the ICU due to the coronavirus. The median age of those hospitalized is 67. 
There are currently 1,281 patients hospitalized with the coronavirus. That's nearly 300 more than were in the hospital less than two weeks ago – the patient count was 984 on March 31.
Of those currently hospitalized, 343 are in the ICU, and 185 are on ventilators. 
The ODH reports 985,790 individuals are presumed recovered – defined as cases with a symptom onset over 21 days prior who are not deceased.
Cuyahoga County accounts for 105,771 of the cases, 6,324 hospitalizations and 2,040 deaths.
A total of 4,160,582 Ohioans (35.59% of the state's population) have received at least one dose of the COVID-19 vaccine, and 2,705,814 Ohioans (23.15%) completed the vaccination process as of April 13.
Ohio providers including the nation's largest traditional supermarket chain and some college campuses suspended using the Johnson & Johnson coronavirus vaccine Tuesday while federal officials investigate reports of potentially dangerous blood clots. 
If you have questions regarding COVID-19, call 833-4ASKODH (833-427-5634) or visit coronavirus.ohio.gov.