As Americans are becoming accustomed to new ways of voting during the COVID-19 pandemic, students at Jewish day schools in Northeast Ohio and Central Ohio are engaged in learning about the election process in different ways. The CJN spoke with educators around the state about how students have been learning about candidates and issues ahead of the Nov. 3 election.
Chaviva High School
Girls at Chaviva High School in Cleveland Heights have been studying topics rather than candidates.
"Our goal in U.S. Government at Chaviva is not to look at whether one candidate is 'good' or 'bad' because this is often determined by our family life, or other intentional or unintentional biases that many of the students are still in the process of recognizing on an individual basis," said Magdalena Lucas, history and government teacher at the school, in an email to the CJN.
Students have also been studying bias in media reporting on issues.
"My goals as their history teacher during this election season fall into two main categories," she wrote. "Firstly, I want the girls to know what key topics are being covered and what exactly has been going on, not just in our state, but nationwide. And, in connection to this, I want them to be able to recognize bias in the media beyond our classroom. … Knowing how to spot bias is an important tool regardless of political party or topic for our students to master. And what better time to engage this skill than election season."
Chaviva has an enrollment of 32 students.
Columbus Jewish Day School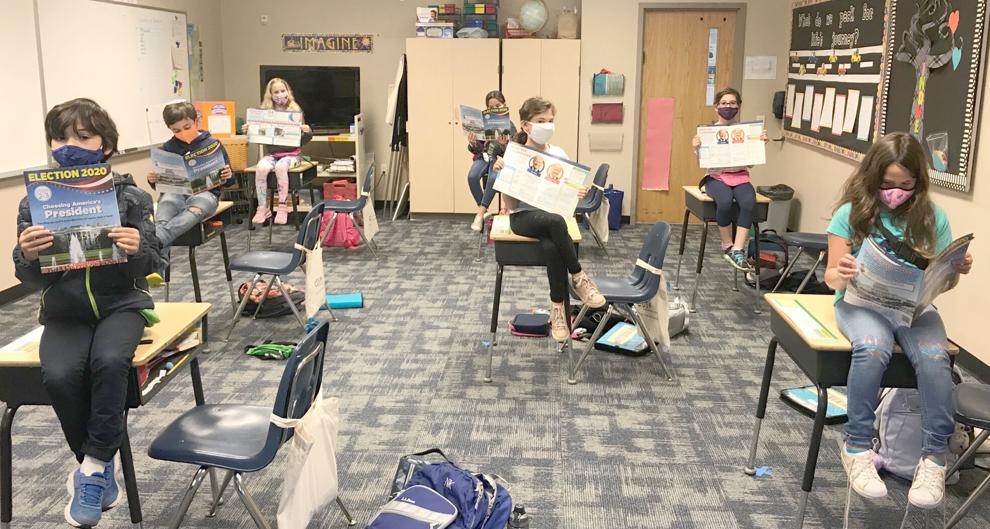 At Columbus Jewish Day School in New Albany, third, fourth and fifth graders are preparing to hold their own election.
Students at the school with enrollment of 61, are researching candidates and issues, such as the environment, health care and the economy.
Third graders were using vocabulary to create both spelling lists and journal topics, while fourth and fifth graders studied the Electoral College.
Joanna Vilensky, fourth and fifth grade general studies teacher, spoke of the importance of the moment.
"I am very passionate about teaching government and current events, and want my students to understand they're living through history," she said through a school spokeswoman.
Columbus Torah Academy
Students at Columbus Torah Academy in Columbus were preparing for a mock election to coincide with the presidential election.
In younger grades at the school, which has enrollment of 212, students spoke with political leaders at local, state and national levels to explore the concept of leadership and influence.
At the high school level, history and social studies teacher Tim Pray is using his classroom to teach in-depth about the electoral process "and the nuances about what makes a sustainable democracy," according to a school spokeswoman. When high school seniors turn 18, he guides them through the process of registering to vote.
Fuchs Mizrachi School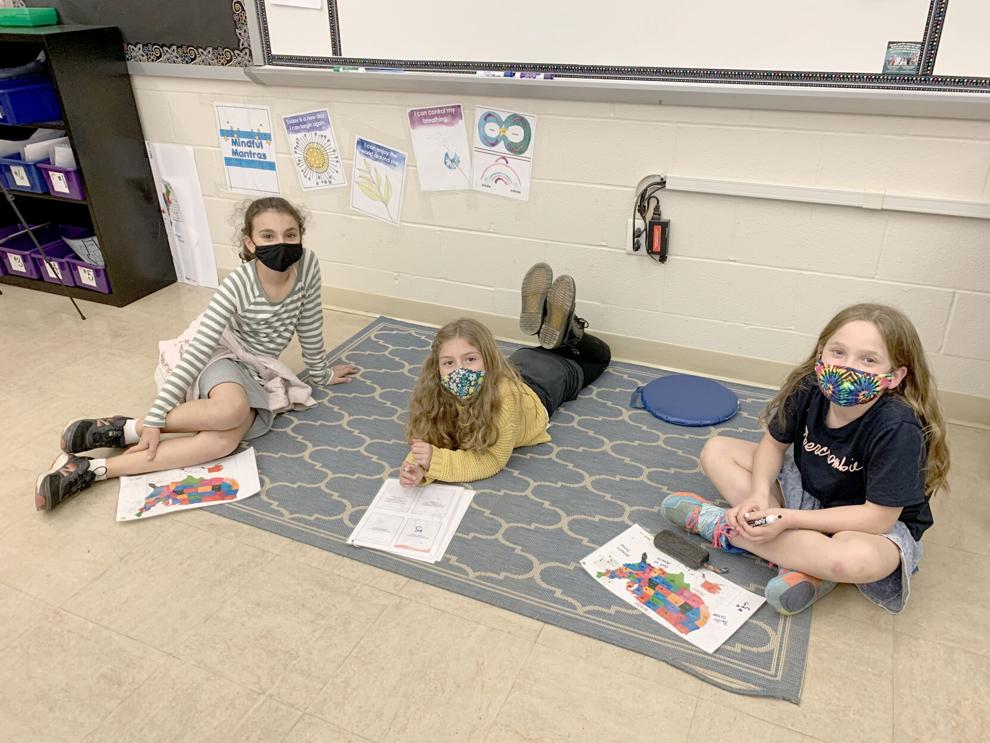 Fourth and fifth graders at Fuchs Mizrachi School in Beachwood have been learning about the Electoral College, according to Jessica Segen, language arts and social studies teacher.
"They have been discussing the meaning of electoral votes and the presidential election process, along with incorporating geography into the unit by locating specific states and identifying state abbreviations," Segen wrote in an email to the CJN.
In their study of language arts, the students are reading the novel, "The Kid Who Ran for President," by Dan Gutman. The book discusses the entire election process from getting on the ballot to being elected president.
When Election Day arrives on Nov. 3, Segen wrote, the students will be well prepared and understand how the president is elected.
Fuchs Mizrachi has an enrollment of 400 students.
Gross Schechter Day School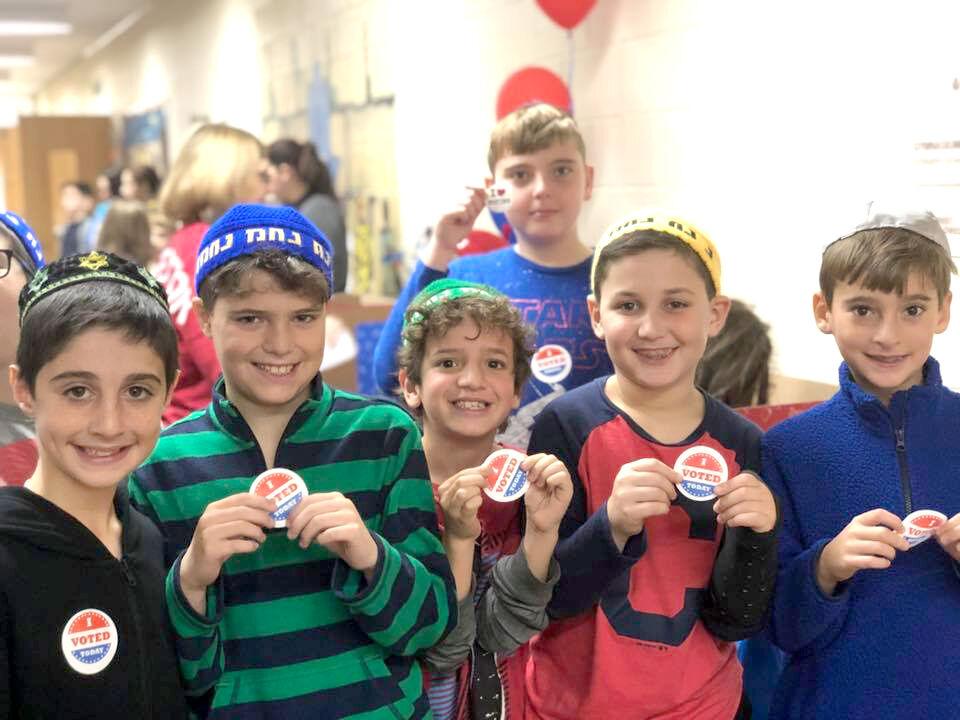 Donnel Newman, fourth-grade teacher at Gross Schechter Day School in Pepper Pike, said students have been educating each other on the issues.
Both seventh and eighth graders will "tackle the main issues of COVID-19, the economy, the environment, Israel, education and social justice, from both the Democratic and Republican point of view."
They will then write speeches to present to other students, who will vote in a mock election on Nov. 3.
"Sixth graders are studying the history of voting along with the challenges of voting in 2020," Newman wrote in an email to the CJN.
In addition, all 230 students will register to vote in the mock election.
"Fifth grade, better known as The Compassion Crew, … will be researching different organizations that are related to social justice issues," wrote Newman, adding that on Election Day, students will choose one of the organizations to support through an upcoming tzedakah drive.
"Our goal is to help the students learn the responsibility they have as an American citizen, and the importance of getting involved, participating in the process and making informed decisions," Newman wrote.
Hebrew Academy of Cleveland
"At Hebrew Academy of Cleveland's Beatrice Stone Yavne High School, students engage in interactive election and democracy projects as they study the Electoral College and simulate an election," Rabbi Simcha Dessler, educational director, wrote in an email to the CJN.
"Students create their own political parties with slogans and campaigns culminating with a classroom election. Through that process they learn how parties and campaigns work and how much thought goes into the ideas and policies of candidates. Typically, students are engaged by the process. In one class, the experience further allows students to propose and vote on changes in classroom policies."
Dessler wrote of the disenfranchisement of Jews in history.
"The election process celebrates freedom of choice, a privilege too many of our ancestors were unfortunately denied," he wrote. "I hope that the experience teaches students the power and impact of leadership and that they imbibe that we can agree to disagree, but when elections are over and the people have spoken, their voices heard and counted, we can come together in unity for the betterment of our country and the world."
Hebrew Academy, with campuses in Cleveland Heights and Beachwood, has 1,253 students.
Joseph and Florence Mandel Jewish Day School
At the Joseph and Florence Mandel Jewish Day School in Beachwood, students are studying elections by holding elections with fictitious candidates who are running for president of the school.
There was a specific reason Christine Catalogna, second grade general studies teacher and department head of lower school language arts, developed the curriculum in this way.
"Our goal is for our students to be able to fully participate in the American democratic process without bringing their politics from home, which you know often creates further division or might turn them off to politics," she said. "So, we want all of our kids to feel welcome, engaged and equally a part of the process."
The elections and lessons leading up to it, she said, will stress not only learning about the election process, but also engaging in it in ways that teach the framework of the American political system as well as how to engage in it effectively.
A Mandel JDS student created two avatars representing the fictitious candidates, and the students will see animated videos featuring the two characters showing their platforms and a debate prior to voting Nov. 3.
Students will rank the issues of the platforms of the candidates, discuss deal breakers and learn how to effectively engage with people who hold opposing views, Catalogna said.
"This whole process can be done with civility, even if that's not being modeled in real life," she said.
The school has an enrollment of 321.
Yeshiva Derech Hatorah
Students in Yeshiva Derech Hatorah's elementary grades are studying different aspects of the election process.
"We are teaching the background information on what the president does, citizens' rights and responsibilities, and what the election process is," Miriam Roberts, lower division elementary principal, wrote in an email to the CJN. "We are also focusing on the two candidates and the two parties."
The school has campuses in Cleveland Heights and Lyndhurst and an enrollment of 790.
At the upper elementary level, in grades four through six, students are studying the election, the Electoral College, the candidates and their positions.
Esther Leah Greenberger, upper elementary division principal, wrote in an email to the CJN, "Each class will also have a mock election where the students will campaign for their platform and experience the feeling of winning or losing in the democratic system of voting.
"Students will create posters to encourage their classmates to vote for their policies and perhaps even try to convince me to vote for some changes in school policy," she wrote. "It is an exciting time and a memorable experience."