Apparently, there wasn't any evidence against Damion Creel after all.
In a 180-degree reversal, the Beachwood School Board voted to approve the supplemental athletic contract of Creel, who will return as Beachwood High School's head football coach, in a special meeting at the board of education on May 23. The resolution passed, 4-1, with school board member Joshua Mintz voting no. No public comments were made regarding the resolution and board members did not make any comments regarding the vote at the meeting.
Mintz declined to comment on the situation at this time when contacted on May 24.
The vote came a little more than two months after Superintendent Robert P. Hardis, Athletic Director Ryan Peters and Beachwood High School Principal Tony Srithai originally announced Creel would not be re-hired in an email to football players and their families. In the email dated March 18, Hardis, Peters and Srithai wrote that they had "come to the conclusion that bringing Coach Creel back would jeopardize the standing of our football program and that of its student-athletes and their families, who are highly invested in its success." The letter cited the findings of an investigation conducted by the school into allegations of recruiting made by an anonymous complainant, though it also said Creel would be retained as a middle school physical education teacher.
Creel has not commented publicly on the situation since providing a statement to the CJN on March 21. However, after the March 18 announcement, Creel has had a number of supporters, including current and former Bison football players and their families, current and former students and even activists speaking out in favor of retaining the coach. On May 10, a small protest was held on the corner of Fairmount Boulevard and Richmond Road, holding signs in support and chanting "Get Coach Creel out of this mess/do the right thing, there's no evidence" at cars as they passed by the corner.
Creel will be paid $8,164.20, on top of his teaching salary. Creel had been paid the same salary for the 2018 and 2017 football seasons. He has been head coach of the Bison since June 2015 and is a 1994 graduate of the school, earning All-Ohio honors in football twice. In three seasons as head coach, Creel has an 11-19 record at Beachwood, including a 6-4 record in the 2018 season.
The potential for Creel's return has been brewing for a few weeks. On May 14, Hardis confirmed to the Cleveland Jewish News that the board of education would re-engage Creel and his attorneys in a discussion about returning as football coach.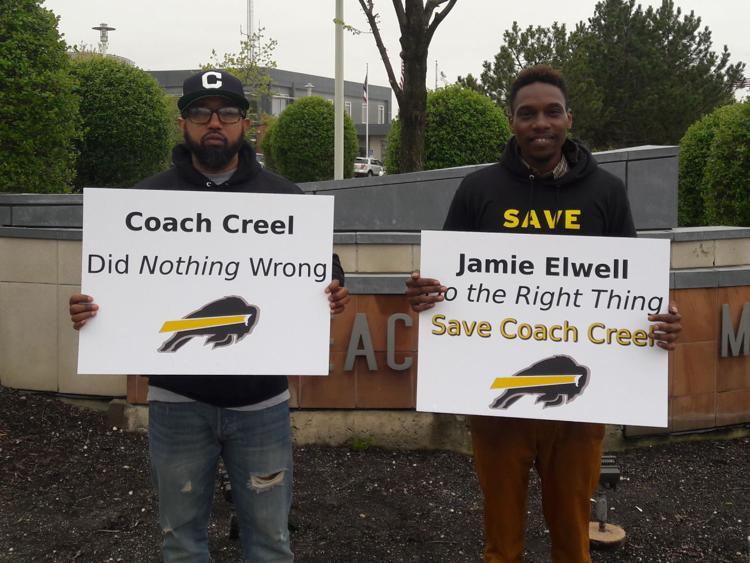 "I communicated out to our football players and their families that the board of education will be entering into discussions with Mr. Creel and his attorney about the prospect of him returning as head football coach," Hardis said May 14. 
At the time, Hardis was unable to provide a timeline for when Creel's contract would be finalized. He said he "can't answer" why the district made the decision to re-engage with Creel and refused to comment when asked if the district had received additional information that changed their minds about Creel. When asked what circumstances had changed for Beachwood since the decision to not retain Creel was made on March 18, Hardis said he had no comment. He said the decision to re-engage was made at a special board meeting on May 10.
It is both unclear when Beachwood schools decided to reverse their decision and why the school system made this decision in the first place. 
Hardis did not return a message seeking comment prior to the special meeting on May 23.
This is a developing story and will be updated.