Indoor visitation will be allowed in Ohio's nursing facilities beginning Oct. 12.
Ursel McElroy, the director of the Ohio Department of Aging, made the announcement Sept. 24 as she outlined guidelines nursing facilities will need to follow to allow visitation.
Facilities will need to determine their level of readiness, considering the case status within the facility, staffing levels, access to adequate testing for residents and staff, supply of personal protective equipment and local hospital capacity, McElroy said.
Guidelines include limiting entry to the nursing facilities, screening all staff and visitors and maintaining a daily log of those who enter the building, she said.
Visits must be scheduled in advance and occur in designated areas, McElroy said. Two visitors are permitted per resident per visit, and visits are limited to 30 minutes. Visitors must be able to social distance and wear a face covering, which should be provided by the facility.
Facilities will need to develop a written and transparent plan, McElroy said.
The facilities will also regularly report visitation information to the state, which Ohioans will have access to through a dashboard at coronavirus.ohio.gov.
This is the first step of others to come, McElroy said.
"Indoor visitation does not signal that we can be less cautious. What it means is that each of us – residents, family and staff – need to be even more vigilant in practicing the very basic yet very critical practices that limit the spread of this virus. Wash your hands. Wear a mask. Keep your distance. Limit your visiting time. And – most of all – stay home if you think you've been exposed or are feeling ill," McElroy said.
If spread in your home area is high, that means your risk of exposure is high if you have been out, McElroy said.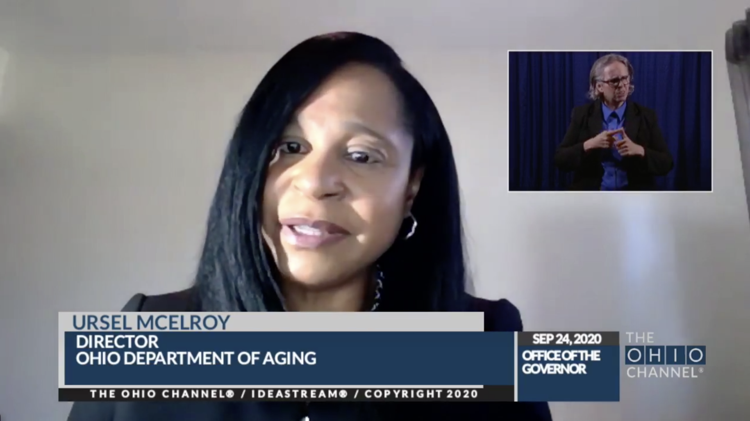 Regarding intermediate care facilities, indoor visitations will be allowed beginning Sept. 28, said Jeffrey Davis, director of Ohio Department of Disabilities.
The guidelines will be similar to what McElroy outlined for nursing facilities, Davis said.
There are many different types of settings in intermediate care facilities, so protocols will vary, he said.
"We'll have to ask patience with everyone as we set aside a spot in that home so we can sort of isolate in that visitation and we take the same precautions that Director McElroy talked about," Davis said.
Mental health
Ohio Gov. Mike DeWine said the coronavirus has caused mental health problems for many Ohioans.
"We are talking today with the leadership of the General Assembly to come up with some additional funds" to make sure mental health help is there, DeWine said.
K-12 schools are already receiving wellness funds, DeWine said. But as the pandemic has moved along, the need for mental health help for that population has gone up. That is also the case for colleges and universities, he said.
Mental health help also needs to get back into the individual communities, where the service has to get delivered, he said.
"We also know that some of our renters are under great stress, and we need to help them deal with that," DeWine said.
The additional funding should be announced next week, he said.
Sports
Ohio Lt. Gov. Jon Husted discussed a new order for sports.
Teams will now be able to play more than one game in a single day. For example, a soccer team participating in a tournament will now be able to play one game in the morning and another game later in the day, he said.
Each sports venue will now be required to work with local inspectors to ensure there is compliance, and the inspectors will have the authority to terminate competition if rules are violated, Husted said.
Ohio colleges and universities
DeWine announced a recommendation that all residential colleges and universities are regularly conducting COVID-19 testing of a sample population of students.
The random sample should include those who do not have symptoms, and a minimum of 3% of the at-risk population should be tested, DeWine said.
"Screening students who do not have symptoms gives college presidents and their team a real look at what's happening on their campus," DeWine said.
Ohio Public Health Advisory System
DeWine also unveiled the new Ohio Public Health Advisory System, and nine counties are now at red Level 3, indicative of very high exposure and spread of COVID-19.
Most of the counties that border Indiana, Kentucky and West Virginia are red or orange Level 2, DeWine said.
The population of Ohioans living in yellow counties has decreased in the past four weeks, he said, indicating there is significant spread of the coronavirus across the state.
In Northeast Ohio, Portage County dropped from red to orange in the past week.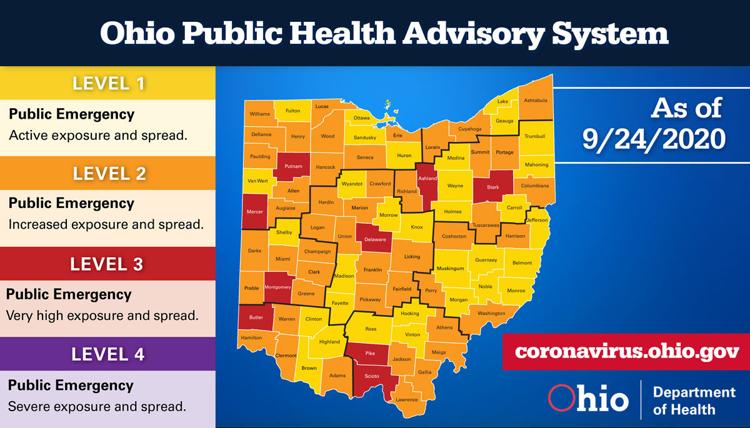 Ohio has 147,744 total cases of COVID-19 and 4,715 total deaths, the Ohio Department of Health reported Sept. 24.
The number of reported cases increased by 991 from Sept. 23.
The total number of individuals who have been tested in Ohio is 2,947,603. The new daily percent positive cases 3.0%, with a seven-day moving average of positive cases of 2.8%, according to data from Sept. 22.
The individuals who have tested positive range in age from less than 1 year old to 109 years old, with a median age of 40.
The ODH reported 28 new deaths Sept. 24. The median age of those who have died is 80.
The ODH reports 15,051 individuals have been hospitalized, and 3,228 have been admitted to the ICU due to the coronavirus. The median age of those hospitalized is 64.
The ODH reports 127,239 individuals are presumed recovered – defined as cases with a symptom onset over 21 days prior who are not deceased.
Cuyahoga County accounts for 17,327 of the cases, 2,568 hospitalizations and 656 deaths.
If you have questions regarding COVID-19, call 833-4ASKODH (833-427-5634) or visit coronavirus.ohio.gov.