With a Bible held under his left hand by his daughter, Leah, right palm raised, and his commitment to the city of Cleveland Heights further confirmed as he repeated the oath read by Cuyahoga County Councilwoman Cheryl Stephens, Councilman Jason Stein was sworn in as the last council-appointed mayor of Cleveland Heights during a ceremony Jan. 6 at Cleveland Heights City Hall. He also became the first Orthodox Jew to hold the office.
The city's executive branch leader for the past 100 years is the city manager, which is decided upon by city council. City council also appoints a mayor for a two-year term to cover the legislative side of government who works with the city manager.
However, after voters passed Issue 26 in the November 2019 election, a mayor elected by city residents will take over as the leader of the city, starting with an election in 2021 for a 2022 term.
"It's an honor to be appointed to mayor," Stein said. "There is a significance to being the first Orthodox Jewish mayor in this historic city that has had a significant Jewish population since post-World War II, and in possibly the state of Ohio. I hope that I can do a good job. I'm just a part of the beautifully diverse community that is Cleveland Heights."
Stein, 43, a councilman since 2011, said he looks forward to take on this final chapter in Cleveland Heights' history and to make a lasting difference during his term.
"For me, it's going to be business as usual over the next two years; this is not a time to take our foot off the pedal," said Stein, a member of Ahavas Yisroel in Cleveland Heights. "Focusing in on economic development, considering changes to refuse and recycling, going after bad landlords and improving the Noble and Taylor (roads) commercial and residential areas of the city will all be priorities."
Besides a brief move to Beachwood during his college years, Cleveland Heights has been where Stein has done everything — it's where he grew up, attended public school and is raising his seven children with his wife.
"It is such a great community to raise a family and grow up in," he said.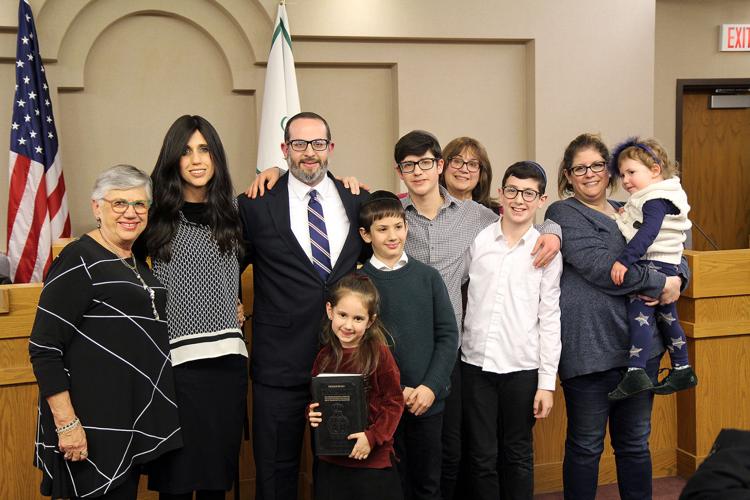 Stein and members of council are researching methods to create a smooth transition of power from city manager to mayor by looking at other cities that have experienced similar changes in governmental power and from citizens like those who helped run the Issue 26 campaign.
"(The passing of Issue 26) means the people of Cleveland Heights want change and the status quo isn't good enough," he said. "They want to see more results, and that's what I believe they were voting for in having a change to a strong mayor. It's our job as council currently to make that change as smooth as possible... and from the city perspective, we're going to be looking at what are the policies we need to put into place to help the transition."
As for whether he'll run for mayor in 2021 when the position holds greater responsibility, Stein is focused on the present and wants to make a change in his first go at mayor.
"I'm really focused on trying to do my best to bring this council together to work together to get the things done that the voters just voted on in November, which is that they want results, they want to see improvements," he said. "So as of right now, I'm just focusing on that, and those type of decisions will be made at a later time."