Long before when the Grameen Bank in Bangladesh coined the term microloan in the 1980s, the Torah commanded Israelites to make interest-free loans to those in need.
Ki Titzei, the parsha which contains that mitzvah, is read this week in synagogues around the world. On Sept. 8 and Sept. 9, about 50 Jews representing free loan associations across North America met at The Ritz-Carlton, Cleveland to learn tips from each other about engaging donors and best practices for their agencies. The International Association of Jewish Free Loans also includes interest-free lenders in Australia and Jerusalem.
The oldest in the U.S. is Pittsburgh's Hebrew Free Loan Association, established in 1887. The largest, in terms of total assets, is New York City's Hebrew Free Loan Society, with more than $25 million in assets.
However, Jerusalem's Open, established in 1990, eclipses the New York entity with assets totaling more than $54 million.
David Contorer, executive director of Hebrew Free Loan Detroit, is president of the international association.
"Jewish communities have been making microloans as we call them today, interest-free loans, since the biblical times," said Contorer, citing the Torah's commandment. "It's in the Torah that when a Jew is in need, you provide a loan … without acting as a creditor upon him or her. In other words, you don't charge interest. You do it in a way that's dignified. You give that person the resources he or she needs to be successful. They pay it back and it recycles, and it's been happening in the Jewish communities for literally thousands of years. … So what we're doing in the 21st century is what our people have been doing literally for thousands of years."
Contorer said the repayment rate tends to run between 95% to 99% at the associations.
HFLA of NE Ohio
The Hebrew Free Loan Association of Northeast Ohio lends to both Jews and non-Jews under a nonsectarian model of lending.
"In our own formal way, in 1904, we started doing itty-bitty microloans to the entire community so that they could take care of themselves and start little businesses and take care of their families and things like that, especially as immigrants started to come over," said Laura Kleinman, president of the Hebrew Free Loan Association of Northeast Ohio.
Jews represent 12% of the borrowers of the 253 outstanding loans. Jews represent just 2% of the population in Northeast Ohio. HFLA of Northeast Ohio has total assets of $1.67 million.
"For the first time ever, we have more than $1 million loaned out currently in the community," said Michal Marcus, executive director of the HFLA of Northeast Ohio. "We've loaned millions of dollars over 115 years, but we keep growing. We've actually had no new normal for the past five years."
There were 82 new loans in the past year totaling $429,246, with the average loan $5,235. The free loan association offers business, education and general. A guarantor is required for each $5,000 borrowed.
Advice from fundraisers
At the conference, attendees heard advice from Earl Pike, executive director of University Settlement in Cleveland's Slavic Village neighborhood. He recommended taking a page from writers, rather than marketers, when approaching donors.
"The story is always about individual relevant personal change," Pike said. "The story is an embodied transformation. It's not about numbers reached, service units or people. … It's not about outcomes because there are all sorts of unintended outcomes and there are plenty of times when we're looking at the wrong outcomes.
"Looking at outcomes can be deceptive," he said. "And it's not usually about masses of people. It's awfully hard for most of us to wrap our minds around masses. It's about individual personal change. Changes that add up to collective change that add up to societal change."
Pike recommends asking for potential donors to in more ways than just financial engage. He gave examples of questions fundraisers can ask.
"Would you be willing to come to this event?" was one such example. "If I forward you something from our newsletter, will you take a look at it and tell me what you think?"
He also said it doesn't matter whether he's asking for funding, he tells the same stories.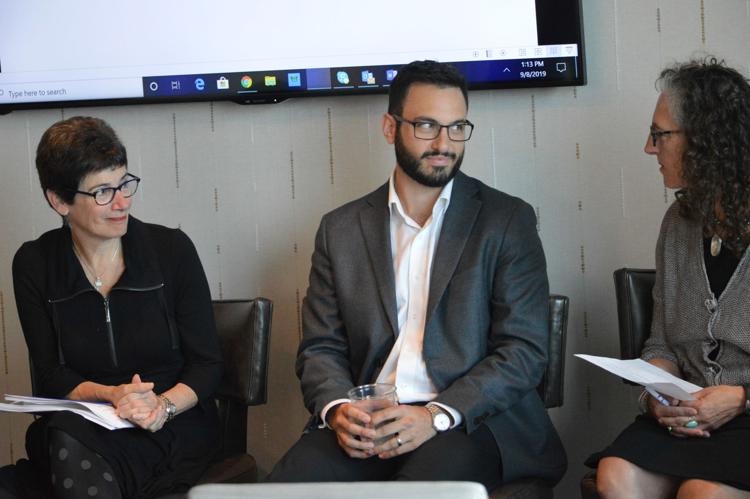 Laura Leventhal, director of capital and board advancement at the Joseph and Florence Mandel Jewish Day School in Beachwood; Marianne Lax, director of education at Kol Israel Foundation in Beachwood; and Matt Soble, part owner of Hey Now! Media in Cleveland, all spoke of personal engagement in face-to-face conversations as essential to successful encounters with potential donors.
"Sitting in the room, we're all individuals," said Lax, addressing the question of why approaches need to be tailored differently to different audiences. "Each time you're talking to somebody, you're talking to a unique individual."
Soble said the first two questions he would ask donors would be what a potential donor knows about an organization and to ask them about their motivation.
"I think engaging where somebody's at right at the beginning and also what excites them, so kind of trying to understand why this is important, if there's any personal relation or personal touch that puts them across the table from you and why they're having the conversation," Soble said, adding that technology can help remove some of the burden.
"A slight overgeneralization, but talk 49%, listen 51%," Leventhal said. "The more you can get the person that you're communicating with to engage, the stronger you can make your case."