Kol Israel Foundation is celebrating its 60th year with an Oct. 27 dinner as it recalls a legacy of Holocaust remembrance, charitable works, advocacy and looks to the future with an expanding mission of education.
"I think we're most excited about the strong education opportunity we have now to really reach the school level, high schools, middle schools but also colleges and the adult population, organizations and churches etc.," said Anne Lukas, board chair of Kol Israel Foundation, referring to Kol Israel's expanding education programs. "This 60th I feel like we're coming to a wonderful new plateau where we can offer more and more than we have before in a most updated way possible."
Now known for its Holocaust memorial programs – on Kristallnacht, Yom Hashoah and during the High Holy Days – as well as its outreach in public schools, Kol Israel Foundation was founded partly as a social and support group, but it always looked to help newcomers and the state of Israel.
Kol Israel runs on a budget of about $175,000, with three employees: Executive Director Hallie Duchon, Education Director Marianne Lax, whose position was recently added, and Nina Light, a part-time administrator.
Proceeds from the dinner at the Ritz-Carlton, Cleveland, will go toward marketing and communications for educational outreach and toward upgrading an educational exhibit.
The honorees
Lukas and others praised the work of KeyCorp Chairman and CEO Beth Mooney, who will be honored at the dinner, particularly her commitment to diversity at KeyCorp.
"Her trips to Israel with the Jewish Federation of Cleveland enhanced her belief that the teachings of the Holocaust are more relevant today than ever before," Albert Ratner, an honorary event co-chair, stated in a news release.  "She shares a vision of the future that includes fighting bigotry."
Richard Bogomolny, an honorary co-chair of the event, said in the release, "Beth has eagerly embraced Kol Israel's mission of sharing the lessons of the Holocaust and inspiring tolerance as our world combats racism, anti-Semitism and hate."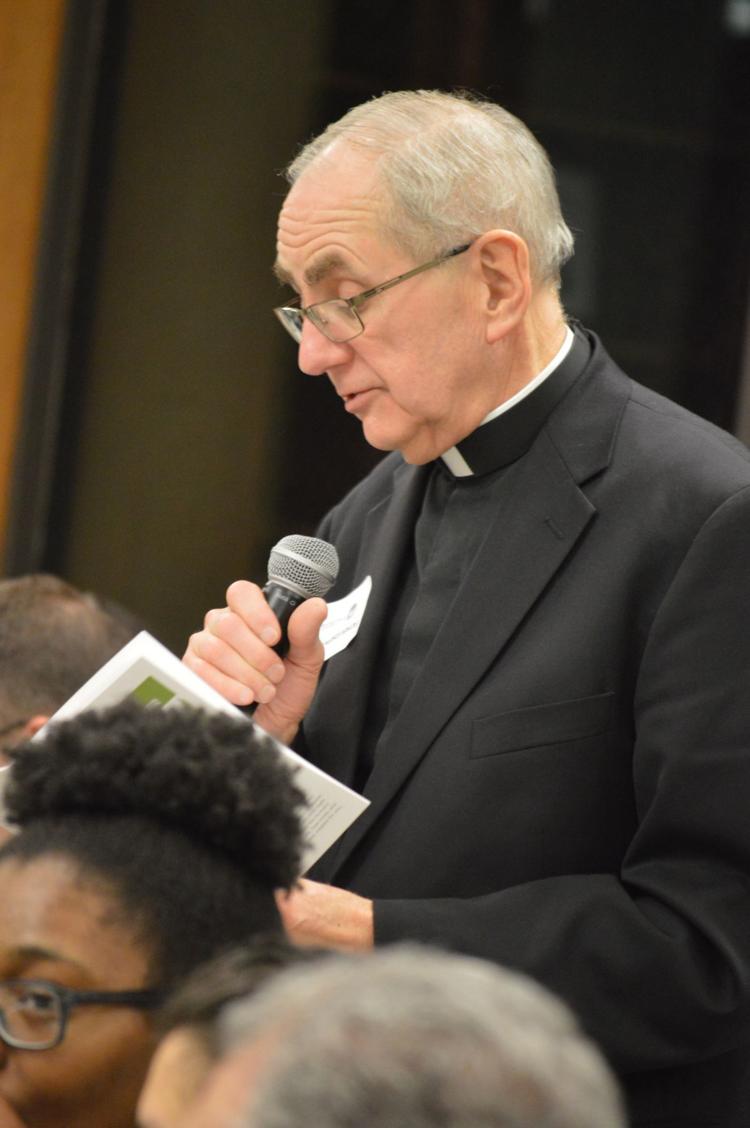 The Rev. Joseph Hilinski, pastor of St. Barbara Parish in Cleveland and director of Interfaith Affairs for the Catholic Diocese of Cleveland, will also be honored.
"Father Hilinski has brought countless students to experience Kol Israel's lessons," Jeffery J. Weaver, event co-chair, stated in a news release.
Event co-chair Nancy W. McCann said in the release, "We honor his steadfast devotion to interfaith education and understanding for more than 30 years."
In addition, an award in memory of Leatrice Rabinsky, a Cleveland-based Holocaust scholar who pioneered Holocaust education in public schools, will be presented to Steven Howell, who teaches at Garfield High School in Garrettsville and at Hiram College in Hiram.
History
Kol Israel was founded by a group of couples, all Holocaust survivors, who met at the home of Mike Frum on Feb. 15, 1959. Its focus was to help each other and newcomers as well as to support Israel.
In 1961, the foundation became chartered in Ohio, with William Miller serving as its first president. On May 28, 1961, the group dedicated the Kol Israel Holocaust Monument at Zion Memorial Park in Bedford as a touchstone for their grief. It was Ohio's first and one of the earliest Holocaust monuments in the United States. Buried under the monument are ashes of victims from three concentration camps. In 1973, names of Holocaust victims with relatives in Cleveland were added to the monument at Zion Park.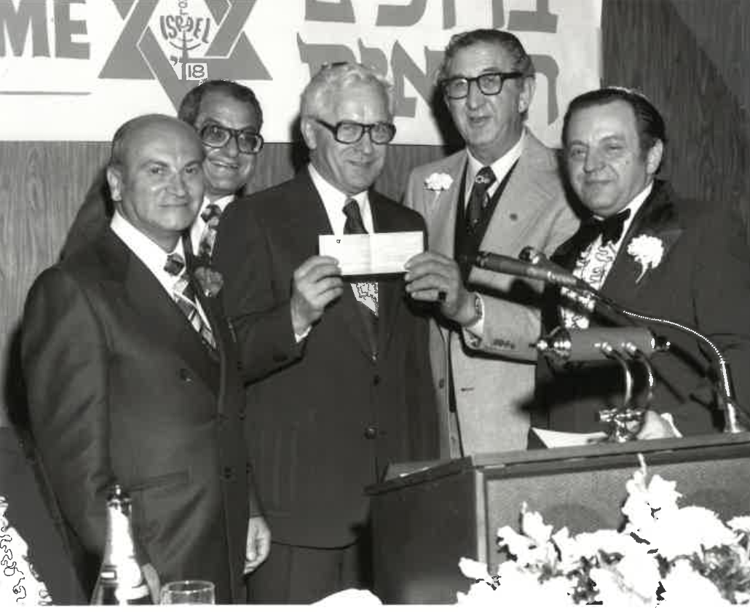 "They knew that their experiences made them unique and that for a long time they could feel comfortable and at ease only with people like themselves," Jacob Hennenberg wrote in a history for the 18th anniversary celebration of Kol Israel Foundation in 1977. "The foundation provided the warmth and sympathy and understanding of a close-knit family to its founders and members."
It reached out to newcomers with financial assistance, helping them find jobs and housing and provided aid to Israel, paying for a forest of trees in the 1960s and a fully equipped ambulance in 1977.
A Kol Israel Sisterhood formed as did Second Generation, Kol Israel as children of survivors grew up. In 2013, those two groups were consolidated under the foundation.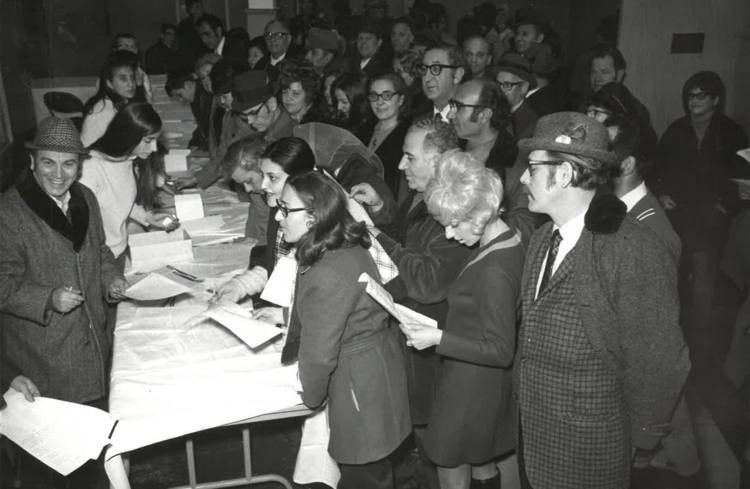 Past advocacy
Over the years, Kol Israel has drawn attention to events on the world stage, including protesting the death sentence for two people in the Dymshits-Kuznetsov highjacking affair of 1970, in which Jews attempted to flee to Israel from the Soviet Union.
Members of Kol Israel Foundation also protested President Ronald Reagan's 1985 visit to a German military cemetery in Bitburg, where members of the Waffen SS were buried.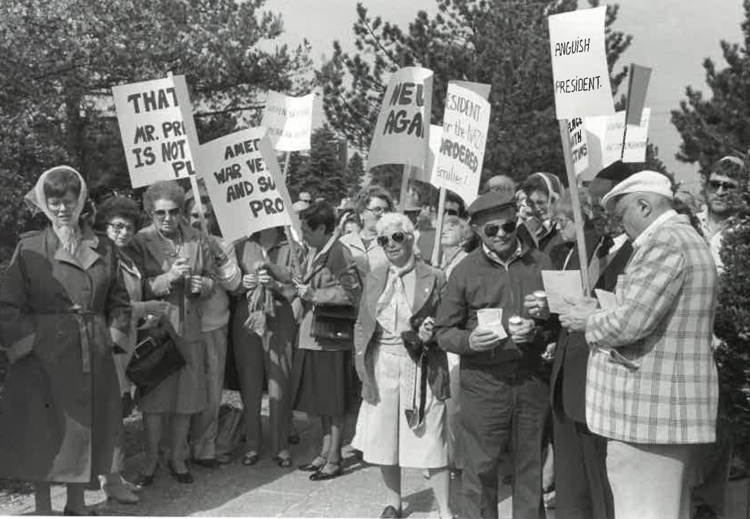 "Our pain, Mr. President," Rose Kaplowitz, a survivor of the Oberslstadt concentration camp, said at the time, "would be easier to bear if we, too, could go to a cemetery and place a flower on the graves of our loved ones. But there are no graves where we can say a prayer or shed a tear."
Education initiatives
In recent years, Kol Israel has begun offering Holocaust education to students in Northeast Ohio. One traveling program pairs a video presentation of a survivor's testimony with a visit from that survivor's child.
On Jan. 1, Kol Israel acquired Congregation Shaarey Tikvah's on-site Holocaust education program, which includes a three-part presentation consisting of an introduction to Judaism with a rabbi or Jewish professional that includes a tour of the Beachwood synagogue, viewing an exhibit on the Holocaust and a talk by a survivor.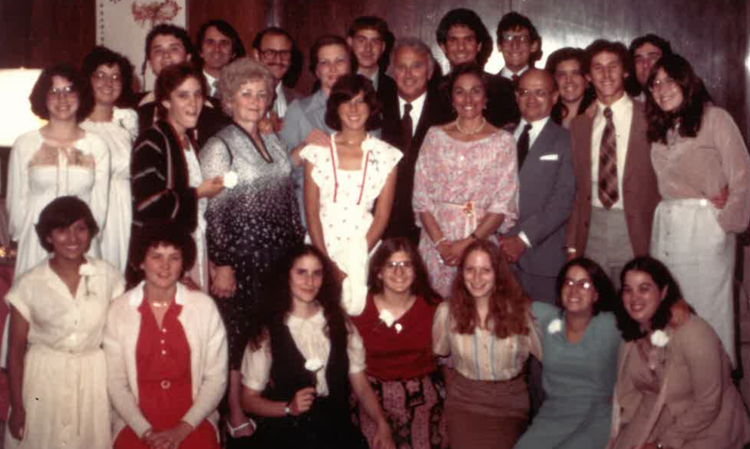 That program was inspired by Rabinsky, who taught a class on the Holocaust at Cleveland Heights High School. Rabbi Gary Robuck, who had been her student, conceived the program at Shaarey Tikvah. Louise Freilich, who ran the program for 16 of its 25 years retired in June.
Kol Israel's acquisition of Shaarey Tikvah's Face to Face program was timed to take place with her retirement. More than 54,000 schoolchildren have attended the educational program at Shaarey Tikvah since its inception in 1994.
Reflecting on Kol Israel
Mark Frank's parents, Esther and Herman Frank, were both Holocaust survivors. They met after the war and came to Cleveland. Frank grew up with a bevy of cousins due to the fact that his mother's siblings also managed to survive the war and immigrated to Cleveland.

"I've learned survivors and their children were different," Frank said. "They didn't socialize. They didn't let their children do anything adventurous. They were overprotective, fearful and of course there's books written about second generation psychoses from having parents who survived the Holocaust."
Still, Frank felt a bond with people he met at Kol Israel Foundation.
"They would have parties, new year's parties, picnics," he said. "My family would go to all these things. I just learned that Kol Israel was like my extended family."
Today, Frank is Kol Israel's president. He said he hopes the educational work of Kol Israel will help help stop bigotry, discrimination and anti-Semitism.
"That's a lofty goal, but we're trying to do our part," he said.