Kol Israel Foundation honored the work of a teacher, a banker and a priest at its 60thanniversary Celebration of Generations Oct. 27.
About 275 people attended the Diamond Anniversary dinner at the Ritz-Carlton Cleveland, raising $340,000. The event coincided with the first anniversary of the shootings at the Tree of Life Congregation in Pittsburgh and a moment of silence was held.
The foundation, started in 1959 by a group of Holocaust survivors, today keeps the memory of the Holocaust alive, partly through commemorations and more broadly through the education of students throughout Northeast Ohio.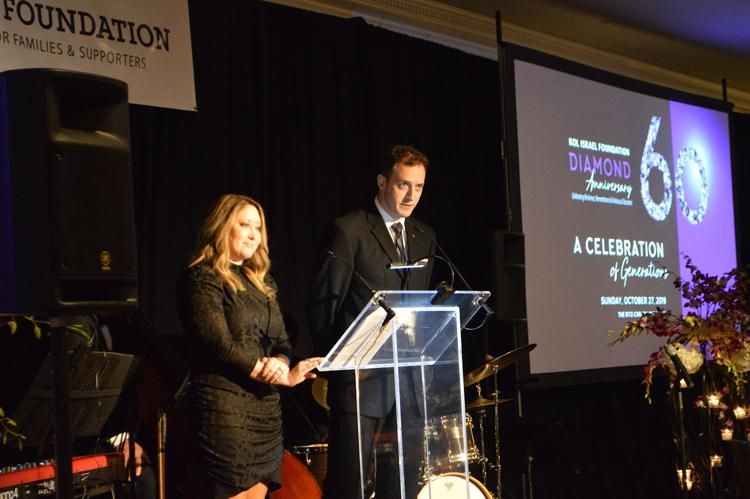 "We are here to celebrate Kol Israel's dedication to our three objectives: resilience, remembrance and Holocaust education," said Mark Frank, president of Kol Israel. "Our Holocaust survivors embody our resilience. I want to thank those survivors here today and honor those who could not attend due to their physical restrictions. You have inspired the families you produced to protect the Holocaust legacy so that future generations never forget those who were persecuted and perished solely because of their religion."
Frank noted the recent loss of Holocaust survivors in recent years, "making it a more urgent obligation for second and third generations, such as myself and our emcees (third generation Jeremy Joseph and Deb Hurwitz), to teach future generations your brave and daunting stories."
The foundation erected the Kol Israel Holocaust Memorial Monument at Zion Memorial Park in Bedford Heights in 1961, which Frank said was one of the first of its kind in the United States.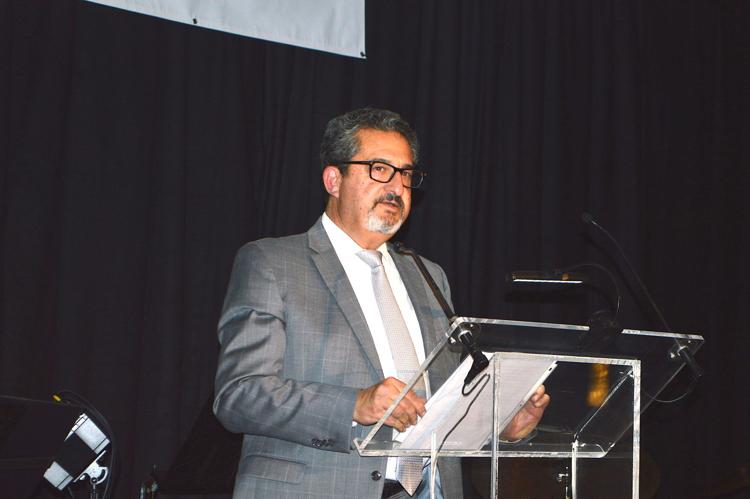 His father, Herman Frank, was on the memorial committee, and Mark Frank worked to get that site declared an Ohio Historic Site in 2016. 
"As for the goal of education, I have to recall the words of my grandmother, who perished at the hands of the Nazis," Frank said. "She told my mother, 'You have to survive to tell our story. Otherwise, no one will believe it happened.'" 
He thanked his parents, both now deceased, for telling of their experience in Congregation Shaarey Tikvah's Face to Face program and in Kol Israel's Sharing Our Stories presentations. As of January, both programs are under the auspices of Kol Israel.
"Our mission is to try to quell the world's current climate of hate: the rise of bigotry and terrorism and bullying through humanizing of Holocaust experiences," he said. "As this is our diamond anniversary, I will leave you with my father's oft-repeated story. When his mother knew the family would be displaced, she sewed the few family jewels, some diamonds, into the lapels of my dad's winter coat. They must have come in handy, as he was able to survive, come to America, establish a family and succeed. He would be so proud to see that Kol Israel, which he helped to establish, has reached this diamond anniversary."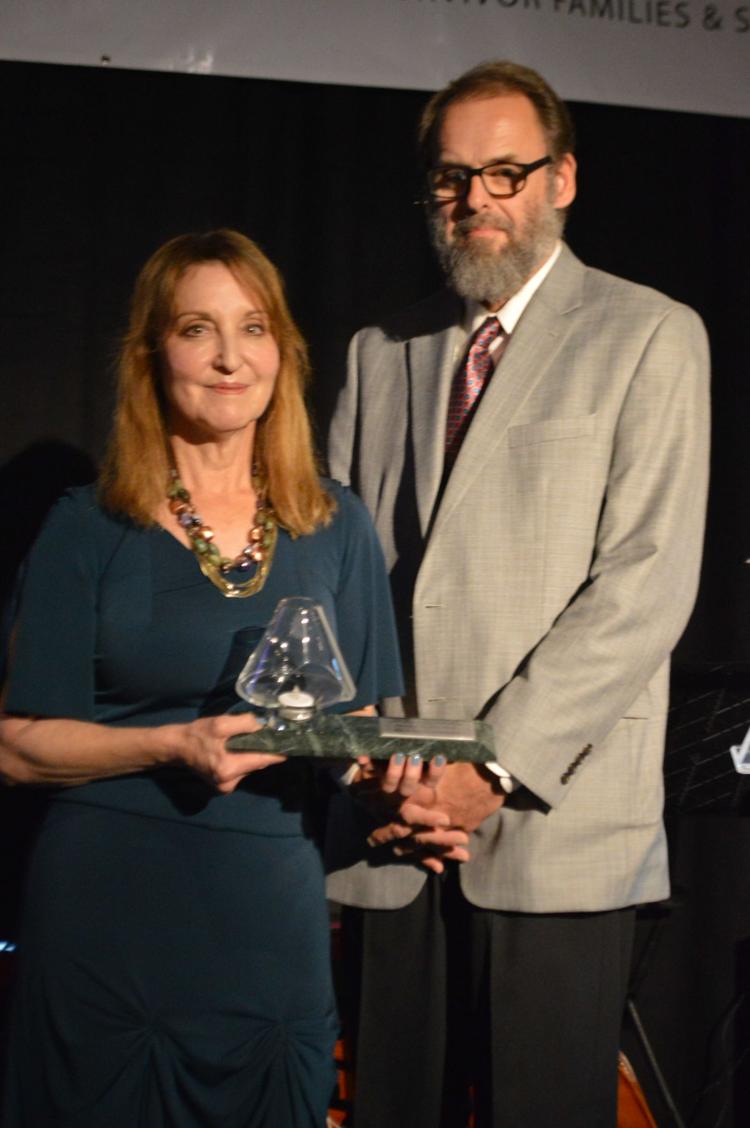 The Rev. Joseph T. Hilinski, director of ecumenical and interfaith activities for the Diocese of Cleveland, received Kol Israel's first lifetime achievement award for his work mending relations between Christians and Jews in Northeast Ohio.
In presenting the award, Anne Lukas, Kol Israel board chair, said Hilinski met the Rev. Walter Dobosh, who had been a political prisoner in Dachau.
"He shared his memories of the torture and suffering that he experienced at the hands of the Nazis," Lukas said. "Father Hilinski studied the Jewish history of Poland at Jagellonian University in Krakow. At Auschwitz, he was deeply moved to see the cell where the Conventual Franciscan Friar, Father Maximilian Kolbe, a religious and political prisoner who had been tortured mercilessly, gave his life in place of another man scheduled to die because the man had a family.
"When (Hilinski) heard people question whether the Holocaust had occurred, he was able to refute those denials," Lukas continued, adding that Hilinski visited Israel twice. "His experiences and education helped to provide him with sensitivity, understanding and knowledge for his challenging position."
Hilinski spoke briefly.
"As much as the moments that I spent in Auschwitz, touched me – to see barracks, the cells, to the accumulation of luggage, shoes, bones, teeth – sometimes those important impressions have to be augmented by beautiful experiences that personalize it and make what happened so really true to life. Sometimes that objective material seems so distant. Just recently I was at the Bedford Heights memorial and Harry and Roz Abraham took me over to the inscription on the stone of his grandmother. He told me the story about not only his grandmother herself but his family, all of the implications of the Holocaust."
It is those personal accounts, imparted by Kol Israel's Holocaust education programs, "that really touch the heart," Hilinski said.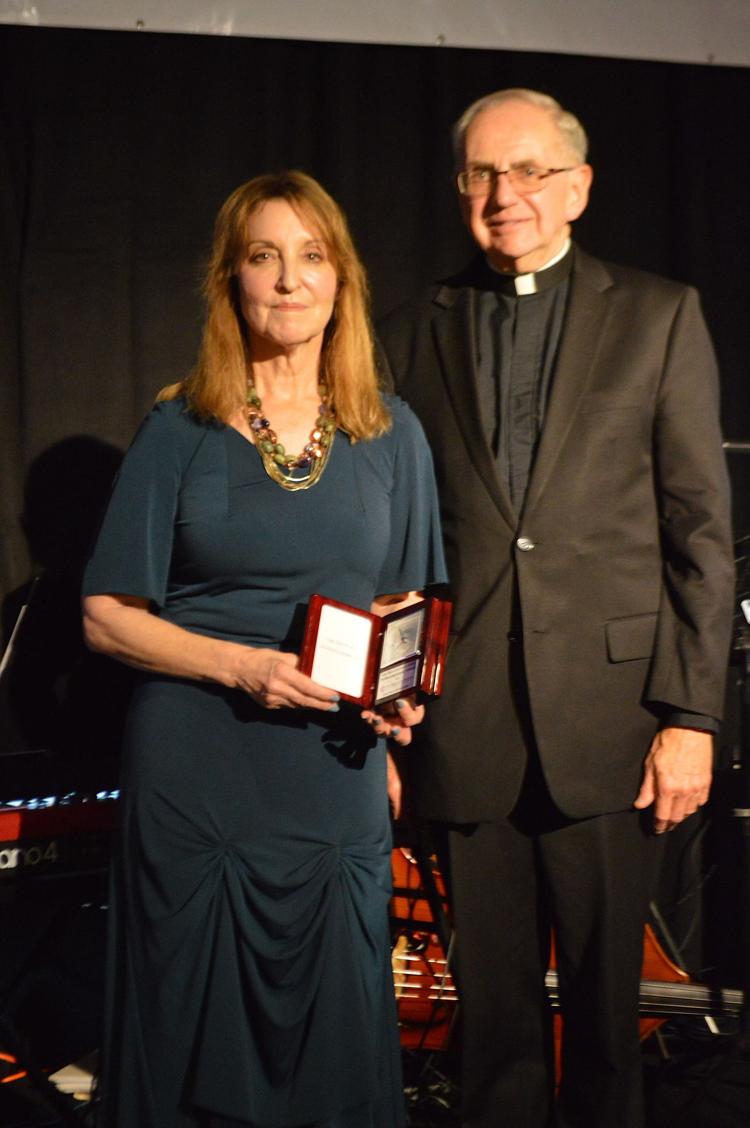 Lukas presented the foundation's first educator of the year award in memory of Leatrice Rabinsky, who taught at Cleveland Heights High School and at Case Western Reserve University's Siegal College of Jewish Studies. That award went to Steven J. Howell.
"Twenty years ago, Dr. Howell, who had just started teaching a Holocaust course, walked into his Garfield High School classroom in rural Garrettsville, Ohio, and found a cross with two swastikas and the words 'back off,'" Lukas said. "He quickly realized not only the importance of history but how the lessons of the Holocaust haunt us today."
Howell is a language arts teacher at Garfield High School and an adjunct professor at Hiram College. Lukas enumerated his Holocaust-related work including visits to five Holocaust sites in Europe with the Spielberg Foundation, participating in an advanced Holocaust program for educators at Yad Vashem in Jerusalem and receiving the Anne Frank Outstanding Educator Award, as well as developing expertise in online learning technology, and advocating for mandatory Holocaust education for middle and high schools.
"He teaches the negative power of prejudice, the frailty of humanity, that citizens must take care when placing power in the hands of others and that it can happen again," she said. 
Each of the honorees was given a candle holder. Howell was given $500 to be used for Holocaust education as well.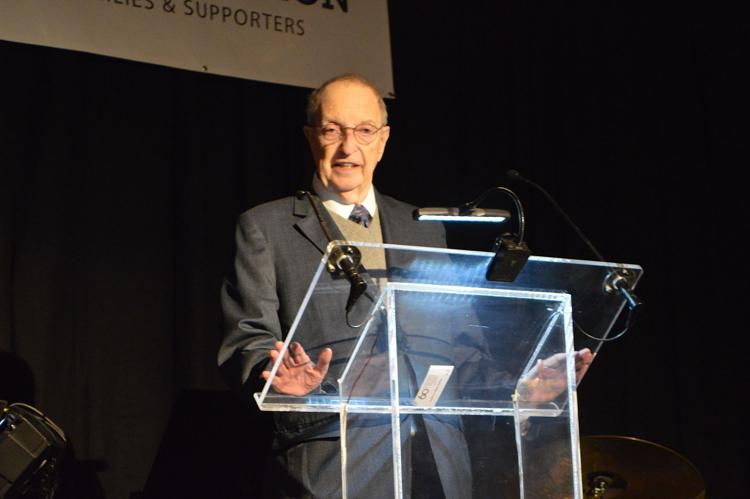 Albert Ratner, one of the event's honorary co-chairs, introduced Beth Mooney, CEO of KeyBank, who was the evening's main honoree. 
Ratner said he attended a Kol Israel Foundation dinner 41 years ago with his first wife, Faye, in the same week that she was in an automobile accident and died.
"But the affair stood out for me because it was at the time that there was a discussion of the march in Skokie, and we spent a lot of the time in the evening talking about should they march, shouldn't they march," Ratner said. "When the dinner was over, music was played and the survivors danced. And I turned to my wife, Faye, and I said, 'How can they dance? Don't they understand what happened.' She said to me, 'That's why they're dancing. Because they understood. Because they lived what happened. Because they know how tragic life can be but how glorious life can also be.' And I think all of us are so indebted to those who survived, who came here. … All of us owe to all of you a tremendous debt of gratitude because you were the witnesses who allowed us to become the witness to what you went through."
He said he is often asked to recount his family's greatest deed in business. Ratner's family started Forest City Realty Trust.
"The truth of the matter is the greatest thing our family ever did in the history of the company was when the war ended, my uncle Harry owned St. Clair Builders and my dad and uncle Max, who were the owners of Forest City, signed for survivors to come this country," he said. "And because we were a lumber business, the only jobs we really had were unloading lumber in boxcars. I was 16, 17 years old at the time the survivors came, and I worked with the survivors in boxcars, and think what that had to be like to them: to have to work in a boxcar after everything that happened. But I've been blessed to see how they came from where they were to be such unbelievably wonderful people and how they've made our community work so well together."
He also recounted how he and his wife, Audrey, were privileged to travel with the U.S. Holocaust Memorial Museum to Poland to choose artifacts for display in the museum in Washington, D.C. That trip was led by Miles Lerman, the former chairman of the museum. Lerman had been a partisan who fought in the forest. Ratner said he and Lerman spoke of their different experiences growing up in hardwood forests.
"So while the lives of those who survived and those of us who witnessed that survival were very different, they merged together," he said.
He said the dinner was the most successful of Kol Israel's to date.
He turned his remarks to Mooney, whom he called one of his and Audrey's heroes.
"She is an unbelievable person," he said. "What is higher than having no prejudice? And the answer is to fight to see that no one else has prejudice."
Under Mooney, KeyBank has "set the most remarkable record for community, for the investment in people of color, the advancement of women," Ratner said. "She is not only a beautiful woman, she has a beautiful heart."
In her introduction of Mooney, event co-chair Nancy McCann said Mooney has been recognized by Forbes Magazine as one of the world's 100 most d her as one of the 50 most powerful women in business.
McCann said Mooney is "admired, respected and loved by all of her colleagues."
Mooney said she was humbled by the recognition.
"But I wanted to let you know how personally touched I have been as so many people have approached me when they realized I was going to be part of this evening to share a story, acknowledge a friend, tell me about a family member, and many times an immediate family member, that was impacted by the Holocaust and how Kol Israel made a difference," she said. "It has made this evening even more meaningful and the connection that much stronger."
Mooney said that twice she has co-chaired the Jewish Federation of Cleveland's leadership mission to Israel. She called the trips life-changing and spoke of her commitment to the State of Israel.
"Understanding, embracing and admiring the history of Israel and her people has been one of the most profound experiences of my life," she said. "And the trip served to remind me that as individuals, the choices and decisions we make not only shape our identity and our personal history but they also impact the lives of others and the communities that we serve. …"
"And I think what we have in common is an abiding faith in the good in all of us, an abiding trust in a higher power, and an abiding commitment to serve our community and an abiding belief in our future," she continued. "I've heard it said that the longest journey is sometimes the 18 inches between head and heart. And I can tell you that for me, navigating that journey between head and heart is central to being a good leader and a responsible corporate citizen." 
Mooney was presented an original Michael Aram candelabra as a "champion of diversity and inclusion, whose passion for tolerance ignites her community."
The evening began with the kiddush and motzi prayers by survivor Louise Gips and her family. It ended with a brief cabaret by vocalists Diane Palmer and Lou Armagno.