As criminal defense and civil rights litigation, lawyer Terry Gilbert looked back on a 50-year career of activism and achievements, he knew his story could make a long-lasting impact as a book.
Gilbert, a lifelong Clevelander who resides in University Heights and is a member of Suburban Temple Kol Ami in Beachwood, mentioned his memoir idea to longtime friend, journalist and author Carlo Wolff, a resident of South Euclid.
Wolff, a former staff reporter for the Cleveland Jewish News and contributor to Canvas magazine, loved the idea, and the duo – and eventually Act 3 Editor Jaime Lombardo – started scribing and organizing Gilbert's life into an inspiring, hard-to-put-down book that hit the shelves Feb. 1.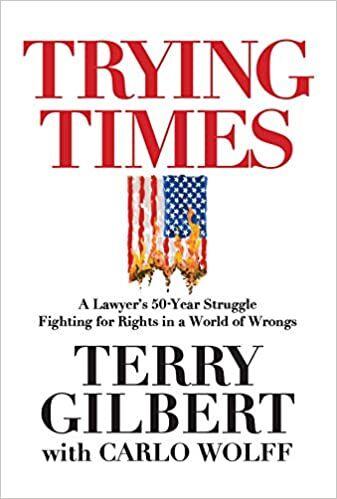 The memoir traces Gilbert's history when he started in private law practice in 1973. Throughout the years, Gilbert represented Native Americans following the aftermath of the Wounded Knee confrontation in South Dakota; reopened the 1950s case against Dr. Sam Sheppard of Bay Village, who was convicted of murdering his wife, for a chance to clear Sheppard's name; successfully won the exoneration of Kwame Ajamu after serving 27 years in prison for a wrongful conviction; and represented Ajamu's brother, Wiley Bridgeman, who spent almost 38 years in prison.
Other cases and efforts Gilbert has fought for include government misconduct involving police abuse, wrongful conviction, free speech violations, prisoners' rights and forms of victim discrimination of all types.
"The three of us really collaborated well in coming up with a book that's accessible not only to lawyers, activists and law students, but to the general public, because it's an interesting story," Gilbert said. "I want to let others know through this book that there's nothing more gratifying than representing and fighting for people who have been shut out of the American dream."
The memoir also showcases that despite an awakening of young people gathering together to fight social inequities, racism and lacking civil rights in the 1960s and 1970s, the exact same challenges appear in today's society. Gilbert highlights these similarities and differences between the two centuries, as well as how the U.S. can move forward.
"Terry has been leading a colorful, involving, passionate life, and the cases we covered in this book speak to all that and to his sense of justice," Wolff said. "His voice speaks well and articulately for people on the margins. That's always a story worth telling."
Cleveland State University Cleveland-Marshall College of Law is partnering with Act 3 publishers for an official, virtual launch party for "Trying Times" from 5:30 to 6:30 p.m. March 25.
Cleveland-Marshall College of Law Dean Lee Fisher will moderate a conversation with Gilbert and Wolff. The event is free, and audience members will have the opportunity to ask questions and receive a chance to win a copy of the book.
For more information and to register, visit bit.ly/3cNmfEM.