Regardless of the outcome of a criminal proceeding against Beachwood City Councilman Mike Burkons, his lawyer, Peter Pattakos said he will sue the Beachwood law director and city council president in their personal capacities in federal court.
Meanwhile, Burkons' criminal case – a single count of interfering with the civil rights of another person – has been moved from Shaker Heights Municipal Court to Chardon Municipal Court by order of Shaker Heights Judge K.J. Montgomery.
Montgomery based her Oct. 1 order on the fact that Burkons is a city councilman, that jurors in Shaker Heights court are drawn from Beachwood and fines imposed in the case would go to the city of Beachwood's general fund.
In addition, "This case has received publicity," Montgomery wrote. "Based on the foregoing, it appears that a fair and impartial trial cannot be held in this court."
Burkons will be arraigned at 9 a.m. Oct. 16 before Judge Terri L. Stupica.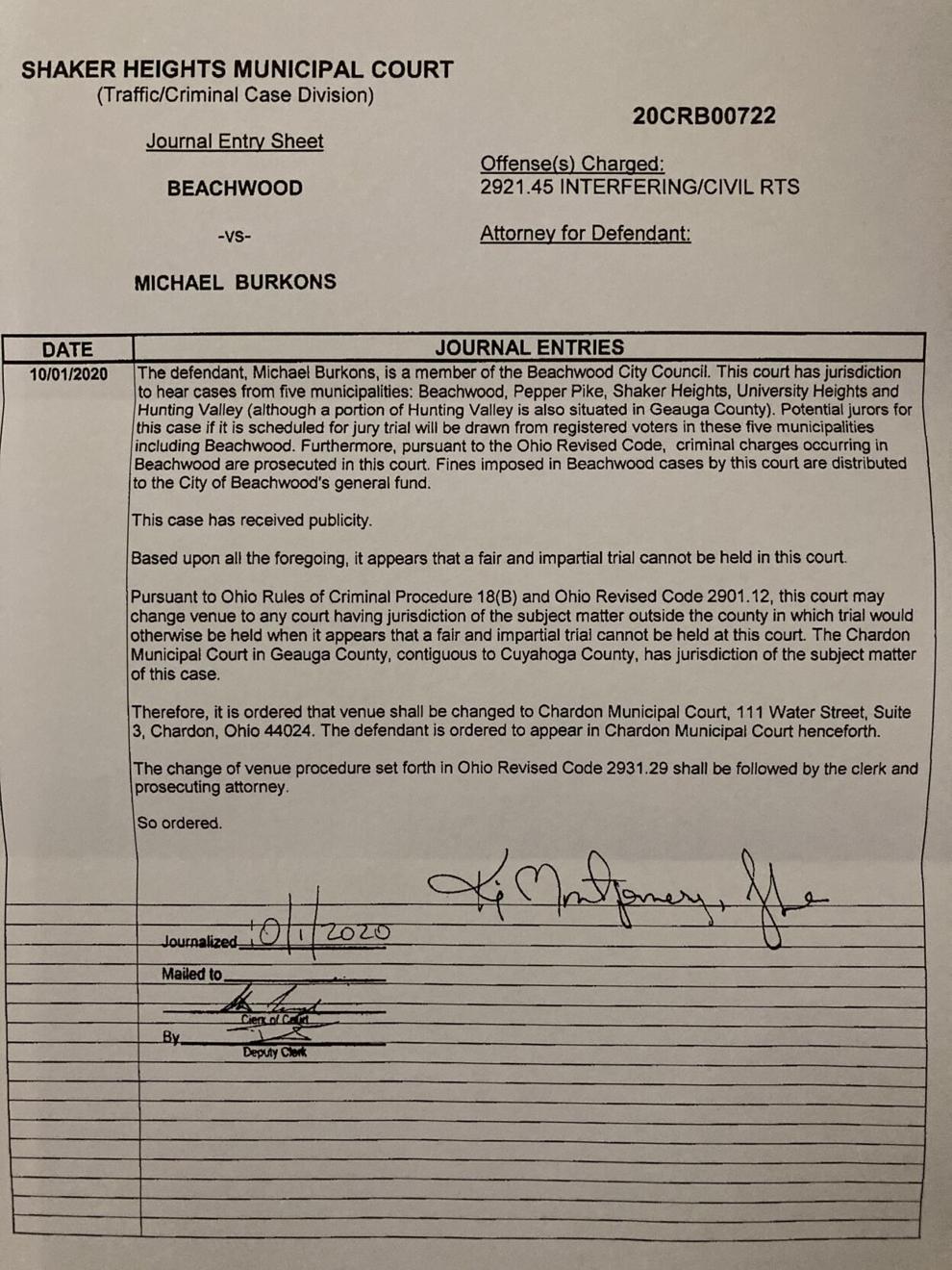 The incident involved Burkons contacting a Beachwood resident's employer in July, after the resident made a complaint against an off-duty Beachwood police officer who questioned a teenager in September 2018 at the basketball courts at the Beachwood Family Aquatic Center. The resident, Alix Noureddine, filed a criminal complaint with the Beachwood Police Department in regard to Burkons. 
Peter Pattakos, a civil rights litigator with Pattakos Law Firm, LLC, of Fairlawn, told the Cleveland Jewish News in an email Oct. 5 he intends to file a complaint in the U.S. District Court for the Northern District of Ohio on Burkons' behalf.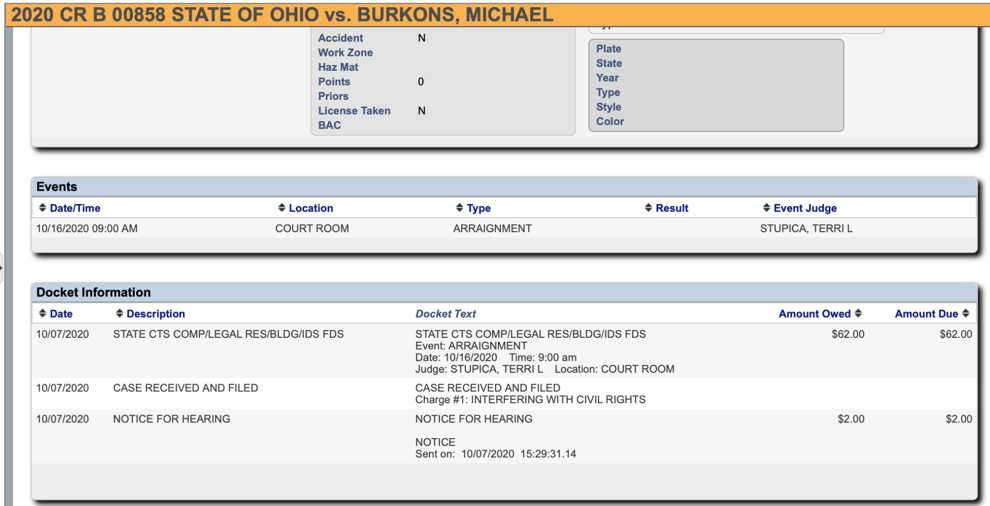 Pattakos is representing Burkons in the criminal case as well.
The basis of Burkons' lawsuit will be a First Amendment retaliation claim based on evidence that council president James Pasch and Beachwood Law Director Diane Calta "conspired behind scenes with Alix Noureddine to have these retaliatory criminal charges submitted to a special prosecutor with the precise purpose of retaliating against Burkons and chilling his First Amendment rights," Pattakos wrote in the Oct. 5 email.
Pattakos said Noureddine will also be named as a defendant in his federal lawsuit.
Further, he wrote, "There is already sufficient evidence in the public record to support a finding of liability on a First Amendment retaliation claim – including the evidence establishing Pasch and Calta's motive to retaliate against Burkons ... the circumstances surrounding council's decision to ambush Burkons with a public 'censure,' and the fact that these bizarre and fundamentally baseless criminal charges were ever submitted to a special prosecutor for consideration in the first place."
In addition, Pattakos wrote, "A federal claim for malicious prosecution in violation of a citizen's First Amendment rights does not require that the plaintiff prevail against a state court prosecution, because it is the federal courts, not the state courts, that ultimately determine the extent of First Amendment rights."
Pattakos initially said he would sue the city in a Sept. 30 email to Calta.
"I am trying to give the city every opportunity to resolve this matter reasonably with an apology and withdrawal of charges before this turns into a 6-figure federal lawsuit against the city and certain of its officials and citizens," he wrote in the Sept. 30 email.
Mayor Martin S. Horwitz had no comment to the CJN on Pattakos's threat of a lawsuit against Pasch, Calta and Noureddine.
"It is my practice not to comment on pending or active litigation," Horwitz stated Oct. 5 through a spokeswoman.
In an Oct. 6 email to the CJN, Pattakos said he decided to sue individuals rather than the city after researching the matter further.
Should the individuals be sued, Ohio Revised Code 2744.07 states that a city "shall provide for the defense of an employee in any state or federal court, in any civil action or proceeding which contains an allegation for damages for injury, death, or loss to person or property caused by an act or omission of the employee in connection with a governmental or proprietary function."
It exempts cities from providing defense if the employee was not acting in good faith, acted "manifestly outside the scope of the employee's employment or official responsibilities."
In an email to the CJN on Oct. 5, Pasch wrote, "I did not seek a criminal prosecution in this matter, and I was not involved or consulted in the appointment of a special prosecutor."
Beachwood engaged University Heights prosecutor Stephanie Scalise to gather and review relevant evidence, wrote Nathalie Supler, Beachwood city prosecutor, in a motion to the court to withdraw as counsel and appoint a special prosecutor. Supler said she had a conflict of interest because city council appoints the city prosecutor.
Scalise said she applauded the judge's decision to change the venue and said she intends to remain as the special prosecutor on the case.
"I was asked to be a special prosecutor in this situation – meaning that I have had absolute independence," she wrote in an Oct. 5 email to the CJN. "No one from the city of Beachwood pressured me one way or the other in my decision to bring this charge. I reviewed the documents that are already a part of the public record and, as a lawyer with over a decade of criminal law experience, I determined that there was probable cause to justify doing so."
According to the complaint filed by Noureddine, the incident leading to the charge occurred on Sept. 28, 2018, and involved Beachwood resident Vincent Swaby's teenage son, two teenage girls and Beachwood police Lt. Kevin Owens, who was off duty. At least one of the teenage girls is Owens' daughter.
According to the complaint, Noureddine, who was nearby in the park, approached to ask why Owens was questioning the boy and Owens told him the boy was harassing his daughter.
The parties eventually dispersed.
In the complaint, Noureddine said he didn't think Owens acted "improperly," but that the encounter left a "bad taste in his mouth ... maybe inappropriate, maybe a better way he should have handled it."
Noureddine, who identified himself as a prosecutor for the city of Cleveland Heights in the complaint, said he felt Owens was using "intimidation" and it did not feel it was "right," according to the complaint.
Nearly 18 months later on June 6, 2020, Noureddine emailed Beachwood City Council members about the incident. Burkons responded to Noureddine's email and then emailed Cleveland Heights City Manager Tanisha R. Briley and Cleveland Heights City Council on July 13 to express "disappointment" over emails received from Noureddine. Burkons questioned why Noureddine would contact Beachwood council instead of the Beachwood Police Department, where he made the complaint.
When contacted by the CJN on Oct. 5, Noureddine had no comment on Pattakos' statement. Noureddine is also the assistant law director for the city of Cleveland Heights.
Pasch said in an Aug. 19 email to the CJN the Beachwood council as a whole was "disappointed" and "embarrassed" by Burkons' email.
While he does not believe Burkons directly suggested Noureddine be fired from his position in Cleveland Heights, Pasch told the CJN Burkons' email "berated" Noureddine and "called into question his legal acumen to his supervisors."
Council voted 6-0 to censure Burkons on Aug. 17.
A court date for Burkons' criminal case had not been set as of Oct. 7.