Sports broadcasting fanatic Caden Vincent attended the Cleveland Jewish News' annual "Les is More," event March 5 for the third time.
The 16-year-old student at Orange High School in Pepper Pike said he was willing to miss school in order to see some of his idols in person.
CJN Sports Columnist Les Levine moderated the event hosted at Buffalo Wild Wings in Warrensville Heights. On the panel were: Andy Baskin, co-host of "Baskin & Phelps" on 92.3 The Fan; Adam "The Bull," co-host of "Bull & Fox" on 92.3 The Fan; Aaron Goldhammer, co-host of "The Really Big Show" on 850 ESPN Cleveland; and Jonathan Peterlin, host and anchor at 92.3 The Fan.
"I always loved sports broadcasting and I wanted to be in their place," Caden said.
Asked whose career he's most familiar with, Caden said, "Probably Adam 'The Bull,' just because I've heard him the longest and I've kind of heard his journey, obviously coming from New York and then coming to Cleveland. Aaron Goldhammer, I've known for about three to four years now, but I like him also, and Andy Baskin, too."
Kevin S. Adelstein, publisher and CEO of the Cleveland Jewish News and president of the Cleveland Jewish Publication Company, opened the event by welcoming the crowd of 125 to the seventh annual sports talk breakfast before turning over the microphone to Levine.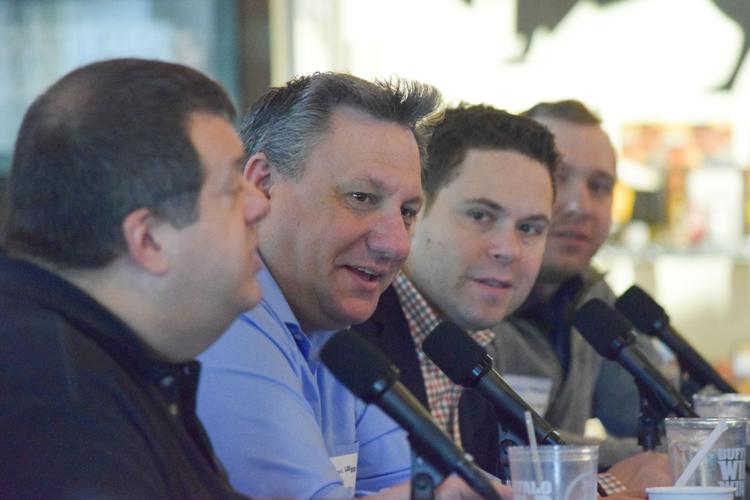 After introducing panelists Adam "The Bull," Baskin and Goldhammer, Levine said, "and down at the end, Jonathan Peterlin, who is here because he's marrying into the faith in the next couple weeks. And Adam 'The Bull,' believe it or not, is doing the ceremony!"
"That's not a joke," Peterlin said. "That's true."
Jumping into baseball talk, the panelists quipped about the Cleveland Indians.
"I don't traditionally think we're a baseball town," Adam "The Bull," said. "I hate to say that, especially in this (room where) you probably think we are, but if you go look at the attendance numbers in the years the Indians are outside the playoffs, the numbers are horrible."
Cleveland Jewish News' annual "Les is More"
Goldhammer said baseball has changed significantly since he was growing up.
"This isn't that long ago, I mean, I'm 37, but when I was growing up, ... Ken Griffey Jr. and Roger Clemens, Randy Johnson, those guys were the biggest stars in sports," Goldhammer said. "They all had unique and different personalities. They had flocks of people following them (when) they walked down the street in any city in America. I think baseball (now) has a serious star and marketability problem that is the No. 1 factor."
They addressed a bevy of subjects including fans' inability to access Major League Baseball content.
"Ultimately, it's an entertainment thing. Sports is entertainment. The 'E' – I tell every intern when they come into our office – in the ESPN stands for 'entertainment' and football games are just wildly entertaining. There are all kinds of unexpected craziness going on for three hours," Baskin said. "NBA, they've done an unbelievable job, I think, from a technology standpoint. I open up my phone ... and I can look at every single highlight, you know, not to get so inside baseball, no pun intended, but one of the mistakes that baseball has made is that the way that they distribute their video product only through their app and their mediums and not social media is really hurting the game."
The panelists also discussed the Browns and Cavaliers.
Before taking questions from the audience, raffle tickets were drawn, with winners receiving items including: a pair of Indians tickets, a 1-year free CJN print and digital subscription offer, gift cards to Buffalo Wild Wings, two tickets to "An Evening with Jodi Kantor and Megan Twohey" presented by the CJN, a gift card to Zoom Express Car Wash and a complete car detail and Lexus for a day.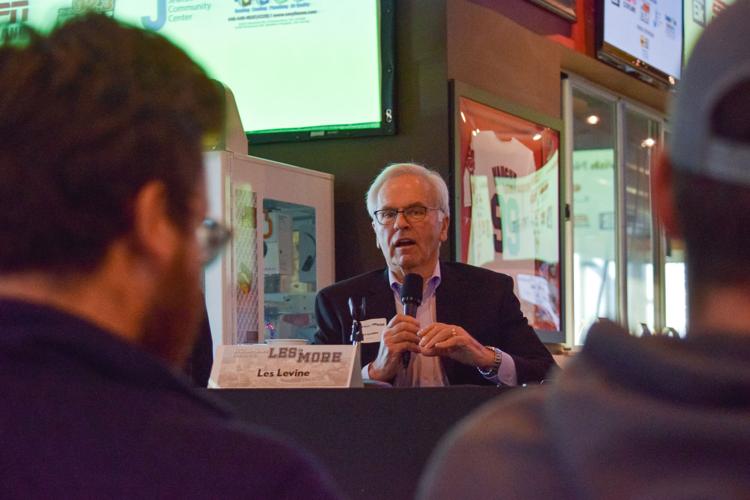 Caden said his favorite part of the event was listening to the panelists discuss the Indians.
"Just because the Indians are my favorite baseball team," Caden said. "I think Adam is right, that this isn't necessarily a big baseball town as it was, 'cause of the Browns and how much they've impacted Cleveland. But I still feel like the Indians are a very important aspect of baseball and of Cleveland. So I was very interested to hear when they were talking about (Francisco) Lindor, mainly because he's like our future, but he may only be here for another year."
The Indians signed Lindor to a one-year deal. He is arbitration-eligible next year and he can then become a free agent following the 2021 season.
Co-presenting sponsors of the event were Classic Lexus and Dale Braun and David Gottlieb of Edward Jones. Supporting sponsors were Elk & Elk, Mandel Jewish Community Center and Smylie One Heating, Cooling & Plumbing Co. Gift bag sponsors included ATA Martial Arts and COIT Cleaning and Restoration. Support also came from Elk & Elk, 850 ESPN Cleveland and Sports Radio 92.3 The Fan. The venue sponsor was Buffalo Wild Wings Warrensville Heights