Actors Busy Philipps and Ike Barinholtz shared their views on politics and the importance of voting during the Likover Lecture, "Comedy, Cocktails, and Conversation," Oct. 24 at the Cleveland Marriott Downtown.
The lecture is presented annually by the American Civil Liberties Union of Ohio. Ben Guess, the group's executive director, opened the event by describing the work his organization does to fight racial injustice, racial disparities and white supremacy structures.
"We're working 24/7 to defend abortion access, fighting for LGBTQ rights, immigrants' rights and the rights of persons with disabilities. We are for freedom of speech, freedom of assembly, freedom of protest. We are for freedom of worship and for the freedom to petition our government for redress of grievances," Guess said. "So if you're not a member of the ACLU, we hope this night will inspire you to become an ACLU supporter, an ACLU activist and perhaps most importantly, an ACLU voter."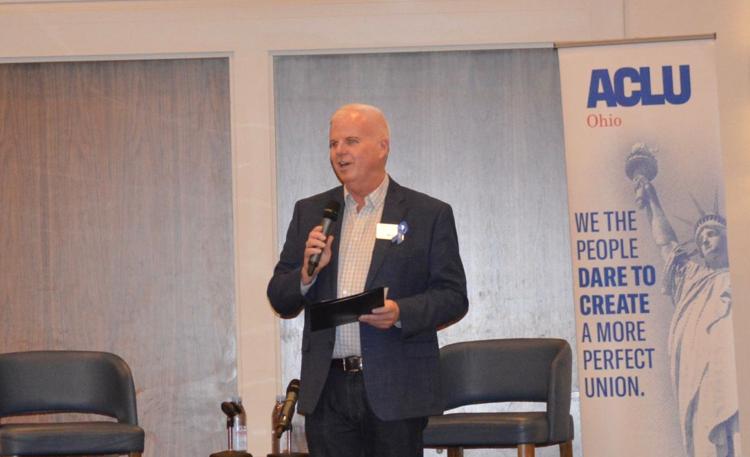 Guess said the goal of the Likover Lecture is to bring Clevelanders a night of interesting, engaging and relevant issue-based conversation.
"This year we thought that an inspiring, humor-infused discussion would be just what the doctor ordered in time for the 2020 election," he said.
On behalf of her late parents, Ed and Belle Likover, for whom the lecture series is named, Rachel Likover commented on their extensive biographies listed in the evening's program.
"What it doesn't say is what great senses of humor they had and how they loved to laugh, even in dark times, so I'm sure they would enjoy this," she said.
After an introduction by Celina Coming, ACLU of Ohio communications manager, Philipps and Barinholtz took the stage. As part of the ACLU's #YouKnowMe campaign, the actors lend their voices to fight the passage of restrictive abortion bans across the country. They traveled from Los Angeles to attend the event.
Describing the ACLU as "the most important organization in the country now," Barinholtz – who is a comedian, writer and ACLU artist ambassador – encouraged audience members to sign up for the ACLU.
"There is an election coming up, and the last time I was here was right before the 2018 midterms. It was about six weeks out, and it was very tense. Everyone was so nervous, we were all freaking out," Barinholtz said. "I think it worked out pretty well, and I think that we need to beat that engagement and we need to do better in 2020 than we did in 2018."
Recalling the beginning of her political activism, Philipps said one of her earliest memories is accompanying her mother to vote in a church basement in Chicago. Her mother took her to every election she voted in, "which was every single election," she said.
However, growing up in Arizona, Philipps said her parents did not discuss politics often.
"My parents wanted to give us space to know that taking a stand and believing in something was very important. They hoped that they would lead by example in the things that they did ... and that we would follow suit," Philipps said.
When Philipps volunteered at a phone bank against 2008 California Proposition 8, which aimed to eliminate the right of same-sex couples to marry, she brought her two-month-old daughter with her. She also took her daughter to the polls when she voted for Barack Obama in the 2008 United States presidential election.
"I know you're not supposed to take pictures in polling places, but my daughter was literally three months old, and I put the little 'I Voted' sticker on her," Philipps said. "And then took a picture right outside where it said 'polling place,' so she could have it later."