Israeli actor Lior Raz captivated his audience at the Joseph and Florence Mandel Jewish Day School with stories of his work as an undercover agent for the Israel Defense Forces and of creating the hit television series "Fauda" Aug. 29.
Raz made an appearance to celebrate the Beachwood school's 50th anniversary at an event that opened with VIP's lined up to be photographed with him and closed with Lisa Cynamon Mayers interviewing him talk-show style.
Jerry Isaak-Shapiro, head of school of Mandel JDS, thanked many people as he took the podium prior to Raz's speech, including founders Peter and Aliki Rzepka and Bobby Goldberg, who were honorary event chairs, past presidents of the school, supporters and staff.
"This is a school where we unabashedly say that one of our core values is tzionut, Zionism," Isaak-Shapiro said. "Zionism addresses Israel education on an affective level. We try to instill and celebrate a personal relationship with the land and the state and the people of Israel while not shying away from its complexities in age-appropriate ways.
"It'd be hard to find an artistic vehicle that addresses Israel as accurately – even lovingly – while certainly not avoiding its complexities more than 'Fauda,'" he said. "In that light, I couldn't think of a better person to kick off our year than our speaker tonight Lior Raz."
Scott Simon, event co-chair, spoke of his love for the school in his introduction.
"As we walk down the hall through the commons and towards the classroom, I hear the most beautiful sound you could ever imagine: laughter," he said. "Kids running to their classrooms. Kids yelling out my kids' names. Kids yelling out my name. That was my experience for years in this incredible, incredible building.
"For those of us who had children who went here, we know that the people who they are today is due in large part to what happened within these four walls," he said, sharing his pride in his two Mandel JDS alums, a daughter and a son.
"They're smart, they're compassionate, they're openhearted, and they're the thing that Mandel promised me as a parent when they started: They're mensches. That's what they are," he said.
Raz showed appreciation for Mandel JDS as well.
"For me it's a great honor to be here," he told the audience of 400. "I hear the community is united."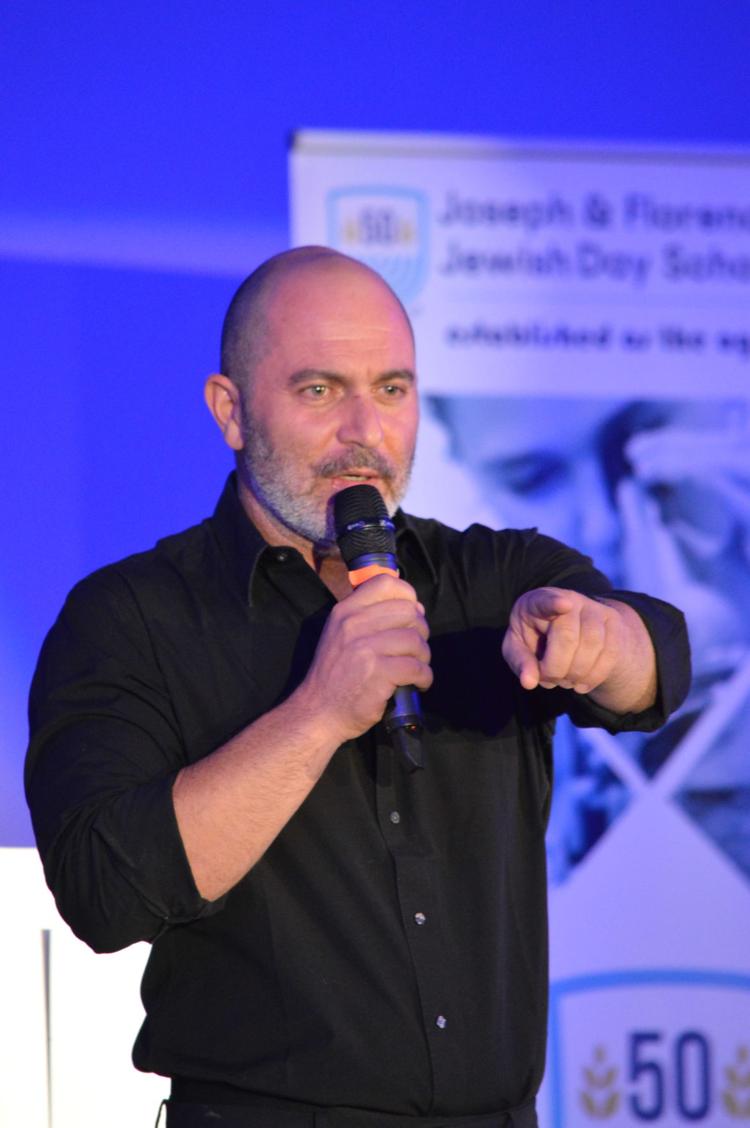 Born in Jerusalem, Raz, 47, spoke about his diagnosis of post-traumatic stress disorder. He said he asked to change places with his therapist so he could face the door. 
"Part of how I dealt with my PTSD, I did crazy stuff," he said, including going to the West Bank alone.
It was there that he met up with journalist Avi Issacharoff.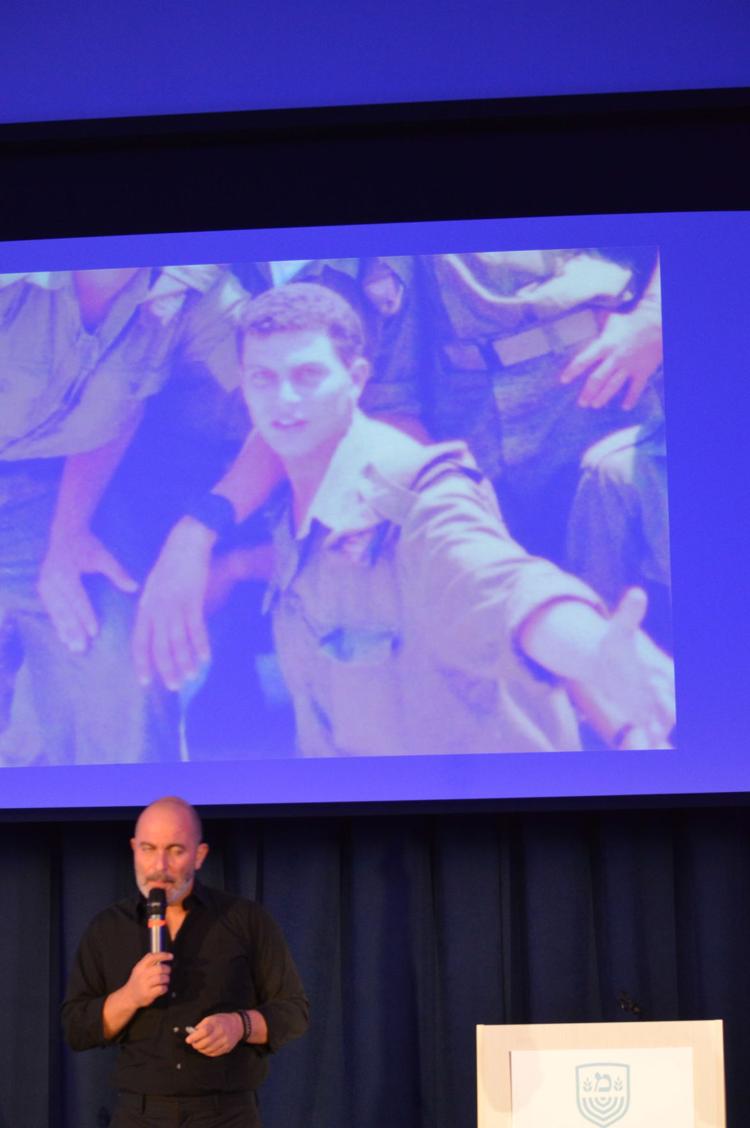 Creating 'Fauda'
The two men are from the same neighborhood and served in the same unit of the Israeli army They began to talk.
"I want to write something about the undercover unit, I don't know what: a book, a movie, a TV show – about the price they are paying for the action, the mental price that they are paying for their action," Raz recalled saying to Issacharoff.  "Until I met Avi, I didn't remember anything that I did in the Army – anything. It was like a black hole in my heart, in my soul." 
The two first took their screenplays for "Fauda" to Israel's television stations and were rejected by all except Yes, a small satellite channel, where the women in the room said it was a "man's show" but agreed to produce it. 
"It became like a big sensation, crazy sensation," Raz recalled. "I couldn't walk on the streets after one day of when the show went out."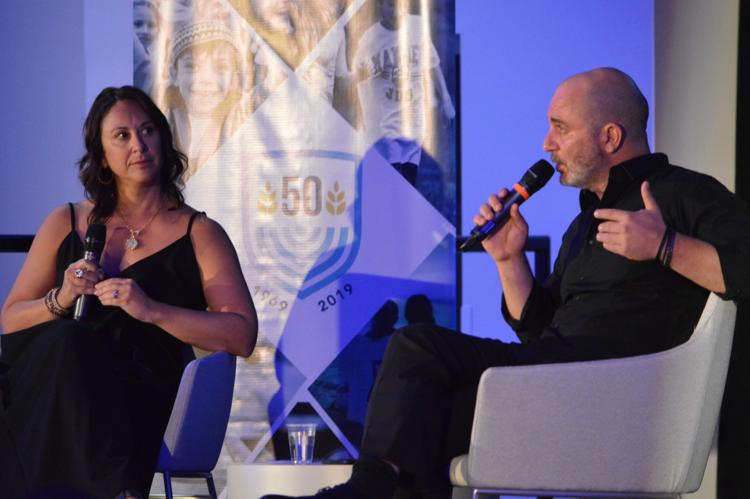 Importance of Arabic
Raz rolled the opening credits for the Israeli version of the show, which list the cast's names in Hebrew and Arabic. 
"For me the Arab language, Arabic, is super important, super, super important," he said. "I think that in order to understand our enemies, we have to know them much better. In order not to fight with them, we have to honor them. In order to honor them, we have to learn their language because Arab people in Israel know Hebrew. "
Raz said his father, who was born in Iraq, served in Shin Bet, Israel's security force, and that he spoke Arabic as part of his work. 
"As a child, I was embarrassed because my father spoke in Arabic in my home with a lot of Arab people," he said. "Now I'm so thankful about it."
His father also hired workers who spoke Arabic at his plant nursery, people he wanted to get to know.
"I was imitating them for a long time just to be part of them. I didn't know what was going on, but I became an undercover soldier when I was 10 years old."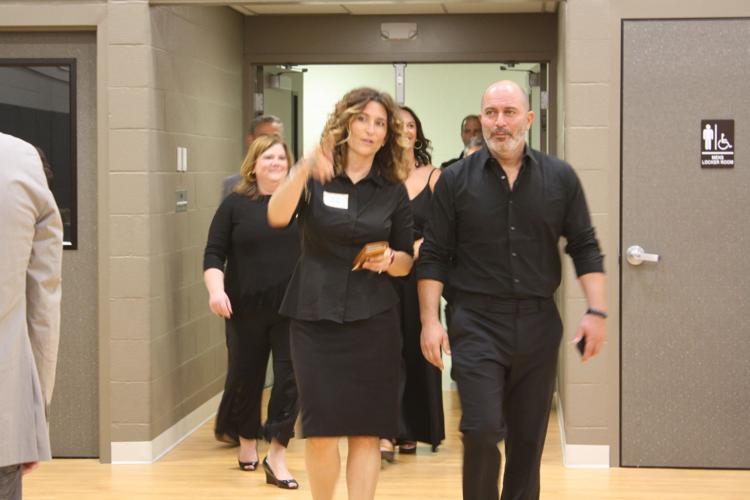 Heading to the IDF
He said his father decided to move to Ma'ale Adumim in the West Bank as settlers when Raz was 4 years old.
Raz said he first learned to shoot at the age of 10 and killed his first porcupines at the age of 12. They had been destroying plants at his father's nursery.
Raz said when he went into the Israeli army, he wanted to go into a theater unit that  performs for the troops. That changed after he told his father.
"He looked at me, and then I decided that I cannot do that any more," he said, and instead volunteered for the elite Duvdevan unit. "It's a top secret unit in those days. I thought I'm going to be James Bond. It's not like that. It's crazy James Bond, very dirty James Bond."
Later, Raz was called in for a military investigation after an operation in which he shot two Palestinians.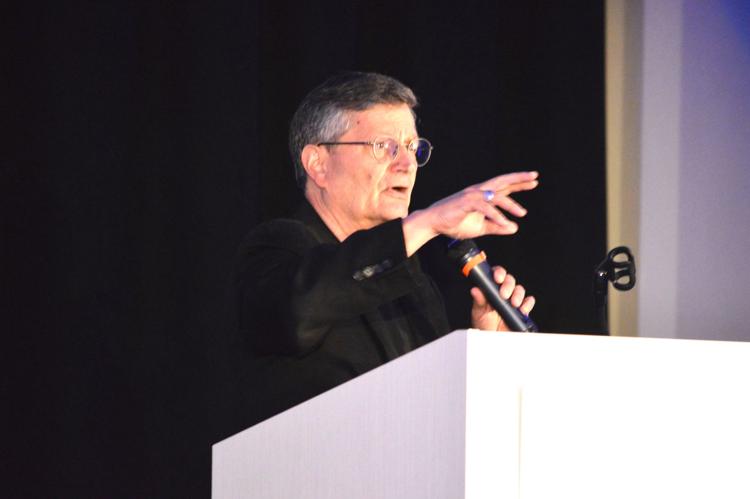 Paying tribute
"My sweetheart in those days, Iris (Azulai), was serving in the military police over there," he said. "So I just wanted to go to interrogation because, for me and for her, it was a very romantic time because we had a lot of time together."
Raz met Azulai when he was 16. Azulai was stabbed to death by a terrorist.
"It was the hardest thing ever, that ever happened to me," he said, adding he did not talk for three or four months after her death and never spoke of her until Issacharoff encouraged him to as the two were writing. A character in "Fauda" is based on her and on their relationship.
He said there has been a lot of interest in Azulai's story.
"So it's kind of a present that I didn't know I'm giving to her family and to her heritage," he said.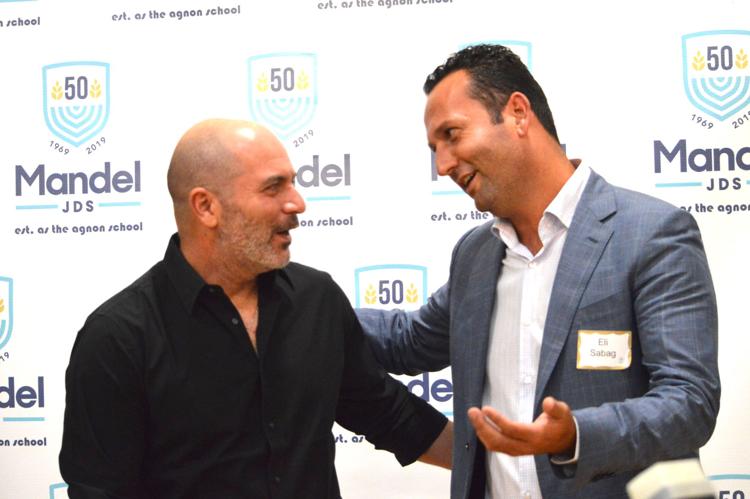 Military theater
Raz spoke of the importance of being a perfect actor as an undercover soldier.
He spoke of burning time while awaiting "the switch."
"The switch is to become from citizen, Arab citizen, to a badass Israeli commando well-trained warrior," he said. "It's supposed to be in the middle of a second. And then you do what you have to do. But your heartbeat is so high. And your adrenaline is so high because you're inside a crazy, crazy situation."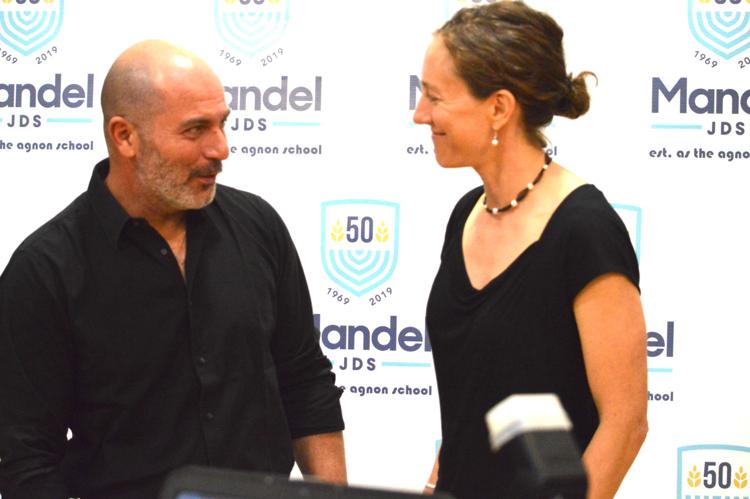 Heading abroad
Raz said after the popularity of "Fauda" in Israel, Netflix approached him, but he was skeptical about its international appeal.
Raz learned the extent of its popularity when he landed in Miami following a flight and interacted with an immigration agent.
"She looked at me. She stared at me," he said, adding that she then asked when the second season was coming out.
"So my life changed, really changed in a way that you cannot imagine," he said.
Even in Abu Dhabi, in the United Arab Emirates, when he was shooting a movie, he was sought after.
"I had to have a bodyguard, not because I'm Israeli, because all of the Arab people from all of the countries just wanted to take a selfie with me all the time," he said. "Everyone watched that show. Why? I asked a lot of them: Because we honored their language, because we are not trying to show anyone as the good guy, anyone as the bad guy. It's an Israeli narrative, I'm an Israeli, I'm a warrior, I'm a Zionist. … And people love it."