Howard "Hutch" Stoller and Joe Polevoi have been friends for at least 52 years – years filled with many memories and good jokes. As of early September, the duo added a new achievement to their already lengthy list of accomplishments: create and display an art exhibit.
Named "Inspirations," Stoller's paintings and Polevoi's photographs will line the wall in the entrance hallway of the Mandel Jewish Community Center Beachwood through Oct. 30. From tackling powerful messages of politics, freedom and hate to colorful and whimsical depictions of European cottages and flowers, Stoller and Polevoi encourage viewers to really stop and ponder the pieces and not just give them a passing glance.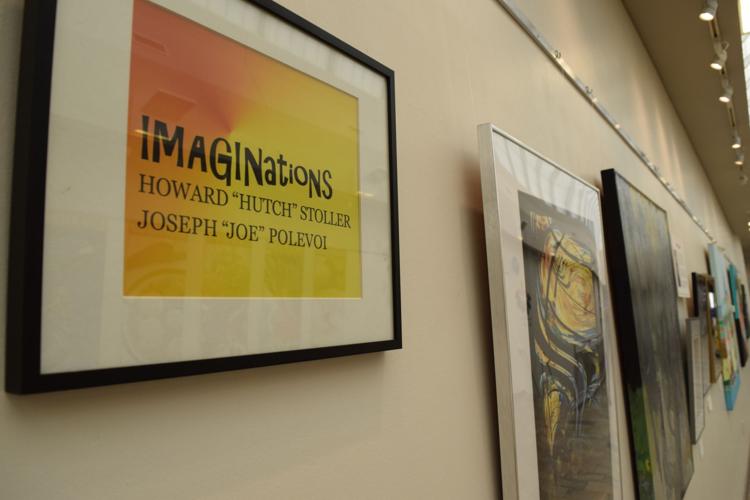 "I hope that when people see our show, they see and not just look at our work," Stoller said. "They really see what we have created as opposed to just walking by Joe's photos or my paintings, like, 'Oh, that's nice, that's interesting or that's colorful there.' There's a lot more to what Joe does and to what I do when we create."
The exhibit came to be after Stoller and Polevoi, both members of Mandel JCC, met with Deborah Bobrow, the director of arts and culture at Mandel JCC, and asked about the possibility of showcasing their work. After working together, Mandel JCC agreed and thus the "Imaginations" exhibit came to fruition.
"It is an honor to be able to show our work here at this place that is really aggregated by a lot of people in the community and to be viewed by this cross section of people because of what the JCC means to a lot of people, not just Jewish people, but all kinds of people, black, white, Catholic, Buddhist, Indian, everyone," Stoller said.
"Imaginations" features dozens of the duo's creative pieces.
Stoller, 81, of Richmond Heights, has dabbled with creativity and art his entire life and describes his unique style as "moving toward as much siplicity as possible, imaginative and fun."
"I like simple, big, powerful and some humor. It gives me a chance to express not what I see so much because I like to paint what I feel, not just what I see," he said.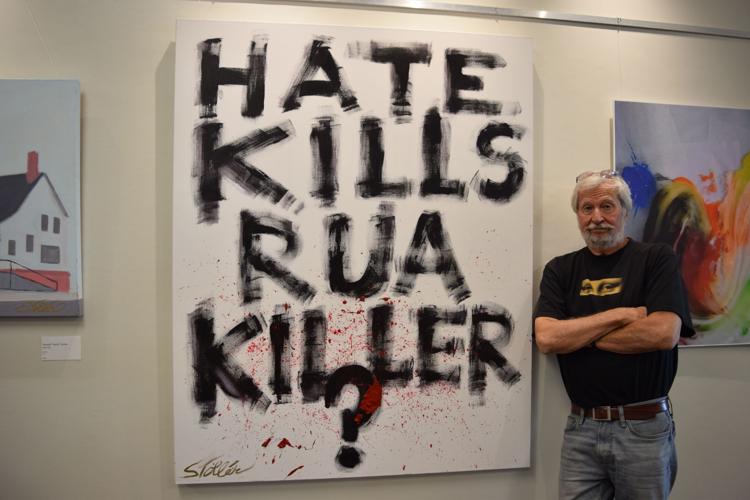 Polevoi, 91, of Pepper Pike, has also always been intrigued by expressing himself through art and photography, and he uses a special kaleidoscope attachment to help people see the world as he does.
"I don't try to be too realistic," Polevoi said. "I like to try things that are different, that maybe haven't been tried yet. I may not like it, or I may find, 'wait a minute, this makes a lot of sense.' Just to try something you haven't seen before, you either like it or don't, but that's apart of being an artist. I was an artist before I was ever a photographer."
Despite the two sharing different tastes that help contrast their work, all the pieces match the theme of urging people to tap into their imagination that's strongly woven within both artists' styles.
"We all have an imagination," Polevoi said. "The trouble is, so many people don't use it that much. You can see (my imagination) in my work and you can see Howard's as well because it is more contrast. We want to use something that we have in our head, and we kind of make up stuff as we go along. You can see there's a resemblance as my stuff is more complete because I'm trained to do that and Howard is more abstract, but the end result is the same. We don't want to just create everything that's for real. That's boring."
All artwork on display is for sale. There will be an artist's reception for "Imaginations" from 3 to 5 p.m. Sept. 15 at the Mandel JCC.