City officials donned white hard hats Aug. 5 at Lyndhurst City Hall and stood with shovels under foot to celebrate the groundbreaking for a new fire station.
The apparatus bays and kitchen of the previous station, opened in 1974, have already been razed.
The chief's office contains not one but three desks as well as one bed. A former dorm room has been converted into a kitchen, which firefighters outfitted with cabinetry.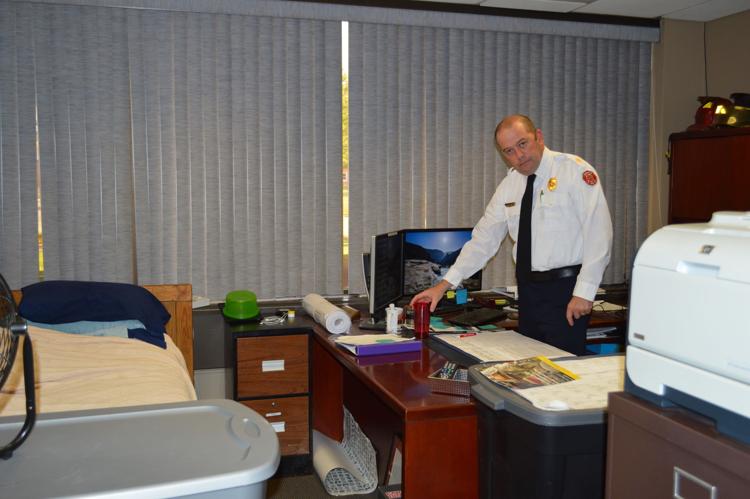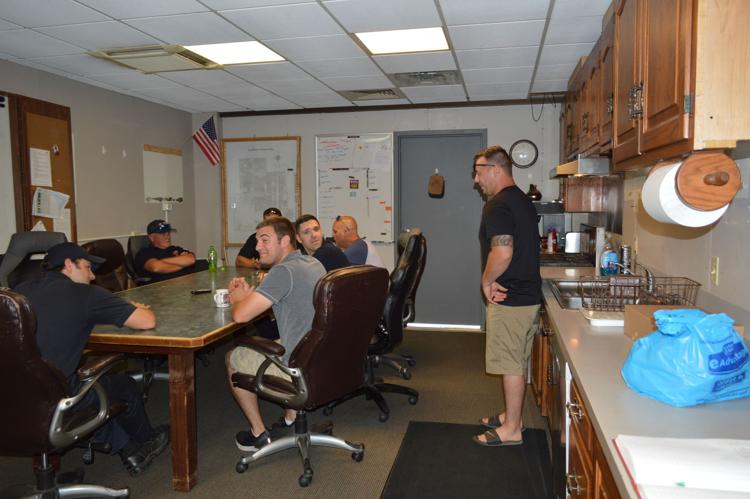 "I'm really proud of the guys," Mayor Patrick A. Ward said.
A white tent temporarily contains the department's two ambulances, chase vehicles and all of the fire apparatus.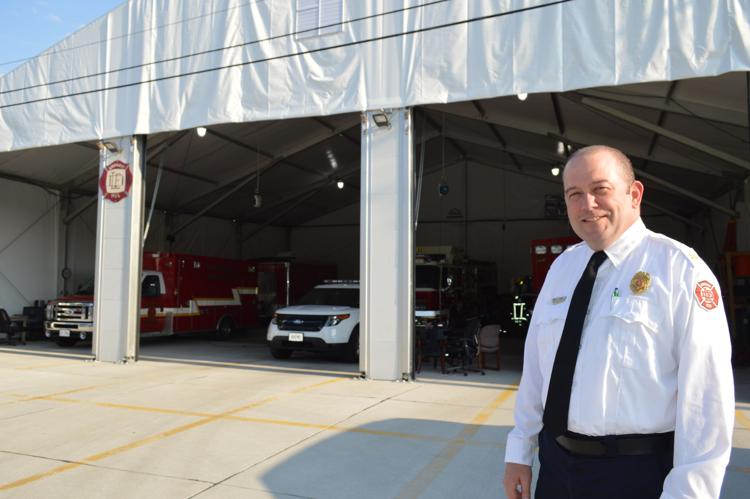 The new two-story station of 12,800 square feet is expected to be completed in May 2020 at a cost of $4,413,976. To stay within the budget, the city is using a construction manager at risk contracting model, which puts the construction manager at risk financially.
Perspectus Architecture of Cleveland designed the building. The contractor is Greenspace Construction Services in Warrensville Heights.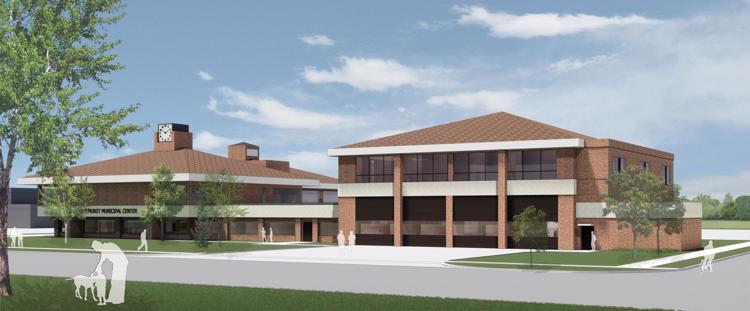 The 26 firefighters are expected to live in the temporary quarters until May, when those quarters will undergo renovation, expected to be finished in September 2020.
"I wouldn't say that there's regularly a bed in the chief's office or desks for two other personnel in the chief's office," he said. "I think our forefathers were really rather forward thinking when they planned for the facility. I think reading some of the notes from 1969, they insisted that the building be set for a 50-year life and here we are. But they never envisioned a female firefighter. In the '70s that was never on anyone's radar and we have one of the best female firefighters."
"Half the reason we built the new station is because of the limited space we had in operational needs,"  Chief Mike Carroll said. "So we really shrunk that footprint even tighter, but it's the process you go through when you're going through a project like this. We're adjusting well and still going on the calls and living much tighter together than we used to be. It's good though."
When the old station was built, the fire department had just begun running EMS service with a single station wagon as its ambulance. Today there are two box ambulances as well as two pickup trucks operated as chase vehicles. Today, the chief said, 80% of the calls the fire department receives are for medical calls.
"We're doing about 2,700 runs a year and at the time the original station was built, it was under a thousand, for sure," Carroll said.
The original station was built for five firefighters per shift with one shower, which becomes particularly difficult when there are fire calls near shift change.
"Now we'll have several showers so … the firefighters can shower right after a call. One of the big things we're trying to hit on is cancer prevention, contamination prevention."
The new building will include room for additional staffing per shift, going from eight to nine firefighters per shift.
"Our station is designed gender neutral, so whether we have one female firefighter or 10 female firefighters as an example, we could easily accommodate that," he said. "We definitely tried to design the station to meet our needs today without being so shortsighted we're not thinking about tomorrow."
The female firefighter is Pam Paalman.
In addition, the new apparatus bays will have separate areas designated for clean and contaminated equipment to help segregate contaminants from clean turnout gear and apparatus.
"The size itself was not functional. All of their gear was on rolling carts, which were rolled into the space for the shift," Ward said of the garage. "Typically not what you do today with contaminants being in the garage space."
Council identified the need for new living quarters for firefighters in the 1990s, but several other building projects were finished first.
"This was like the proverbial can that kept getting kicked down the road," he said. "And here we are. We spent five years studying this. They gave us a plan that was too expensive and I said no we're not doing this."
He said that he and the chief were inspired when they toured the Solon Fire Department, which has second-floor living quarters for firefighters, without the necessity for an elevator because there are no public spaces there.