Human dreidels dressed in blue and white whirled about, and the mayor of Lyndhurst received the gift of a menorah at the city's Chanukah celebration held behind its city hall Dec. 13.
On the fourth night of Chanukah, Rabbi Mendy Freedman and his wife, Chaya, hosted the event. The Freedmans run Lyndhurst Chabad Family Center in Mayfield Heights.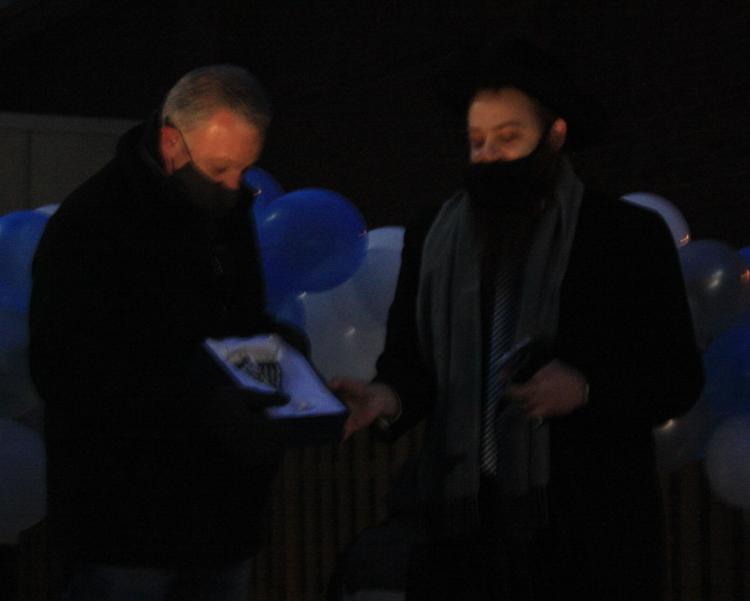 The rabbi credited both Lyndhurst Mayor Patrick A. Ward along with city councilman Lane Schlessel, who watched from his truck.
People donning reflective vests handed out hot chocolate and packages containing a latke, a doughnut, applesauce, cutlery and a dreidel to all those who registered in advance.
Chaya Freedman opened the program with a question, "How many candles are we lighting tonight?"
She asked people to hold their hands out their windows to indicate the number. She also asked those in attendance to take their dreidels out of the box and try spinning their dreidels upside down.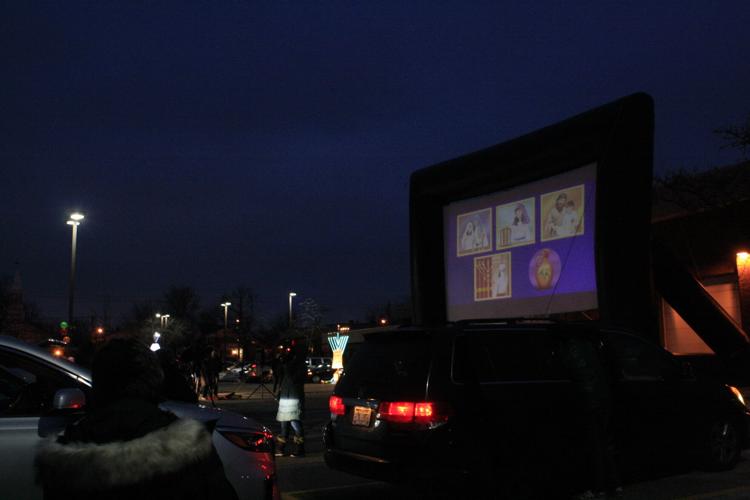 An inflatable screen was set up for the game which followed a video that explained the story of the eight-day festival, which celebrates the re-dedication of the Second Temple.
"Happy Chanukah to everybody," the rabbi said. "This has been a very unique year. Life has changed. Our connection to each other, our sense of community is different this year. COVID really came from left field."
He thanked those who came and spoke of the mitzvah of lighting the menorah and of the message of Chanukah, in which a small group of people triumphed over a much larger army.
"This year of 2020, known as the year of the pandemic unfortunately, a year when many of the loved ones were sick, lost close to a quarter of a million people in the United States," he said. "Chanukah and the light of the menorah will shine bright and illuminate this difficult year."
Freedman called first responders and health care workers "our modern-day Maccabeess," and asked Lyndhurst firefighter Brendan Volker to light the shamash and Dr. Daniel Goldstein, a pediatric anesthesiologist at Akron Children's Hospital in Akron, to chant the two blessings for kindling the lights as he lit the four candles.
At Freedman's prompt, attendees honked their horns in thanks for the work of those on the front lines, and again after the menorah was lit.
In past years, Lyndhurst has held interactive celebrations in the firehouse with Chanukah crafts.
This year in the midst of surging cases of COVID-19, there was interactivity in the form of a Chanukah-themed game of Kahoot!, which celebrants joined from their cars.