Lyndhurst resident Sheryl Hirsh remembers how her daughter, Melissa Rae Koppel, "begged" her to attend Jewish day school as a 9-year-old so she could "say tefillah every day." As a child, she wanted to be a rabbi, and later, a physical therapist with a focus on children. 
Instead, on May 9, 2013, Koppel died of a heroin overdose after becoming addicted to the drug by way of an OxyContin prescription for constant migraines she suffered from for years. She was 23.
For more than three years now, Hirsh has had one goal: to stop the same thing from happening to other families.
One way she's done so, in addition to regularly speaking publicly about her daughter and opioid addiction, is by creating a speaker series on substance abuse for Case Western Reserve University's Siegal Lifelong Learning Program, whose season kicks off Sept. 14. 
During an interview following an opioid overdose memorial program at the Rock & Roll Hall of Fame in Cleveland, where Hirsh handed out fliers for the speaker series, she and her husband, Denny, discussed Koppel's warmth and natural ability to draw people in. 
"Everyone that knew her loved her – and that's not coming from a mother's heart, that's coming from what the world tells me," said Hirsh, a member of The Temple-Tifereth Israel in Beachwood. "Anybody that came in contact with her fell in love with her almost instantaneously. She had that warmth about her." 
Koppel's story
Koppel was born in Pittsburgh but was raised primarily in Cleveland's East Side suburbs. She had a strong attachment to Judaism from a young age, attending the Joseph and Florence Mandel Jewish Day School, known as The Agnon School when she attended, in Beachwood. 
Koppel was a member of Kol HaLev in Pepper Pike growing up, and Hirsh said if one asked then-temple members about her, they would remember she always spent time with children there and her warm, popular bat mitzvah.
A graduate of Brush High School in Lyndhurst, Koppel began suffering from constant migraines during her senior year. Although she and Hirsh visited "every neurologist in the city," they never found the cause of the migraines, nor were they able to alleviate them. The headaches affected her ability to study and maintain a normal life, despite all efforts, as Koppel always held multiple jobs and was involved in many activities. 
Eventually, Koppel found a doctor whom she heard would prescribe OxyContin, an opioid, in 2010. 
"They take away the pain, and make you so drowsy you basically are not carrying on much of a life, and over time it gets worse and worse," Hirsh said. 
According to the Centers for Disease Control, four out of five new heroin users started with an addiction to prescription opioids. 
While studying between The Ohio State University in Columbus, Cleveland State University and Cincinnati State, Koppel became addicted to the prescription. Hirsh suggested she stop taking it and Koppel, then 22, joined a Cleveland Clinic pain rehabilitation and withdrawal group. Her life appeared to be on track. 
She still had migraines, however, and began using heroin to relieve them, after being introduced to it by a boyfriend. She used the drug for about a year before her overdose death, Hirsh said. 
"I didn't know anything about it until the day she died," said Hirsh, adding Koppel had overdosed a year earlier and was medically treated, which Hirsh did not know at the time. 
"When she died, the place that she had been going to meetings, they were shocked," Hirsh said. "She was still going to the meetings and they said to me she wanted to be a meeting leader and they thought she was one of their success stories."
Koppel was buried on Mother's Day. Hirsh said there were more than 100 cars that went to the cemetery and she continued to receive condolence letters for more than a year. She did not tell almost anyone the true cause of Koppel's death initially.
"I was afraid that those that knew her, loved her and thought she was the sweetest, intelligent, most beautiful person they'd ever met, that their opinion of her would change," Hirsh said. "I didn't want anyone to all of a sudden think of her as this addict down the street that we all picture in our minds."
Moving forward
Hirsh said she slowly began telling those closest to her about Koppel's overdose, and to her surprise, only received "encouragement and support" as opposed to the blame and negativity she feared. She kept telling people, including local media, and thinking about how else she and Denny could help others dealing with addiction.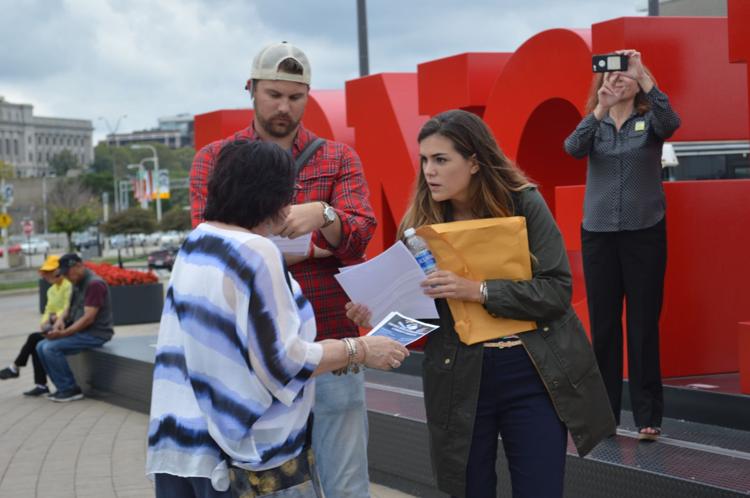 Denny Hirsh said, "There were two things we could do: you could either stay in bed and put the covers over our head and let the world pass us, or we could turn her death into something positive. We mutually decided that that was the way to go." 
There was also a deep need for their help. The opioid epidemic has only gotten worse, especially in Ohio, since Koppel's death. According to Cuyahoga County Executive Armond Budish, the county is on track to lose a record of up to 850 people to opioid overdoses this year. 
Hirsh specifically noted the silence of local Jewish families on their own suffering around opioids.
"They are more silent," she said. "(Many) Jewish people that have had loved ones die or suffer from this disease, they are very afraid and ashamed. It's the stigma and it's what stopped me at first, and I wish that other Jews, like myself, that have suffered this can realize the support that you can get."
Vince Caraffi, chair of the Cuyahoga County Opiate Task Force and now moderator for the Siegal substance abuse series, said Hirsh called him out of the blue a few years ago and said she wanted him to hear her family's story. 
"You have someone who is really offering help," he said of Hirsh, praising her unique ability to use a tragic situation to help others. 
The Siegal series
After telling her story at Park Synagogue in Cleveland Heights and Pepper Pike, Hirsh credited Siegal Lifelong Learning Program Executive Director Brian Amkraut with suggesting she create a program on substance abuse. Hirsh, who has worked at Siegal, now as assistant director, for 21 years, said she initially had reservations because she had never created a program before. But it worked. She is starting the third year of the program.
Hirsh said they have built "a lot of buzz" around the program, yet it's still hard to attract some crucial crowds. 
"The people that really should come are the parents of high school- and college-age kids … and they are the hardest people to get," she said, citing parents likely believe opioids do not affect their families, even if they might. 
"People don't get how important it is, and that's what bothers me the most," she said. 
Of the speakers in the upcoming series, Hirsh said she's looking forward to hearing about the work of Project DAWN, a community-based overdose education and naloxone distribution program. Naloxone, also known as Narcan, is a medication that can reverse opioid overdoses.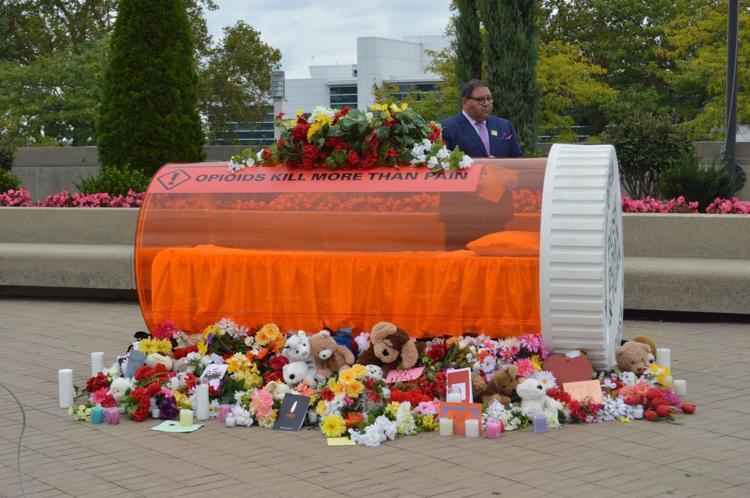 At the Oct. 19 session, law enforcement, among others, will talk about emergency medical response to opioid overdoses. Denny Hirsh said he is particularly looking forward to the Nov. 16 session that will feature at least three area mayors – Beachwood's Merle S. Gorden, Orange's Kathy Mulcahy and Lyndhurst's Patrick A. Ward – discussing the epidemic in their communities. Then, the Dec. 7 program will feature representatives from sober living homes.
"It's all about talking about addiction as a disease, which is hard for people in this country to start thinking about," Caraffi said.
Hirsh also began raising money under the "Melissa Rae Fund in Support of Substance Abuse Education, Advocacy and Change," which helps fund the program and she is hoping to build into an endowment fund.
During the interview and memorial tribute, Hirsh was stopped by MetroHealth CEO Dr. Akram Boutros, who thanked her for being there. She immediately showed him a high school photo of Koppel, to which he responded, "You make her proud."
Hirsh said if someone had asked her before Koppel died what she would do if she lost a child, she would have said, "Suicide." 
"And then here I am today," she said. "I reacted, obviously, completely differently."