The fourth grade at the Joseph and Florence Mandel Jewish Day School donated clothing, household goods and over $200 in gift cards and bus tickets to Carl Cook, founder of Project Save, a nonprofit with a mission to help the homeless in Cleveland.
Cook visited the fourth grade at the Beachwood school twice. In his first visit, just before the High Holy Days, he talked to the students about homelessness.
"Project Save provides food, clothing, medical care, counseling and support, job training and most of all, hope," Cook said, according to a news release.
"The High Holidays is the right time for our students to think deeply about the community," said Nurit Barnard, fourth grade Judaics teacher, according to the release. "To make change. To give hope. To give tzedakah. We are so lucky to have Carl as our special guest and we look forward to doing everything we can to support him and his important work with Project Save."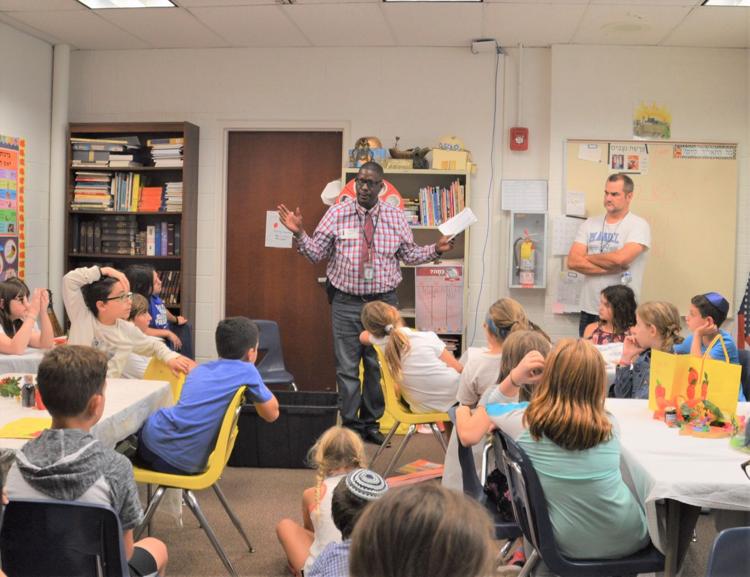 Cook left bins for the children to fill with a list of needed supplies. The students filled the bins to the top with socks, thermal underwear, a coffee maker, office supplies and more.
During Carl's second visit, the fourth-graders presented him with their donation.
"When I came here the first time and we all met ... I shared a little bit about the very important work me and my team do every day," Cook said, according to the release. "Today, I am so blessed and happy to take these items back and share them with my team so we can continue empowering the poor and empowering the homeless."
Cook stayed for Kabbalat Shabbat and sang with the fourth-grade class, drank grape juice and ate challah. The students expressed interest in continuing to help the organization and are now working on planning a field trip to Project Save or a holiday project.