The Cleveland Metroparks Zoo officially dedicated the Jack, Joseph and Morton Mandel Welcome Pavilion at the zoo in Cleveland on June 5.
After being introduced by Bruce Rinker, Cleveland Metroparks commissioner and Chris Kuhar, executive director of the Cleveland Metroparks Zoo, Robert Reitman, chairman emeritus of the Cleveland Zoological Society, said the opening of the welcome center was "a very significant event."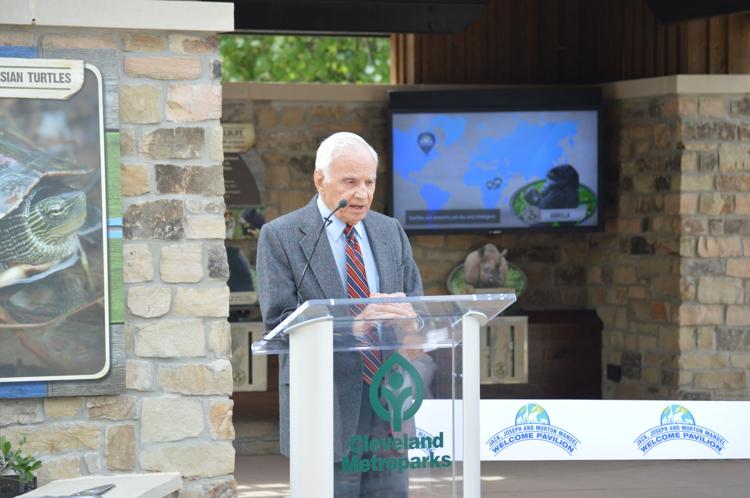 "Each of the (Mandel) brothers was a unique individual, they were bonded as a team by their commitment not only to their business interests and their family, but to their community," Reitman said.
Mandel, chairman and CEO of the Jack, Joseph and Morton Mandel Foundation, said he hadn't given the zoo much thought until he had visited with his family a few years ago.
"It had been a long time since I had been out to the zoo, prior to a couple summers ago when I brought part of my family," Mandel said. "Liz Fowler (executive director of the Cleveland Zoological Society) was our hostess, and we had an absolutely wonderful time. We avoided getting mangled by any lions or tigers, that was an important objective of ours. But we were impressed with the zoo. There is a lot to be impressed about when you're here. I hadn't been here in a long time. So, I left, and I think I may have mentioned to Liz, 'I bet you guys must need something around here.' 
"You know any nonprofit organization that doesn't need something? So, I knew you would need something. To make a long story short, we were approached, and this was a suggestion. It was fine with us, because it was fine with you. And it's beautiful."
The $500,000 gift for the project was the foundation's first for the zoo.
The Jack, Joseph and Morton Mandel Welcome Pavilion is near the entrance of the zoo and allows visitors to watch videos about the zoo's Future for Wildlife conservation programs. It also houses the Quarters for Conservation donation station, where visitors can donate change to various conservation efforts.