When the Cleveland Jewish News introduced 18 Difference Makers in 2015, it was to spotlight individuals in Northeast Ohio who embody tikkun olam – striving to repair the world, leading by example and encouraging others to do the same. 
That mission continues to this day. In fact, since its inception, the Jewish community – as well as the rest of Northeast Ohio – has responded in a big way, submitting nearly 500 nominations to be considered as Difference Makers.
It makes the selection process a challenging but ultimately rewarding process, and following months of careful consideration, the CJN announces its 2018 class of 18 Difference Makers.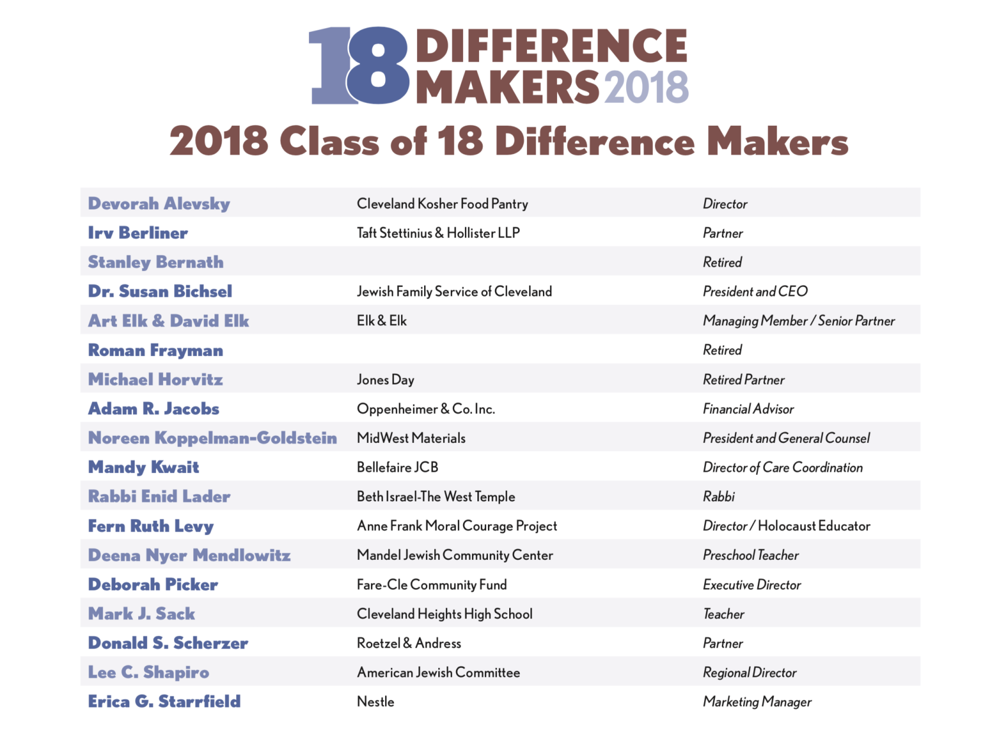 This year's class includes, as always, diverse professionals – presidents, partners, educators and more – who exemplify the mensch-like qualities that define Difference Makers: community-mindedness, honor, integrity and generosity.
In addition to the 18 Difference Makers, of which one is a set of brothers, three additional awards will be bestowed on community members. 

The 2018 Civic Leadership Award recipient will be the Judge Dan Aaron Polster, a judge for the U.S. District Court for the Northern District of Ohio who has handled many high-profile cases, including the current case involving more than 400 federal lawsuits brought by cities, counties and Native American tribes in the national opioid epidemic.
This year's Generation Award will be presented to the Stein family: Carmie and Todd Stein; their children, Abby Diamond, Michelle Hirsch, Jodi Meridieth and Rachel Weinberg; and Todd's parents, Geraldine and the late Morton Stein.  This award recognizes a family that has instilled the values of tikkun olam across generations.
This year's Lifetime Achievement Award, presented by ERC, will be announced in the coming weeks.
All of the honorees will be recognized during a celebratory ceremony at 5:30 p.m. Nov. 18 at Landerhaven in Mayfield Heights. The signature event will feature cocktails, food stations and socializing, followed by the main program. Kosher dietary laws will be observed. Tickets for the event are $95 each click here  to purchase.
The co-presenting sponsors of this year's 18 Difference Makers are Classic Lexus, Case Western Reserve University Weatherhead School of Management and HW Financial Advisors.
The video sponsor is the Greater Cleveland Partnership; the Lifetime Achievement Award sponsor is ERC; and the cocktail sponsor is ohio.net. For sponsorship opportunities, contact Events Manager Gina Lloyd at glloyd@cjn.org or 216-342-5196.
The honorees will be featured in a special pull-out commemorative section in the Nov. 16 issue of the CJN and as well as on cjn.org and facebook.com/clevelandjewishnews.