It has been a little over a year following the mass shooting at the Tree of Life synagogue and members of the three congregations housed in that building can agree on one thing: nothing has been done to combat or prevent additional mass shootings in the United States.
Through a Nov. 18 panel discussion at Temple Emanu El in Orange, Carolyn Ban, a member of Congregation Dor Hadash and chair of Squirrel Hill Stands Against Gun Violence, Stephen Cohen, co-president of New Light Congregation, Donna Coufal, president of Dor Hadash, Dana Kellerman, vice president of youth education of Dor Hadash and policy director for Squirrel Hill Stands Against Gun Violence and Lt. Michael Roberts, police officer with the Orange Police Department, voiced their struggles following the Oct. 27, 2018 shooting and urged the 275 people in the audience to not be passive during this time of frequent mass shootings.
The panel, moderated by Zachary Paris, adjunct professor of political science at John Carroll University in University Heights, was open to the public. Audience members were encouraged to write and submit questions for the panel to answer.
Ban kicked off the discussion by asking two questions she answered through her personal experience working on Dor Hadash's social action committee and the work the congregation and committee did to change gun legislation: Why it's appropriate and necessary for Jewish congregations to engage actively in social justice work and how could this work be completed in a religious setting in a practical matter?
"In working to reduce gun violence, we are also living our values, we are upholding our belief in the sanctity of human life," Ban said. "We are standing up for a Constitutional right to worship as Jews in safety. We feel compelled to try to spare others from the pain and loss we'd suffered, so our response was grounded in Judaism and at the same time in that pain."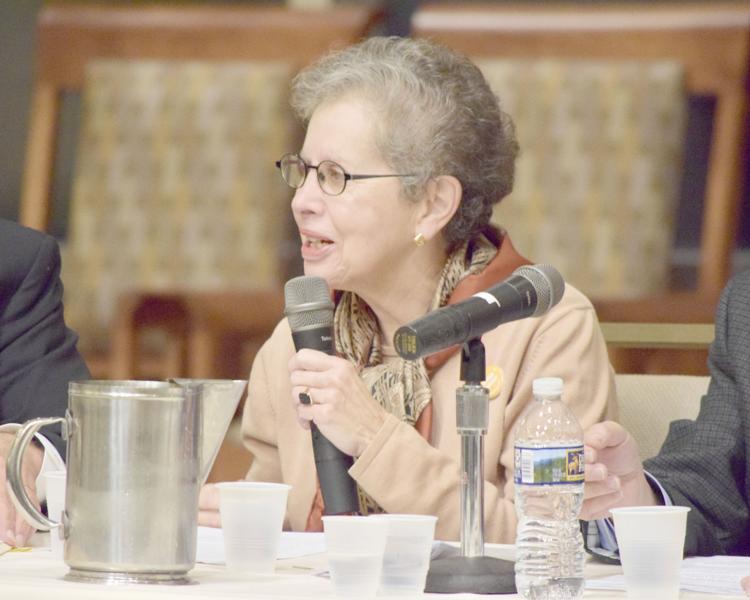 While working against gun violence, Dor Hadash members realized that because they wanted their push to be as inclusive as possible, they needed to create another group where members of any congregation or background felt invited to join. Thus Squirrel Hill Stands Against Gun Violence was created.
Cohen laid out a series of methods people should follow to guarantee their safety in a country where such weapons are owned by people out of the military and police: be prepared, like knowing what gunshots sound like, where the exits are and to practice active shooting drills; reestablish controls over semiautomatic weapons and vote.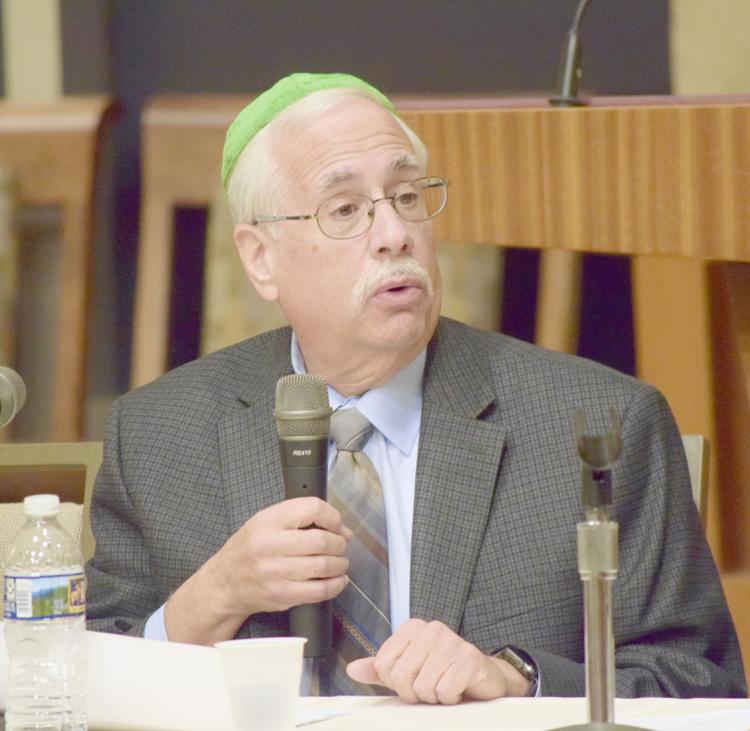 "On Oct. 27, 2018, the shooter – I will not say his name – murdered 11 innocent, beloved Jews because he thought all Jews were responsible for an invasion of the United States by Honduran immigrants," Cohen said. "He could have used a knife when he came into the building. He could have used a bomb like Timothy McVeigh back in 1993, but he chose to use the most efficient killing machine available today – the semiautomatic rifle. To me, having been in the military, semiautomatic weapons have only one purpose, and it is not to shoot animals to get meat, it's not for target practice. It exists to kill people and that's what the shooter was going to do and that's what he did."
Coufal talked about the difficulty and backlash she and the Dor Hadash Congregation received when deciding to use the shooting as an opportunity to make an actual change in legislation regarding gun control and the death penalty. By fighting to prevent the ability for additional mass shootings, Coufal and Dor Hadash were able to heal.
"We continue to help other individuals and congregations, both churches and synagogues to write their own death penalty letters, to support gun legislation and to help immigrants," Coufal said. "This has been our journey and we're just a little more than a year in. ... No one should have to go through this. We still see the endless grief of families. When something awful happens, call out to others, try to create change and do not give up. This is a fight for the long haul. Once you are in it, you cannot turn away."
Kellerman used statistics to show the increasing amount of mass shooting occurring in America and how no formal change is being made to curb gun control.
"My son is 13," Kellerman said. "He has been having lockdown drills since he was 6 years old after the Sandy Hook shooting. Sandy Hook was in 2013, and it wasn't the first. It has been 20 years since Columbine. This is a problem that goes back much, much longer than one year, but in these years, our legislators have done virtually nothing. ... When my son asked me, 'When is it going to stop hurting so much?' How do I tell him I don't know? We have let this responsibility fall upon our children."
To provide those in attendance of the local perspective regarding first responders and police action, Roberts highlighted how many Cleveland police departments have joined forces to respond to any kind of threat and that many Jewish day schools have a police presence just in case. However, as he noted, it can't only be up to the police to prevent or stop a shooting.
"We're glad to help however we can, but the police is not ever going to be the only answer, even if it was just a matter of 'there aren't enough of us,'" Roberts said. "There's a lot of buildings and a lot of places that we need to visit and we just can't be in all of those places."
The Cleveland Jewish News was the media sponsor.