As people get older it's common for them to worry about their memory and ability to think.
That's why Phil Levine, 70, of Orange, and Art Greenberg, 71, of Reminderville, took a chance to make a difference in the lives of seniors and have fun at the same time. They created "Mind Challenge for the New Majority" in 2018, following their retirement from Rubber City Radio Group.
With the help of Jill Frankel, director of active adults and senior services for the Solon Senior Center, the advancement bracket-style trivia competition held its first competition in the late winter and early spring 2019. Lana Oriani of Get Lucky Trivia is the competition's host.
"It's been fairly successful because when we started this thing, I had just retired in June 2018, I didn't know what the heck I wanted to do," Greenberg said. "Because I work out in Solon, I went next door to the senior center and ultimately met Jill Frankel. Going through the whole story, I asked her if there was something I could do to help her in the senior market. She said she had an idea of what she wanted to do – something like a brain Olympics. I said that sounded interesting and I had a partner, Phil (who retired in 2019), and that we should put our heads together and see what we come up with. That is exactly how this was created."
The game, which is trivia based and covers subjects from movies and music to history and local knowledge, consists of teams created by local senior centers. The first year had 16 teams, which Greenberg, a member of Park Synagogue in Cleveland Heights and Pepper Pike, said "was pretty amazing even then."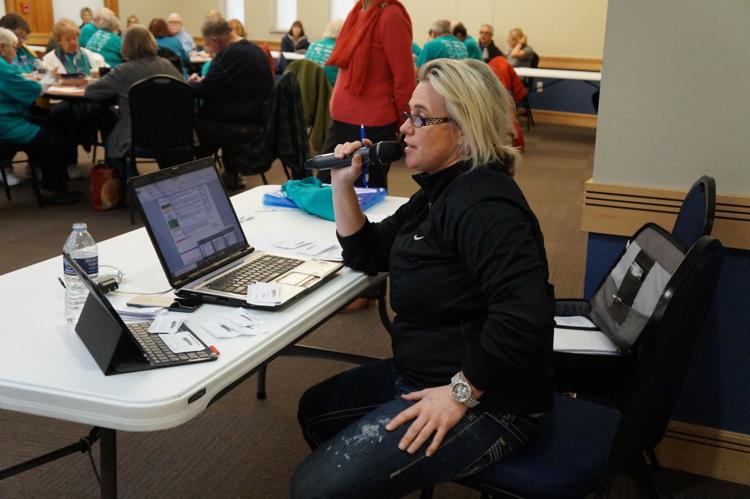 "We didn't truly start conceptualizing this until August 2018," he said. "So, putting together 16 teams was amazing and the fun everyone had, the results and the monetary dollars that went to the city, everyone was excited. We had great publicity. So, when you talk about being successful, there is no question. The first year, we obviously stumbled and made mistakes, but we changed some things and jumped to 36 cities for this year."
Levine, a member of Anshe Chesed Fairmount Temple in Beachwood, said, "We actually turned cities away this year."
The 2020 competition started with 75 teams from four regions. With the second year of activities in full swing, 47 teams have advanced past the second round, which was held March 9 and March 10 in Solon, Mentor, Rocky River and Strongsville for each of those cities' region. The regional rounds, originally scheduled for April 13 and April 14, are now June 16 and 17, and the finals, originally scheduled for May 6, are now June 23. Both events were postponed due to the pandemic and will be held virtually on Facebook Live.
Oriani is developing a tutorial on how seniors can navigate the platform to participate with their teams, and it will be posted on themindchallenge.com on June 1. Seniors will need either a smartphone, tablet or computer to participate. First place winners get $2,500; second place, $1,500; third place, $1,000; and fourth place, $500. The prize money and trophies go to their senior centers. Team members get gift certificates from participating sponsors.
There is no cost for participants or senior centers to get involved, and all operating costs are covered by sponsors.
With two rounds done, the creators find themselves learning new things along the way.
"We learned how to deal with senior centers – they tend not to have a lot of money, which is a shame," Greenberg said. "It's tough on each one of the directors. They tend to be by themselves or maybe have an assistant so they have to try and develop programs."
Levine said, "Not every center is like Solon. A lot of them, like Seven Hills, it's just one person and whatever volunteers that want to help. Beachwood and Orange are like that, too. It's nothing short of unbelievable how these people operate. It's amazing the dedication of the senior center directors. You see the work they have to do and how they engage seniors."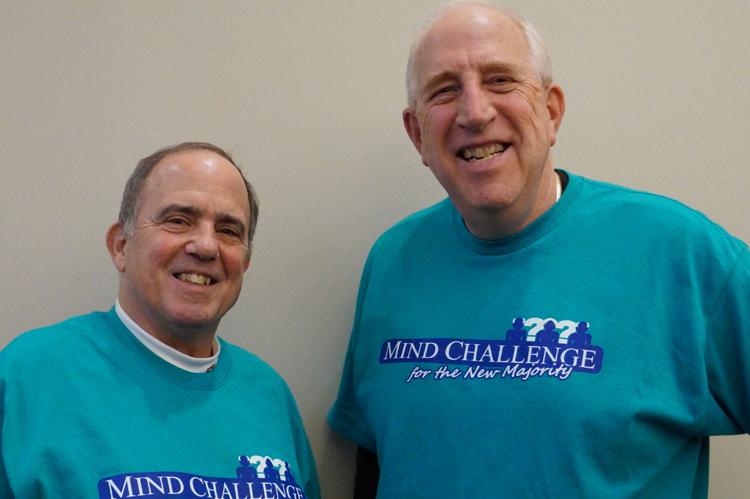 The senior participants benefit just as much, if not more, Levine said.
"It's the socialization and the use of their mind," he said. "The most important thing is to allow seniors to use their minds, as well as increase the socialization that they have. The team that won in 2019, Mentor, they didn't know each other before the competition. And now, the team is really competitive and want to defend their title. They're great friends now."
Greenberg said, "I think participants also gain camaraderie. You hear from several of them that they say they might not win, but enjoy it anyway. And that is the key thing. They have fun and they come out enjoying it. They're developing the mind and socializing. Those are the two key things."
Though the final rounds of the 2020 competition have been postponed to June, which will be emceed virtually by Cleveland radio personality Larry Morrow, organizers are still hopeful for the future of the game.
"We'd love to take it statewide, but the most important thing this year is to get through this tournament," Levine said. "Unfortunately, the coronavirus has put a little bit of a damper on it. But, we're going to get through it and still have fun with it. The vendors have asked us to expand too, but it's not so easy. You don't just get up in the morning and do something like this. You have to be very careful."
Greenberg added, "We'd love to expand it to Columbus, Cincinnati, Youngstown and Akron. It's just a point that there are only two of us and Lana. So, it's going to come down to manpower."