Rabbi Joel Chazin spent 53 years in the rabbinate, but his legacy will be defined during the last 20 he spent at Montefiore as chaplain and director of religious services.
Chazin, a Shaker Heights resident who died July 11 of COVID-19 at age 84, "considered Montefiore the highlight of his career," his daughter, Shoshana Chazin, told the Cleveland Jewish News.
"He felt truly lucky to have found it," she said. "He loved the people – not just the people that work there – he loved the residents. He worked seven days a week, calling people, visiting, obviously going to Montefiore, preparing sermons. He knew people's names by heart, their phone numbers, their stories."
When Chazin retired in June 2018, an illness prevented him from attending his retirement party at the Beachwood senior living facility. Instead, he offered remarks via a prerecorded video.
Wherever he served, Chazin brought the study and teachings of Jewish religion, ideas and culture. He also had a keen memory.
Chazin excelled during funerals when family members may not remember much about a loved one. Shoshana Chazin said she was told often her father would be quickly able to improvise during those difficult moments.
"We were talking with Rabbi Akiva (Feinstein), and he was saying how a lot of times (Chazin) would officiate at funerals and someone might not know all the information about their loved one, and he could somehow just reach inside his memory and draw out conversations – snippets of conversations that he may have had with people that made an impression and religious stories," Shoshana Chazin said. "He truly, truly lived for his work. He really did. He really loved being a rabbi, he loved being a chaplain. Being a chaplain was something my mom had asked for him to do for a long time. And, you know, he said, 'No, I consider myself a rabbi.'"
At Montefiore, Chazin instituted a summer concert series, "Songs of a Summer's Night"; developed an annual Martin Luther King Jr. Day program with a guest speaker each year; created a Sunday morning breakfast forum series titled "Food for Thought"; and initiated a series of "Torah Institutes" for residents in which he and guest rabbis in the area led lectures and discussions on the Bible.
He also collaborated with staff at Montefiore to edit a trilingual – Hebrew, English and Russian – Passover haggadah, and edited weekday prayer books and festival morning and evening prayer books for the residents. He also oversaw the production of Shabbat and High Holy Days prayer books, all in large print, for the residents.
Ari Hyman, administrator at Montefiore, knew Chazin for about 10 years.
"Rabbi Chazin was a very special man," Hyman said. "His love for our residents ran deep, not just for our residents, but our staff as well. He was there for everyone. Some of the things he was most proud of were things that carried a universal message – social justice, looking for equality in the world, those are things that were very important to him."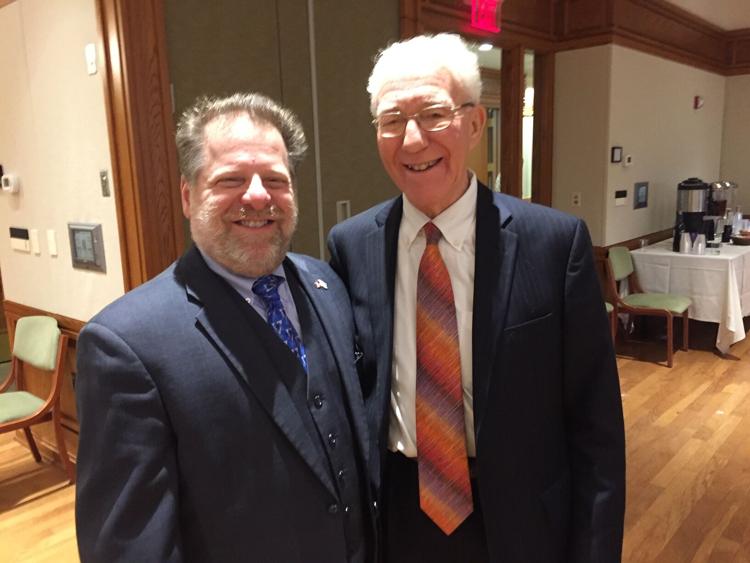 Hyman remembered the passion Chazin displayed during his orientation.
"I remember him speaking about how important the work is that we do here at the Montefiore home – caring for the elderly is not something to be taken lighthearted, it's something that's of tremendous importance," Hyman recalled. "We're taking care of our parents or we're taking care of someone's grandparents, someone's aunt, someone's uncle. He brought the humanity to the work that we do.
"He saw the good in everyone, recognized the humanity in the work that we do, and especially now here in 2020, where the world is at in terms of some of the social justice issues which have been brought to the forefront. Those are things that meant a lot to him."
Chazin also enjoyed doing interfaith work and participating in interfaith dialogue.
"Working with the Christian community and the outside community in general was very important to him," Shoshana Chazin said.
An immaculate dresser, Chazin's first suit was one his father purchased from Brooks Brothers, and to that end, he remained a loyal Brooks Brothers customer.
"My sister was talking about how he had an expansive wardrobe, winter suits, summer suits, spring suits, he loved ties," Shoshana Chazin said. "I mean, he had easily 50 to 75 expensive ties. And his appearance was always impeccable. Even in his retirement, he was dry cleaning his sweaters."
Despite his slim build, Chazin had a sweet tooth.
"A heavy part of his diet was sweets and he loved nothing better," Shoshana Chazin said.
She said on Sundays, he often would go to On the Rise Artisan Bread & Pastries on Fairmount Boulevard in Cleveland Heights to buy treats like croissants or baguettes.
"And he would bring them home and, like, unveil them," Shoshana Chazin said. "His diet mainly consisted of his sweets with a cheese and fruit and mixed it in. He loved European chocolate bars and macaroons."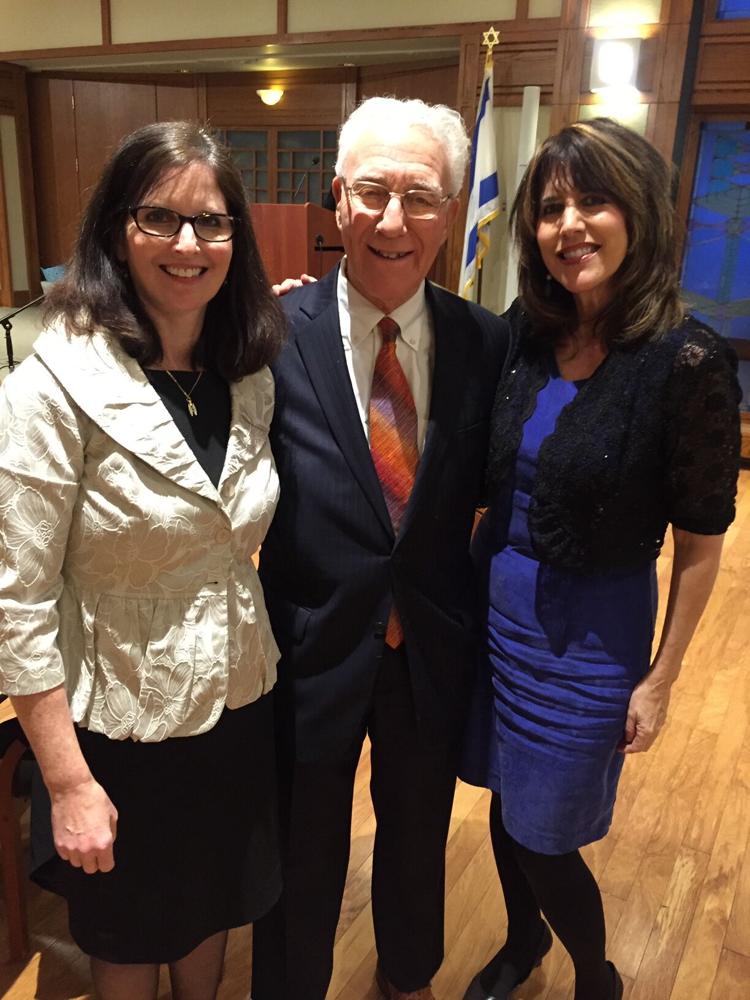 He was a voracious reader of The New York Times, and Jewish and secular magazines. He also loved movies and Israel.
Chazin was born on Dec. 22, 1935, in the Jamaica neighborhood in Queens, N.Y., to Mary and Maurice Chazin. He was valedictorian of Jamaica High School and received a full academic scholarship to Amherst College, where he graduated magna cum laude. He received his rabbinic ordination in 1965 from the Jewish Theological Seminary in New York City.
His five-decade journey took him to pulpits at Congregation Ahavas Israel in Grand Rapids, Mich.; Congregation Ohav Shalom in Albany, N.Y.; Beth El Synagogue in Waterbury, Conn. and Congregation Or Atid in Richmond, Va., before coming to Northeast Ohio in 1992 to serve as rabbi at Agudath B'nai Israel Synagogue in Lorain. It was his first trip to the Buckeye State.
"I was very unhappy in Lorain, and I saw it wasn't working," Chazin told the CJN in 2018. "So, I asked for help from the director of the local hospital in Lorain, and he recommended me to a Jewish man on the east side of Cleveland who had run Mount Sinai (Hospital) for a period of years.
"He said to me, 'Why don't you apply to Montefiore?' I had not heard of it, but I sent (an application) in express overnight from Lorain, and that's how I got here."
Chazin is survived by his wife of 53 years, Linda; children, Shoshana Chazin of Shaker Heights, Aryeh Chazin of Boca Raton, Fla., and Shayna Bach of Cleveland Heights; sister, Judith Bennahum; and five grandchildren.
A graveside service was held July 14 at Mount Olive Cemetery in Solon and due to the COVID-19 pandemic, few mourners were in attendance. Many others watched on Zoom.
The rabbinate wasn't Chazin's first calling. He received a full ride to Harvard Law School, but he didn't like law. When a rabbi at Hillel talked to him about attending JTS, a different career path was born.
As it turned out, the law profession's loss was the rabbinical world's gain – and especially Montefiore's.
"My father truly breathed and loved the rabbinate," Shoshana Chazin said. "Congregants made him successful. It wasn't a job for him. It was a true, true love."