Mel Wasserman couldn't help but notice that he was experiencing an odd set of maladies about three years ago.
He lost his sense of smell, had trouble using his left hand, had minor memory problems and his balance was off. Much to his disbelief, he was diagnosed with Parkinson's disease at 76 years old.
A former school teacher, Wasserman called an old co-worker with Parkinson's for advice. This former co-worker told Wasserman to do two things: No. 1, find a neurologist, and No. 2, go to InMotion, a nonprofit center that provides exercise, music, support and educational classes to Northeast Ohio's Parkinson's disease community and their care partners.
He did both within a month of his diagnosis. With his doctor, he found medical solutions and treatment options. At InMotion, he found a family.
In 2021, the organization that Wasserman quickly came to love moved from its Warrensville Heights location, where it had been since its founding six years ago to a completely revamped, 20,000-square-foot facility in Beachwood.
At this new space, Wasserman and the thousand other Parkinson's patients and caretakers InMotion serves are able to continue combating their disease through a range of support – but this time, in a much larger facility customized to meet every need.
"At InMotion, I feel like I belong to a community," said Wasserman, a South Euclid resident and a member of Congregation B'nai Jeshurun in Pepper Pike. "The new facility is fantastic, and everything I need is here."
InMotion will host its fifth annual Pals in Motion event starting at 7:30 a.m. Sept. 19 at Beachwood High School. The in-person event will raise money for InMotion to keep its services free through a 5K run/walk, 1-mile family walk, yoga, tai chi, obstacle course and 100-yard dash.
This year's Pals in Motion will honor Les Levine, a longtime Cleveland sports broadcaster and weekly columnist for the Cleveland Jewish News, who passed away
Feb. 3 after a battle with diabetes and Parkinson's disease. He was 74.
The need for a few facility came a few years ago, said InMotion CEO Cathe Schwartz. The organization's clientele size boomed, but InMotion's Warrensville Heights facility was not able to grow with it. In early 2020, InMotion purchased and renovated its current space at 23905 Mercentile Road in Beachwood. The building, named the Allen Goldberg Center for Parkinson's Wellness, opened in May.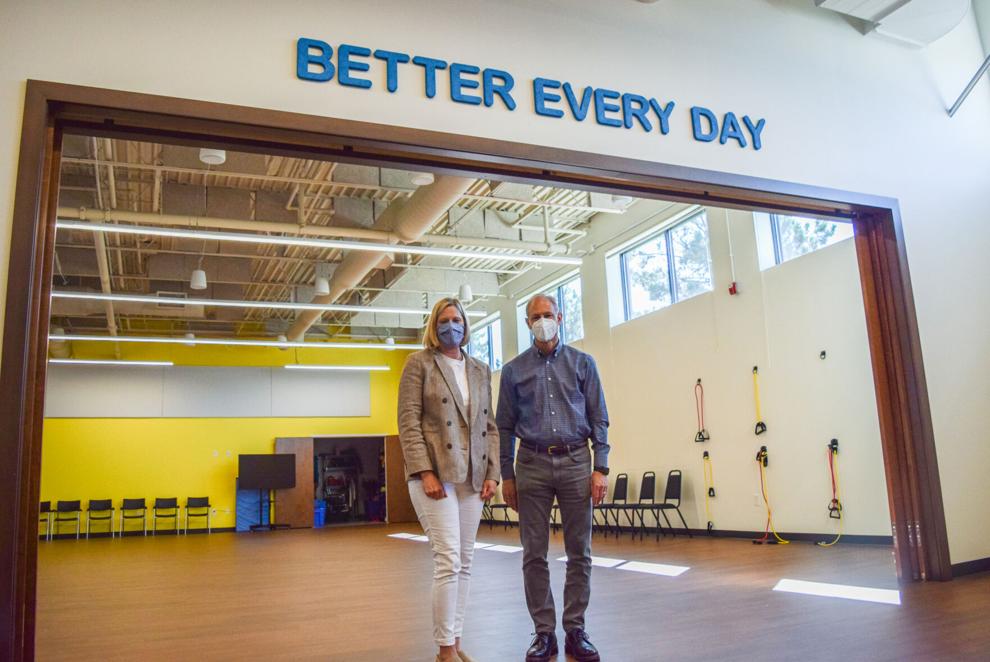 The goal when renovating the new property was to create a space to hold InMotion's diverse array of programming – and new programming – while also crafting a "safe place environment," Schwartz said.
"I think we've been pretty successful doing that," Schwartz said. "It's really great to see clients coming back and saying, 'I feel like I'm home now, except it's a bigger home.'"
The Beachwood facility features a modern yet warm interior with high, airy ceilings and bright colors.
New to InMotion is a cycling room, filled with stationary bikes for spinning and cycling classes. There are also separate rooms for classes focused on big movement and coordination, like a healing arts room where clients can take part in a yoga-based program – mindful movement – that helps with activities in daily life. Other available activities include drumming, tai chi, singing and art.
There is a large room for yoga and other activities that can be divided in half to allow for simultaneous classes.
At the back of the facility is an expansive gym, boasting dozens of weights, punching bags and workout equipment for boxing, strength and cardio training. InMotion works closely with ATP, a privately owned gym, that also rents space from InMotion to train private clients, as well as clients with Parkinson's.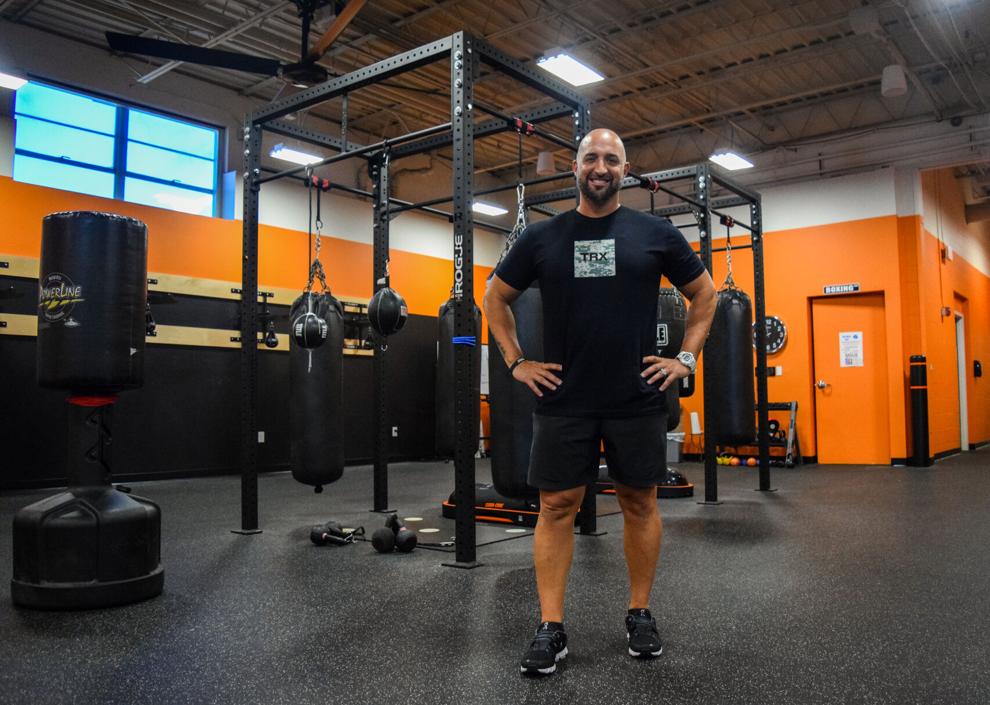 Schwartz explained that all of InMotion's classes cater to the clients' range of motion. Classes are divided for mobility levels, or instructors encourage participants to find a pace best suited for them.
There are also support group rooms, where those with Parkinson's and their caregivers are separated to focus on their specific and different issues. A cafe allows clients and caregivers to sit and chat with one another at tables before or after classes.
"What we do is very holistic, and that's what makes us unique," said board of directors chair Bruce Goodman. "We're not just a boxing program or a place to come and cycle – that's just one piece of a much bigger puzzle. When you put it all together, we're really able to make a much bigger difference in any individual more now."
When it comes to the future of InMotion, Goodman expressed hopes of fully utilizing the new space and continuing to spread the word of InMotion and its abilities.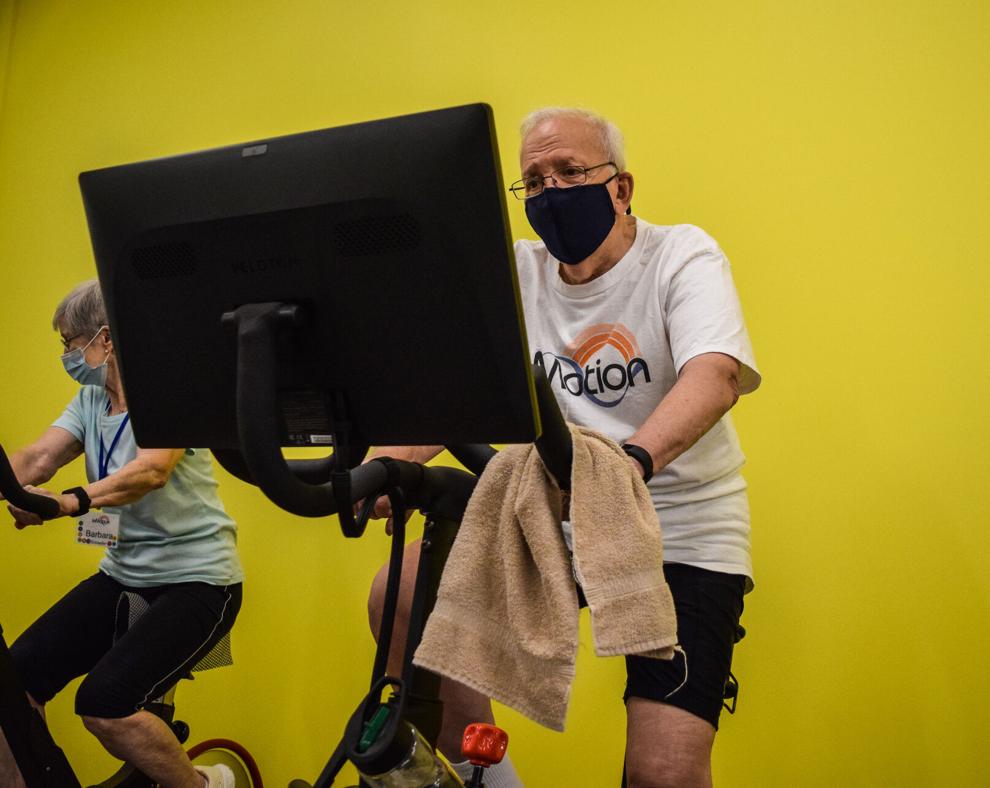 Goodman also said that InMotion learned the power of crafting virtual programming, which the organization had to do throughout the COVID-19 pandemic. Hybrid programming may become InMotion's future.
"Apart from the very important in-person work that we will always do here, it is possible we may find ways to reach out to people outside of Northeast Ohio through online programming, because our goal is just to help as many Parkinson's patients feel better everyday as possible," Goodman said. "And we may be able to do that in a larger geographical area than we ever would have thought of before COVID."