NEW YORK CITY – Some 115 Clevelanders who participated in the "No Hate. No Fear." march and rally here on Jan. 5 did more than raise the profile of Cleveland.
"I think it really connected Cleveland in a peaceful way," said J. David Heller, chairman of the Jewish Federation of Cleveland, which sent two buses to the event. "Fortunately, we haven't had any of those major tragedies here in Cleveland," Heller said. "But we responded and stood next to the communities that have had it. And I think that … we continue to fight anti-Semitism here in Cleveland through dialogue, through communication, through reaching out to partners … and things that we do on a day-in and day-out basis to build partnerships throughout the community so that other people understand in the non-Jewish community that these acts of anti-Semitism are not tolerated. So if they creep their ugly head in the workplace or in the streets of Cleveland, our community partners are quick to condemn it and very quick to not allow it to fester."
Heller was traveling out of town and flew to New York City, where he met family members.
He credited the work of Federation President Erika B. Rudin-Luria and her staff with their quick work. The march drew an estimated 25,000 people, who gathered at Foley Square and walked to the Brooklyn Bridge by way of Broadway, gathering at Cadman Plaza in Brooklyn for a rally that opened and closed with the Maccabeats and featured more than a dozen speakers. While there were politicians seated on the stage, none spoke by design. And the speakers ranged from Orthodox rabbis to heads of national Jewish organizations. Catholic bishops were on the program and at least one Muslim.
Matisyahu sang "One Day" and "Jerusalem." MaNishtana sang as well.
At the rally, film crews recorded the event. A CNN crew caught up to Dan Zelman, vice chairman of the Federation, who attended the rally with his wife, Ellen.
Zelman said, given the weather, the short notice and the time of year as well as the long ride, he thought the Federation might have trouble filling a single bus and was pleasantly surprised that two were filled.
"I think it became a national story just because what happens in New York gets a lot of publicity. …It was New York, the single largest place of American Jewry," he said. "From people that just randomly talked to us during the three hours that we were outside, there were lots of people that came up and just thanked us for being there just because we had Cleveland doo rags on our head or some other sign and really appreciated the support. So it felt good to be part of it."
Clergy Participate
Cantor Dave Malecki chose to ride the bus with his husband, Leon Mendlowitz. The Pepper Pike couple decided to go partly so that Malecki could join the Cleveland delegation and to represent Temple Emanu El in Orange, but also because Mendlowitz is a "strong advocate of the ADL," which was a partner agency in the rally.
"Two things I think stand out for me right now," Malecki said. "Just seeing the sheer number of people in attendance, the bridge walkway being full to capacity for hours, people crossing the bridge to lend their support at the demonstration at Cadman Plaza and then hearing from leaders outside of the Jewish community who were expressing their support in our time of need. That was an unexpected, powerful moment for me to hear that we're not alone in this, that other communities are aware and are speaking up on our behalf."
Rabbi Stephen Weiss, senior rabbi of B'nai Jeshurun Congregation in Pepper Pike, said he flew to New York for two reasons.
"I'm here first and foremost for this march standing against anti-Semitism and bigotry and hatred that is permeating our society," he said. "We have to send a message that it's not going to be tolerated and we're going to fight against it."
Clevelanders join 'No Hate. No Fear." march in New York City
Weiss also wanted to spend Shabbat with his daughter who was set to give birth to his first grandchild.
Gadi Galili, ritual director of Park Synagogue in Cleveland Heights and Pepper Pike, said he was drawn "to be together with brothers and sisters and all those that hate the hate. (We're) all together here as one heart, one people, reunited, be together in love and building (the) future."
Rabbi Lauren Werber of Temple B'nai Abraham in Elyria said she hoped "to make sure that we had presence that lets the Jewish community know that we're all one Jewish community and we have each other's back and we're thinking about each other. And we're here for each other."
Werber said highlights were camaraderie she developed with others she met, connecting with new people from other cities and the warm welcome Clevelanders were given.
Rabbi Rosette Barron Haim of Celebrating Jewish Life said, "I think the important part about being here is really just that being here to support the Jewish people to let the Jewish community here in New York know that we're with them and to let the whole world know that people are aware that anti-Semitism is rising and that we have a responsibility to do something and that this is some small thing that we can do to draw awareness to this problem. It's really rising in society."
Devorah Jacobs, who with her husband runs Chabad of the West Side, said she told her husband she wanted to take part in the march.
"We wanted to be part of it," she said. "I met more Cleveland people in the last 10 minutes than in the whole past four years that I've lived there. And I love being here just to meet other Jews from Cleveland and to be part of it and to be here."
Federation's effort
Rudin-Luria, the leader of the Beachwood-based Federation, said it was a "no-brainer" to set up buses and come here.
"When we learned that they were doing the march, we learned on New Year's Eve, and I quickly consulted with my leadership and we all agreed that there was no other place that we should be today except here in New York," she said. "The hope is that if all of us add our voices together, then together we're loud enough and strong enough to defeat anti-Semitism, not just today but we're focused on the future. We want to see a day so that our great-grandchildren who aren't here yet, don't know of a world with anti-Semitism in it: us coming together is a good start."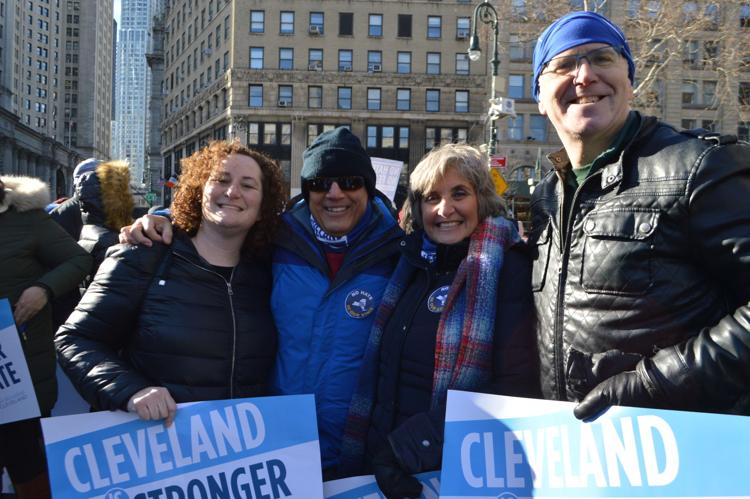 Former Clevelander Eric D. Fingerhut, the president and CEO of the Jewish Federations of North America, made the rounds among Clevelanders at Foley Square prior to the beginning of the march.
"There was a real strong need for a moment like this," said Fingerhut, who served as an Ohio senator and U.S. congressman before moving into Jewish communal leadership at Hillel International prior to assuming his role in August. "We know that Jews are safe in America, but we also know that individual incidents terrorize people and scare people. So, we have a commitment to make sure we feel safe every day all the time."
He also spoke of the level of commitment Cleveland shows to Jews around the world.
"Cleveland shows up," he said. "Cleveland knows that when there's an issue facing the Jewish community anywhere in the world, that Cleveland needs to be there. And so, it's so powerful for them to be here today. We shouldn't take it for granted that Cleveland shows up."
With temperatures in the low 30s and a light wind, sunny skies added a touch of warmth to the marchers, who moved slowly across the Brooklyn Bridge with ready-made and handmade signs with simple messages, such as "Stop the Hate" and "Never Again Means Never Again."
Some quoted biblical passages to drive home the point. Some waved flags.
Students take part
Nathan Wieder, 16, from Fuchs Mizrachi School in Beachwood, wore an Israeli flag. He was one of at least six students from the Modern Orthodox day school who rode the bus.
Wieder said he was aware of the anti-Semitic events leading up to the march.
"We can't just sit back," he said. "History can't repeat itself. We can't just sit back. We have to try making a difference and this is the first step."
Fuchs Mizrachi's Ari Smith, 16, said he wanted to show "that we're not standing down. Nothing can defeat us."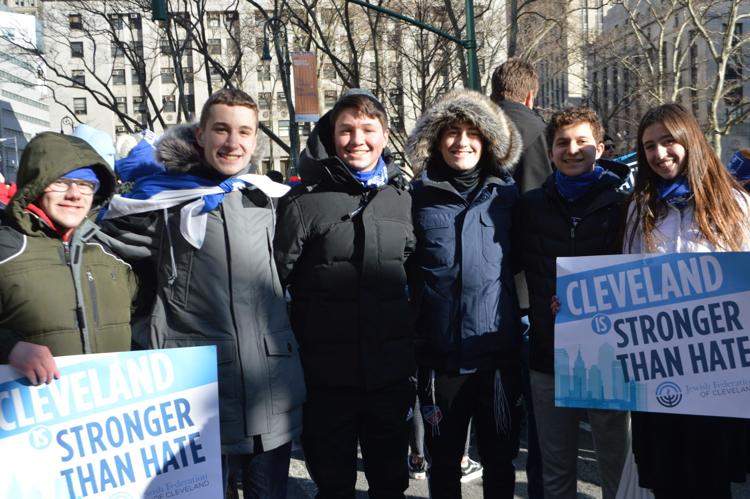 Gavriella Jacobs, 17, from Fuchs Mizrachi School, said, "Seeing all the attacks all over the world and seeing this pattern where Jews are continuing to be oppressed, I feel like it's such an American right, and I was just excited to come and march in the streets of New York against anti-Semitism and be able to speak up for something that I believe in."
Akron resident Abby Kushner Benson, 18, a freshman at the College of Wooster in Wooster, came to the march with her parents on one of the buses.
"The highlight of my day was realizing how big the crowd was," she said, adding she noticed a photographer's reaction as he realized how the line of marchers appeared to be endless as it snaked its way from Manhattan across the Brooklyn Bridge. "I just turned around to see exactly what he's photographing. … It was insane because there was no space."
"The Catholic Community of the Diocese of Cleveland stands with our brothers and sisters of the Jewish Community. We call for respect for the …
50 years of marching
U.S. District Judge Dan Aaron Polster who rode the bus, said, "I've been marching for 50 years, since 1969 and when I saw the opportunity (come) in Thursday morning, I said I'm in. What I'm most thrilled about is that in a few minutes I'll be joining my daughter, niece, nephew and cousin, all of whom live in New York City.
"I emailed them and said I was coming, would each one meet me? They all said yes. The most important thing is to have our next generation exercising their First Amendment rights and standing up to be counted." Polster is a member of Congregation Shaarey Tikvah in Beachwood and Park Synagogue.
His previous marches were primarily in Washington, D.C., where he protested the war in Vietnam and to free Soviet Jews.
"Then I came with the Federation group to help protect people in Darfur a couple of years ago," he said.
Remembering the Holocaust
Larry Josefovitz, a Beachwood resident and member of Green Road Synagogue in Beachwood, was one of two men on his bus to request time to daven Shacharit.
The retired cantor said he was moved by the message of Malcolm Hoenlein, executive vice chairman of the Conference of Presidents of Major American Jewish Organizations.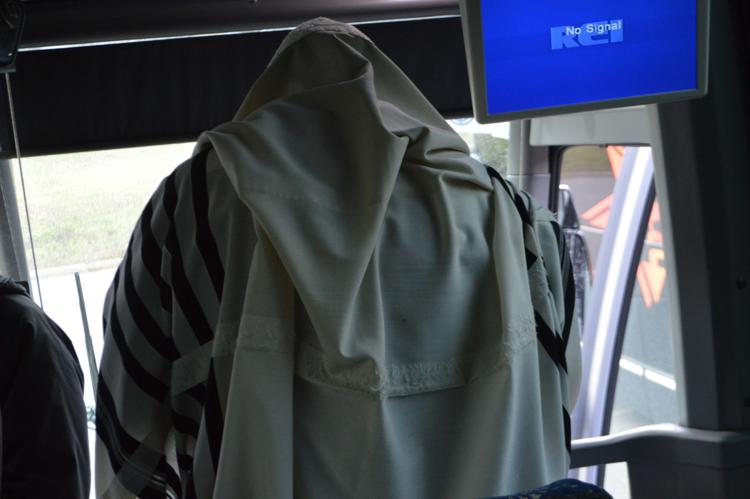 Josefovitz, the son of Holocaust survivors, said Hoenlein gave a call to action.
"I think we did something really important today, but the truth of the matter is it's only a token unless something actually follows because we're just sitting on our hands and waiting for the next thing to happen," he said. "And we know right now it's going to happen.
"You have to consider Hoenlein's words: 'The Jews are the canary in the mine and right now the Chasidim are the canary in the Jewish community. What happens to one group can happen to the others. After it happens to the Jews, it'll happen to the other minorities. Just like it did in the '30s. Once they finish with the Jews, they'll take the case up with somebody else. We actually have to act and we have to get other groups, non-Jewish groups, other ethnic groups to act together to act with us. Because the fact is, in the end, all of us are affected by what's happening right now."
Joe Rettman and Nora Sherwin of Mayfield Heights and members of Congregation Shaarey Tikvah in Beachwood, both children of Holocaust survivors, marched.
It was "just something that I've seen on TV before and never participated and decided it's now or never," Sherwin said. "I'm 75."
She carried a sign that she made herself reading, "I am the Daughter of Refugees. Never Again!!"
She said the march called to mind her mother's Holocaust experience.
"It reminded me of all the Jewish people made to march in the cold," she said.
Rettman said he took a photo of Sherwin with her sign on the Brooklyn Bridge that struck him.
"That was for me the poignant part of the whole thing," he said. "That one vision, that one photograph stands out."
At the rally
At Foley Square, onlookers stood on the sidewalk behind barricade fencing silently or offering support with signs or words as marchers walked down the center of the blocked-off street in Manhattan.
Some of the marchers sang "Am Yisrael Chai" on the way. That translates to the people of Israel live. That was a theme at the rally as well.
Photographers and videographers filmed the march along the way, standing on benches and raised curbs on the bridge.
Police officers dotted the route as well, particularly at intersections.
There was a silent counter-protest staged by ultra-Orthodox men near Cadman Plaza.
They bore signs that read, "We appreciate solidarity with Jews but the state of Israel is not the answer."
Eric Goldstein, CEO of UJA-Federation of New York, struck a resolute tone.
"We come here on an historic first Sunday of the new decade to make a statement that any attack, any violent attack, against a visibly Orthodox Jew is an attack against all Jews, is an attack against all New Yorkers, and is an attack of all people of goodwill everywhere," he said, that other speakers also adopted. "We say no to hate and we say no to fear.
"We are building bridges of community, Jews and Jews, Jews and non-Jews… and building bridges means putting aside political differences, putting aside for this day, religious differences, and calling out all forms of hatred wherever we see it and particularly in our own communities, in our own political party. And bridges aren't built in one day, but we must start somewhere. And we're taking a first step today."
Goldstein thanked those who traveled long distances to march.
"I want to express immense gratitude to thousands of people who've come from across the country on literally no notice to attend this solidarity march and rally today," he said. "Thank you to the groups that came by bus and train and plane from New Jersey, Connecticut, Cleveland, Boston, Central Massachusetts, Washington, D.C., Montreal, and Toronto.
"And I'd like to thank the more than 15 Jewish federations from across the country who brought delegations to be with us at this moment. Our Jewish community is rightfully concerned about security. We will do all we can to keep our community safe, but we cannot let the current wave of anti-Semitism define us. We cannot have Jews lie low. We can't hibernate, try to blend in, stop wearing our kippas or other symbols of Judaism in hope that somehow this wave of anti-Semitism will somehow fade away."
Pride in identity was a common theme among speakers.
College student Blake Flayton spoke of the need for students to affirm their identity without compromise in spite of the rising tide of anti-Semitism and anti-Israel sentiment on campus.
Devorah Halberstam, whose 16-year-old son, Ari, was slain in 1994 because of his Jewish identity, spoke in a similar vein.
"We are proud of who we are," she said. "We will never take our yarmulkes off our heads. We are standing here united as one."
She named communities in which Jews were targeted.
"Today we are all Monsey," she said. "Today we are all Crown Heights. Today we are all Williamsburg. Today we are all Manhattan. Today we are all Jersey City. Today we are all Poway. We are Pittsburgh. We are all Chasidic, and we are all Jews, and we are all Americans. We will not accept the status quo. We will not ... tolerate being attacked in our homes, in our shuls, or walking down the street.
"Painting a swastika on a shul is not benign," she said. "Throwing a brick at somebody's face is not benign. Punching someone in their stomach is not benign and killing somebody because they are a Jew is not benign. And the hate that has permeated our city has put us all in peril. We are in a crisis and we must find a solution. and this solution must begin right here, right now in this city."
The march was organized by
UJA-Federation of New York and the Jewish Community Relations Council of New York, as well as ADL-NY, AJC-NY, and the New York Board of Rabbis.
---
Publisher's note: Rabbi Rosette Barron Haim is a member of the Cleveland Jewish Publication Company Board of Directors.