Jews in Northeast Ohio commemorated the anniversary of the shootings at the Tree of Life Congregation in Pittsburgh through ritual and prayer at 14 synagogues.
#ShowUpForShabbat was an initiative of the American Jewish Committee, and 300 congregations took part across the country, said Lee C. Shapiro, regional director of AJC Cleveland. Across Greater Cleveland, in Akron, Columbus and Cincinnati dedicated events and services memorialized the victims.
As part of the initiative of the advocacy organization, 68 Ohio mayors signed a declaration decrying anti-Semitism, Shapiro said.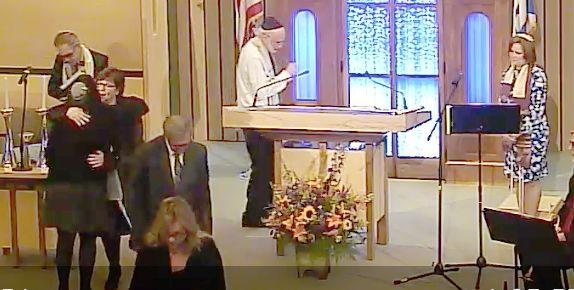 "There was a sense of heaviness and mourning and remembrance and a sense of hope and solidarity to work toward a world that is free of hatred and anti-Semitism," Shapiro told the Cleveland Jewish News Oct. 29. "Many of us believed that America was different (from Europe). I think that Pittsburgh and Poway were a wake-up call for us," she said, referring to the shootings that killed three people at Chabad of Poway in California on April 27.
Services were well-attended in Greater Cleveland, service leaders said, but generally did not match the show of solidarity by both non-Jews and Jews that took place on the Shabbat immediately following the massacre a year ago.
Rabbi Joshua Skoff, spiritual leader of Park Synagogue in Cleveland Heights and Pepper Pike, gave a special talk about how words matter and said his congregation "did a special ceremony of recognition in memory of those who were murdered last year in Pittsburgh."
Rabbi Steve Denker at Temple Emanu El in Orange also chose a theme relevant to the moment at services that were largely led by teens. About 100 people attended the Oct. 25 service, double the usual number for a typical Friday night service.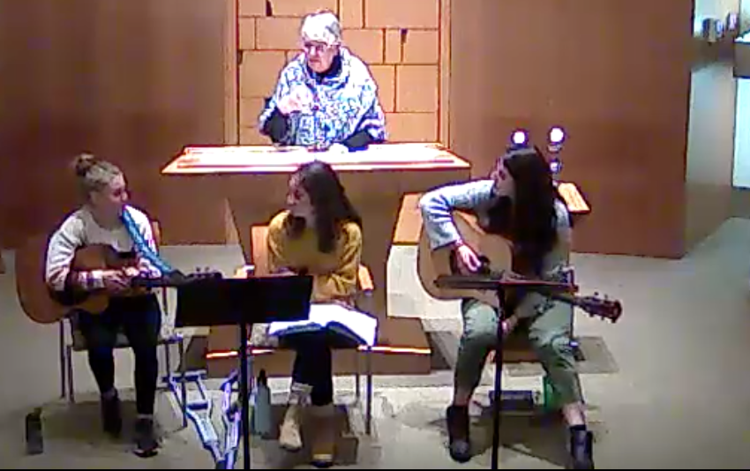 Denker spoke about the relationship between injustice and violence, and the violence that occurred in Pittsburgh.
"There is a force of evil in the world," Denker told those gathered at Temple Emanu El's chapel. "There are those who commit evil for reasons that are known only to themselves and perhaps for reasons that they don't understand themselves. And for this, society has a responsibility – yea verily – an obligation, to take action. Saving a life and also saving property is a high priority in Judaism."
At Oheb Zedek Cedar Sinai in Lyndhurst, Rabbi Noah Leavitt said many in the congregation have ties to Pittsburgh.
"I shared some words, and we read out the names of those who were killed, and then we recited the Av Harachamim prayer, which is the traditional prayer for Jewish martyrs that was composed after the first Crusades," he said. "In that way I think … we both recalled this specific attack as well as linked it to all those attacks in Jewish history when Jews were attacked simply because they were Jewish."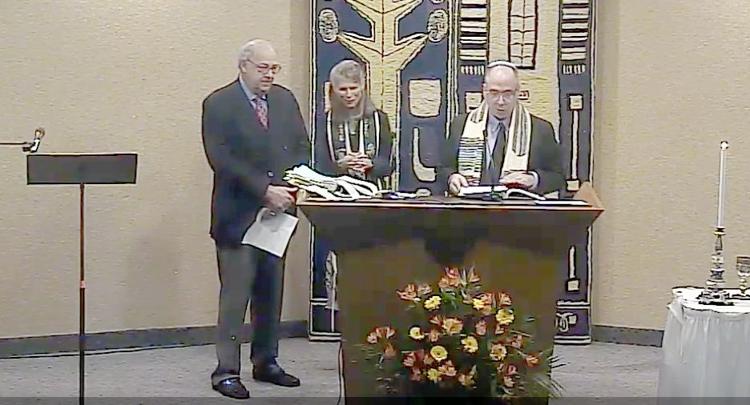 Rabbi Robert Nosanchuk at Anshe Chesed Fairmount Temple in Beachwood posted his remarks on Facebook:
"We stand with Pittsburgh and many other communities across the world in pledging to be stronger than hate, now and always," he wrote. "We condemn anti-Semitism and anyone in our culture fomenting hatred, brutality and violence."
At the service, Paul Katz, who serves on the board of AJC/Cleveland, read a summary of the events in Pittsburgh, including the showing of solidarity the following Shabbat and a prayer that AJC composed for the occasion.
"I am so honored to be here tonight as a representative of the American Jewish Committee, also known as the global state department of the Jewish people," Katz said.
The prayer by Rabbi Noam E. Marans, AJC director of interreligious and intergroup relations, states in part, "A year has passed, but the pain subsists. We are not the same. Dear Pittsburgh, we are with you in your sorrow. We are responsible one for the other. … Joyce Fienberg, Richard Gottfried, Rose Mallinger, Jerry Rabinowitz, Cecil Rosenthal, David Rosenthal. May our memory of them be for a blessing. Bernice Simon, Sylvan Simon, Daniel Stein, Melvin Wax, Irving Younger. May our memory of them be for a blessing."
At The Temple-Tifereth Israel in Beachwood, Shapiro of the AJC was joined by two ministers on the bimah to light a memorial candle: the Rev. Jessica MacMillan, interim pastor of Fairmount Presbyterian Church in Cleveland Heights, and the Rev. Kenneth W. Chalker, pastor emeritus at University Circle United Methodist Church.
In introducing Shapiro and the ministers, Rabbi Roger Klein said, "And we observe this event not only in remembrance of these 11 people but also to reflect on the violence that we are experiencing in our community and to hope that we find resources to diminish it and eliminate it."
Cantor Kathryn Wolfe Sebo sang a prayer that began, "Zichronot, may their memories be for a blessing."
At Temple Israel Ner Tamid in Mayfield Heights, in addition to marking the first anniversary of the Pittsburgh shootings, the community celebrated Simchat Torah on Oct. 25 by donning gloves and unwrapping the Torah scroll. Rabbi Matthew Eisenberg also held a consecration for children as part of the service. About 83 people came, nearly double the usual attendance.
In Columbus, Rabbi Sharon Mars said attendance of 150 was typical for a Friday night service at Temple Israel.
"The week after we learned of the shooting, so many different community gatherings happened, and the one that I recalled to the congregation was that about 25 members of Noor Islamic Cultural Center – a mosque nearby – came to sit in Jewish meditation with us and brought us two dozen roses and a box of cards and letters from their children to ours," Mars said. "It was a very moving thing, and I would say that the most noteworthy thing, to me, is the fact that it really edified our congregation, and people remember that event."
The anniversary date happened to coincide with a community Shabbat dinner in Akron. That event featured singer-songwriter and cantorial soloist Josh Goldberg from Los Angeles, along with local musicians Brock Pollock and Brett Fromson.
An estimated 150 people attended the event at Temple Israel in Bath Township, with services led by Goldberg and Cantor Kathy Fromson.
Northeast Ohio Jews join #ShowUpForShabbat
Todd Polikoff, CEO of the Jewish Community Board of Akron, said two people who serve on the board of the Tree of Life Congregation attended the event and read the names of the victims.
Polikoff read a poem by Danny Schiff, Pittsburgh Federation Foundation scholar-in-residence.
"They took their last breath wrapped in tallitot ... / And we will bury them the same way / Eternally precious, enfolded within the fabric of our people. / They took their last breath in a building named for life ... / And, in their spirit, we will ever cherish life's beauty no matter how thick the darkness," the poem stated in part.
Polikoff also made remarks commemorating the occasion.
"Tonight, in addition to celebrating Shabbat, we are here to honor the memory of the 11 souls taken from us one year ago, and the others who have also perished at the evil hands of hatred," he said. "We strive to honor them by not allowing this tragedy, or any tragedy, to be the things that define us as the Jewish people."
Skylar Dubelko, staff reporter, contributed to this report.