Ohio Gov. Mike DeWine, Secretary of State Frank LaRose and other local government and business leaders met in Columbus Feb. 20 for a day of meetings with Dani Dayan, ambassador and consul general of Israel in New York.
When he heard about Dayan's visit, DeWine told the Cleveland Jewish News Feb. 26 it was the ideal opportunity to introduce his team to Dayan, even though they only met for an hour during the ambassador's trip.
"I pulled some of the members of my cabinet and some of my key advisers into the meeting," he said. "We talked about a number of things, for example, economic development and trade. I wanted them to be part of that discussion."
Because Israelis are known for their expertise in water technology, DeWine introduced Dayan, whom he briefly met once before, to Laurie Stevenson, Ohio's U.S. Environmental Protection Agency director, to discuss the state's H2Ohio program. Dayan and Maj. Gen. John Harris, adjutant general of the Ohio National Guard, spoke about issues in cybersecurity.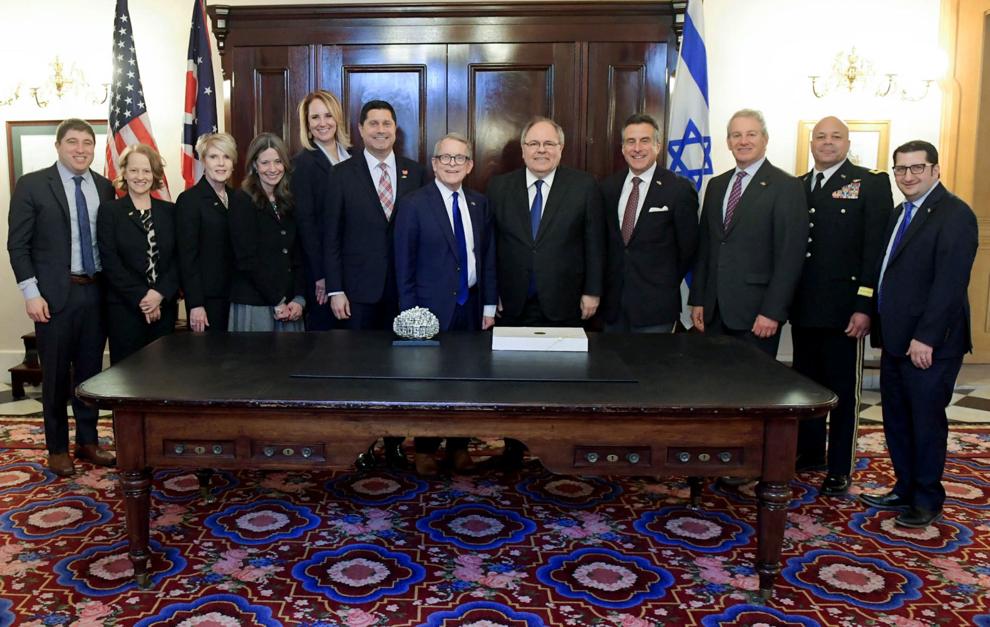 "It's huge today, and it's going to continue to be a challenge for countries, for states, for local communities, as well as private business," DeWine said.
Introducing his cabinet members and key advisers to Dayan will prove invaluable, DeWine said.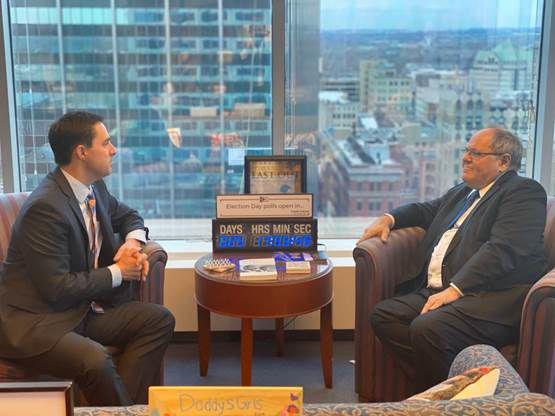 "What you get out of a meeting like this is a personal relationship, and the ability to, not just for me, but for members of my team, to be able to reach out to the ambassador if we have questions or any kind of things we want to work out with Israel, or if we think a company in Israel might be of help to us," he said. "We never want to underestimate the importance of personal relationships. ... The follow-up and what happens in the future is always more important than the meeting itself."
During the visit, which was arranged by Michael Alexander, the consulate's government affairs director, Dayan also met with Pat Tiberi, CEO of Ohio Business Roundtable; former Democratic National Committee chair David Wilhelm and Ohio Reps. Troy Balderson, Joyce Beatty and Steve Stivers. The leaders discussed the need for continued trade, academic cooperation and entrepreneurial partnerships.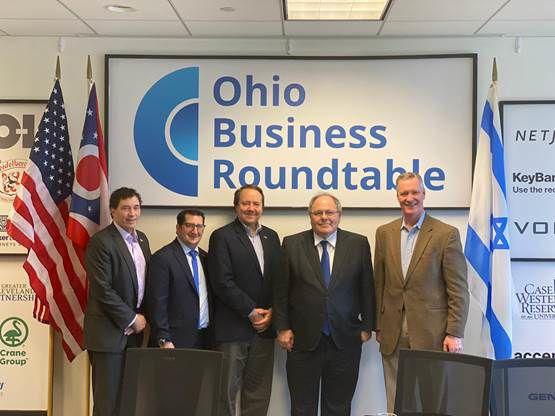 Howie Beigelman, executive director of Ohio Jewish Communities in Columbus, accompanied Dayan throughout his second visit to the city. During previous trips, the consul has visited Cleveland, Cincinnati, Dayton, Toledo and Youngstown.
"I have worked with (Dayan) very closely since he began his work in the New York mission," Beigelman told the CJN. "The consulate is Israel's largest diplomatic mission in the world. ... Getting some of the state and federal leaders together with one of Israel's most senior North American diplomats allows for sharing of critical information as well as plans to build on the Ohio-Israel relationship."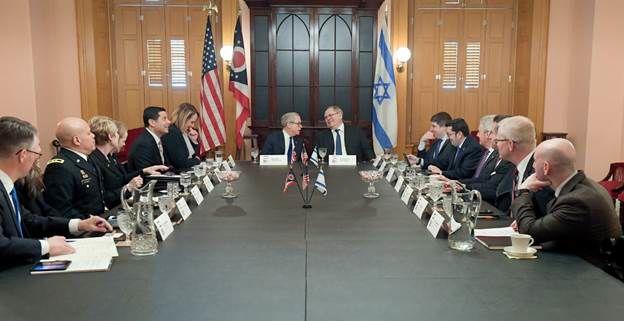 In a release from the Consulate General office, Dayan said Israel's relationship with Ohio "is not in name only."
"It is manifested through our shared cooperation in a wide range of sectors: cyber, agriculture, energy, economy and a multitude of other crucial industries," Dayan said in the release. "We look forward to strengthening these already strong ties."
According to DeWine's office, Israel was Ohio's 20th largest export market for Ohio products in 2019. Ohio firms exported $218.7 million worth of products to Israel, and Ohio imports from Israel totaled $155.1 million in 2019. There are 11 Ohio locations of Israel corporations that employ more than 750 people, the office reports.
In addition to Ohio, the Consulate General of Israel in New York represents Delaware, New York, New Jersey and Pennsylvania.