Faith communities face similar challenges related to security of their houses of worship and institutions, thus, concerns, solutions and the need for assistance by the state and federal governments may be shared as well.
For those reasons, the first Ohio Faith-Based Security Conference, put on by the office of U.S. Sen. Rob Portman, R-Cincinnati, was held Sept. 5 at the Jewish Community Center of Greater Columbus.
About 150 attendees of various religious backgrounds – including Muslims, Sikhs, Christians and Jews – listened to some of Ohio's political leaders discuss domestic terrorism against the state's faith-based communities. The conference also included Gov. Mike DeWine, Matthew Travis, deputy director of the Department of Homeland Security's Cybersecurity and Infrastructure Security Agency, and Tom Stickrath, Ohio director of public safety.
"We must keep houses of worship safe," said Portman, adding, "there are threat assessments being provided about vulnerabilities," to churches, synagogues, mosques and other facilities housing religious activities throughout the state.
The conference itself was closed to media, but a press conference was held afterward.
Portman also discussed bigotry, which he said is "far too common in our culture." That hatred is manifested in several ways, one of which is threats of and actual violence against faith-related organizations and people.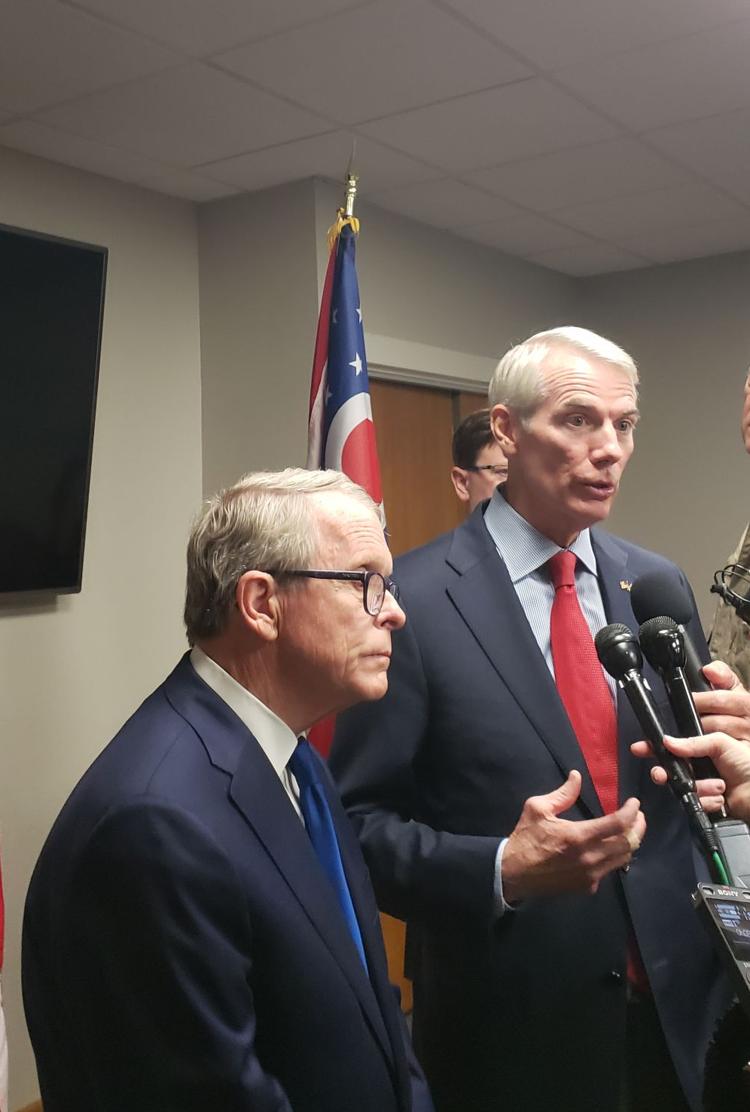 "We need to stand up to bigotry and hate and not allow it anymore," he said.
According to Portman, the massacre of 11 Jews at Tree of Life Congregation in Pittsburgh last October led to the security conference. Soon after those murders, Portman attended a memorial service at the Youngstown Jewish Community Center. While there, it was suggested to him experts in domestic terrorism and security jointly address members of the state's faith-based community. The message, Portman said, would relate to "hardening facilities."
Although the event took nearly a year to plan and execute, Portman said he was "pleased with the response from faith-based groups."
This past May, Portman, along with Gary Peters, D-Mich, introduced the federal Protecting Faith-Based and Nonprofit Organizations From Terrorism Act, a bipartisan bill that would appropriate $75 million annually for fiscal years 2020-2024 for the Department of Homeland Security's Nonprofit Security Grant Program. That fund would provide grants to Ohio nonprofits and faith-based organizations seeking to secure their facilities against possible terrorist attacks. Fifty million of the $75 million would be earmarked to nonprofits and faith-based organizations located within high-risk urban areas. The remaining $25 million would be available to organizations falling outside those locales. The bill has yet to be heard in the Senate and House of Representatives.
DeWine said he is concerned about "not giving oxygen to those who hate."
The governor spoke about the state's efforts at combating mental health illness among Ohio's student population. He noted the state's 2019 budget allocates $675 million to establish a Student Wellness Success fund, giving every school in Ohio access to funds for some type of mental health detection and treatment program.
Terrorists have "an anti-social propensity for violence, which we need to pick up earlier," the governor said.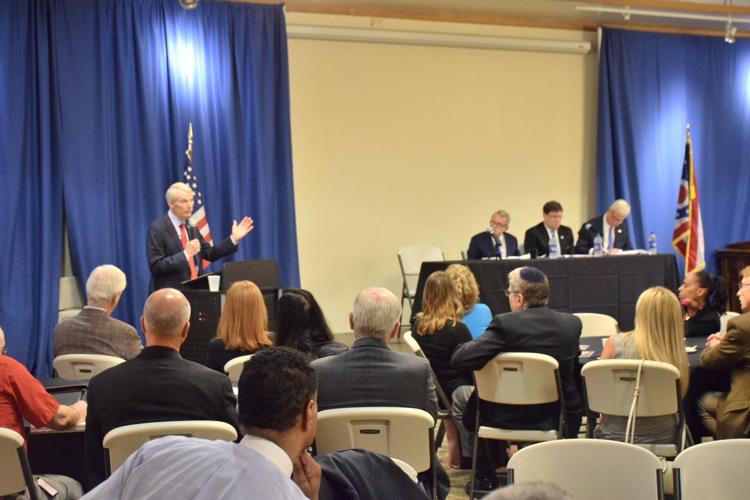 Portman has said he supports DeWine's version of red-flag laws that would allow police to take guns from people deemed dangerous to themselves or others, and supports efforts to ensure those with mental health problems are in the federal background check system for gun purchases.
The conference included conversations on best practices for how to prepare, prevent, respond and recover from potential adverse events, according to a news release. Funding opportunities for implementing security measures to help prevent attacks were also discussed.
Howie Beigelman, executive director of Ohio Jewish Communities, said he was in total support of the event's mission, which was to "build upon and strengthen partnerships with officials in law enforcement and other faith-based organizations."
While a cross-section of religions was represented at the conference, Beigelman said he was proud the event was held at the JCC.
"We are the canary in the coal mine, so it gives us a responsibility and opportunity to help other faith-based groups learn from measures we have taken and lessons we have learned," he said.
Face-to-face meetings with leaders of other faiths whose followers are under fire from hate groups can also be reassuring to Jews, said Beigelman.
"We see we aren't the only ones facing hate," he said.
---
Tami Kamin Meyer writes for the Columbus Jewish News from Bexley.