Ohio has had 958,153 total cases of COVID-19 and 16,968 total deaths, the Ohio Department of Health reported Feb. 23.
The number of reported cases increased by 2,775 from Feb. 22, which exceeds the state's 21-day average of 2,639.
The nearly 17,000 deaths the state has seen are part of the more than 500,000 deaths in the United States.
The number of reported deaths in Ohio increased by 94 from Feb. 22. The median age of those who have died is 80. 
The Bureau of Infectious Diseases and the Bureau of Vital Statistics continue to reconcile death data, which will results in some fluctuations in death numbers moving forward, according to a note on the ODH website.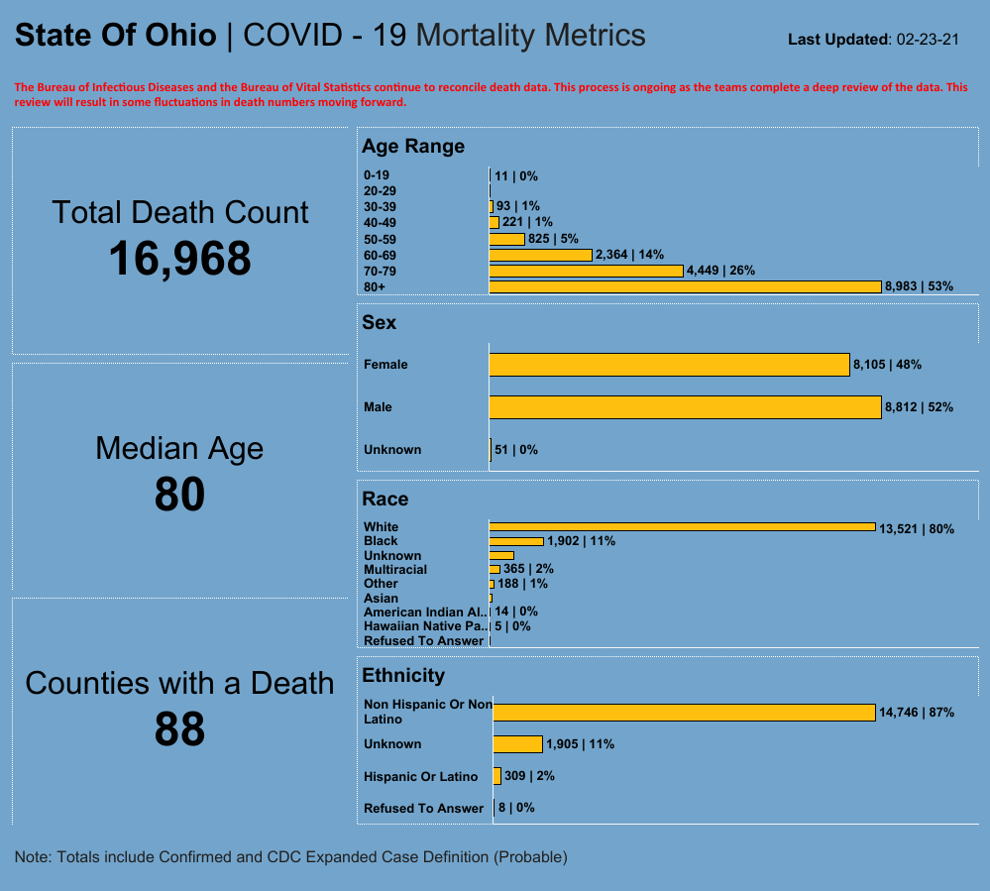 The individuals who have tested positive range in age of less than a year to 111 years old; the median age is 42.
The total number of tests conducted in Ohio is 9,830,863. The daily percent positivity of confirmed laboratory tests is 5.1%, with a seven-day moving average of 5%, according to data from Feb. 21.
The ODH reports 49,651 cumulative hospitalizations, and 7,073 individuals have been admitted to the ICU due to the coronavirus. The median age of those hospitalized is 68.
The number of COVID-19 hospitalizations reported in the last 24 hours is 159, with 29 ICU admissions. There are currently 1,359 patients hospitalized with the coronavirus – 366 are in the ICU, and 242 are on ventilators.
The ODH reports 894,113 individuals are presumed recovered – defined as cases with a symptom onset over 21 days prior who are not deceased.
Cuyahoga County accounts for 94,420 of the cases, 5,820 hospitalizations and 1,702 deaths.
A total of 1,474,872 Ohioans have received the first dose of the COVID-19 vaccine, and 707,396 Ohioans completed both doses as of Feb. 23.
If you have questions regarding COVID-19, call 833-4ASKODH (833-427-5634) or visit coronavirus.ohio.gov.