If Ohio State football plays games this fall, the university will require that no more than 20% of the Ohio Stadium is filled, mandate face masks and will prohibit tailgating due to the COVID-19 pandemic.
The update was announced July 28 by The Ohio State University Department of Athletics to offer season ticket holders a chance to rethink their options before the first game Sept. 3 against the University of Illinois, the department said on its website.
Additionally, on Aug. 5 the Big Ten Conference announced the season's expected schedule. Notably, OSU will plan to play the University of Michigan on Oct. 24, which will not be Ohio State's final regular season game as is typical.
The final game will be against the University of Iowa Nov. 21.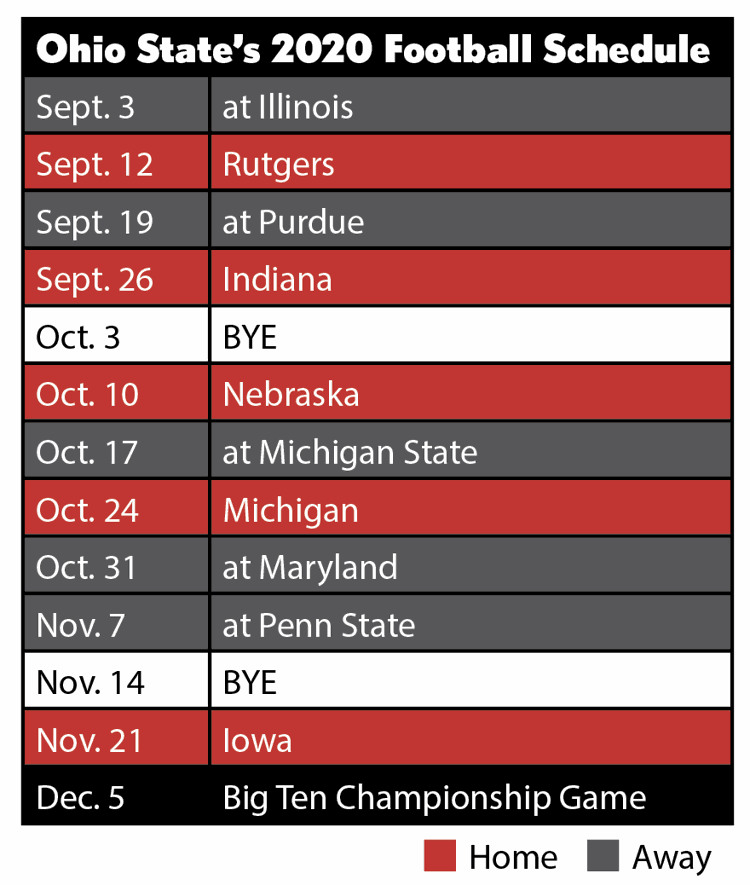 The Big Ten Conference has already announced only conference games would be played this fall.
"This is not a final decision that there will be an athletics season; it is the next phase in our responsible planning process with the Big Ten Conference to be prepared if we are able to have an athletics season," said Ohio State Athletics Director Gene Smith in a news release. "The final decision will be made in the coming weeks in consultation with local, state and federal authorities."
Should games be played, limited concessions would be available, and skull sessions before games would not be held at St. John Arena. And, as the stadium crowd size will "likely amount to no more than 20% of overall stadium capacity," there will be alterations to ticket quantities and seat locations, the university said July 28.
For fans who have paid for season tickets, the athletics department will offer to accommodate as many season ticket holders as possible, which will require limiting the quantity of season tickets for each ticket holder, the website said. Details on ticket allocation and seat selection will be announced at a later date.
Fans may also opt out of 2020 season tickets "without longevity or eligibility penalty, if they wish," the university said.
For more information on season tickets or the fall schedule, visit ohiostatebuckeyes.com.