As Ohio breaks a record with 5,060 coronavirus patients in the hospital and 1,180 in the intensive care units, health officials are voicing concerns about ICUs reaching capacity.
"They'll crowd out other people who need that care if the numbers continue to rise," said Dr. Andrew Thomas, chief clinical officer at The Ohio State University Wexner Medical Center, adding one-third of patients across Ohio in the ICU have COVID-19.
Thomas said hospitals are making decision about delaying care.
The concern is greater in rural areas as hospitalization numbers are increasing and hospitals do not have the ability to increase ICU capacity, Thomas said.
The number of patients in the hospital increased by 200% since Nov. 1 when there were fewer than 1,700 patients.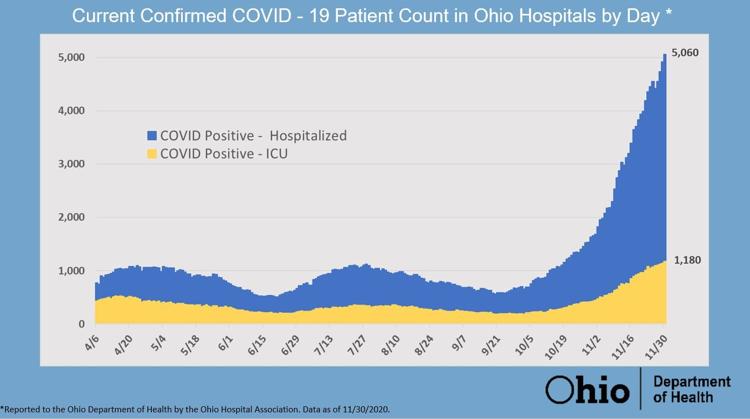 Thomas noted that one hospital in northern Ohio needed to call in a refrigeration truck for extra morgue space.
Nurses throughout the state pleaded with residents to help slow the spread of the virus that has been putting a strain on hospitals during a Nov. 30 press briefing on Ohio's response to the coronavirus.
Stacey Morris, a nurse manager for a COVID-19 unit at Cleveland Clinic Akron General, said this is one of the biggest wave healthcare workers have seen.
"Our numbers have just risen so drastically and so quickly," she said. "The team here provides amazing care, but there are only so many of us. You can always get more equipment, but there aren't medical staff just waiting in the wings. We need people to help fight this so we can be there for you to continue to provide care."
Dara Pence, an ICU nurse manager at Riverside Hospital in Columbus, said patients are saying they think they contracted the virus from graduation parties, baby showers, funerals and other gatherings.
"I wish we could bring people here with us and have them walk through our unit," she said. "But at the same time, I don't want anyone to see what we have seen. ... If the community can come together and stay safe, that will help get us through."
Jamie Giere, team leader of a COVID-19 unit at the Upper Valley Medical Center in Miami County, said the patients she's seeing are getting younger and younger.
When patients become COVID-19 positive, Giere said they cannot have contact with their loved ones and are left with communicating with them through Skype.
"Please take this seriously," she said. "The pain and hurt that I see in my patient's eyes – they're not allowed to have their loved one by their side in their time of need. You can see the fear in the patients' faces and that's heartbreaking."
Ohio has had 421,063 total cases of COVID-19 and 6,429 total deaths, the Ohio Department of Health reported Nov. 30. Because of unprecedented volume, the data is incomplete as thousands of reports are pending review.
The number of reported cases increased by 6,631 from Nov. 29, though the data is incomplete.
The individuals who have tested positive range in age of less than a year to 109 years old; the median age is 42.
The total number of individuals who have been tested in Ohio is 6,105,905. The new daily percent positive cases 14.9%, with a seven-day moving average of positive cases of 14.5%, according to data from Nov. 28. 
The number of reported deaths in Ohio increased by a record 30 from Nov. 29, though the data is incomplete. The median age of those who have died is 80.
The ODH reports 26,864 cumulative hospitalizations, and 4,682 individuals have been admitted to the ICU due to the coronavirus, though the data is incomplete. The median age of those hospitalized is 66.
The number of COVID-19 hospitalizations reported in the last 24 hours is 357, with 38 ICU admissions, though the data is incomplete. There are currently 5,060 patients hospitalized with the coronavirus – 1,180 are in the ICU, and 682 are on ventilators.
The ODH reports 271,326 individuals are presumed recovered – defined as cases with a symptom onset over 21 days prior who are not deceased.
Cuyahoga County accounts for 41,446 of the cases, 3,288 hospitalizations and 746 deaths, though the data is incomplete.
If you have questions regarding COVID-19, call 833-4ASKODH (833-427-5634) or visit coronavirus.ohio.gov.