Ohioans who are 60 years and older will be included in the next phase of the state's COVID-19 vaccination process, Ohio Gov. Mike DeWine said during a Feb. 22 press conference.
The state will wait to open up vaccinations to the new age group until the demand for vaccinations in Ohioans 65 and older have been satisfied. DeWine said there is no date for when the next phase will open but it could be expected in "a matter of weeks."
"We're anxious to move it but we're not going to move it as long as we've got 65-year-olds out there that are having a difficult time scheduling that vaccine," DeWine said.
Age is the top indicator for the likelihood of death from COVID-19, the governor said, adding 87% of all deaths in Ohio are from those ages 65 years and older.
After 60-year-olds are open to the vaccination program, the program will then open up to those who are 55 years and older then to 50-year-olds and older.
Ohioans who are 50 years and older make up 97% to 98% of all COVID-19 deaths in the state.
All Moderna vaccine shipments and some Pfizer shipments were delayed last week due to the severe winter weather. Additional shipments are expected to arrive between today and Wednesday.
Some hospitals and the Ohio Department of Health did receive some of their Pfizer shipments.
Some providers who were expecting Moderna visits were able to use second doses of the vaccine they already had to continue appointments. Those second doses will be backfilled with shipments expected later this week.
DeWine encouraged providers who canceled appointments to expand hours for vaccine appointments to catch up.
Nursing home and assisted living facilities are being reminded to allow compassionate care visits even if COVID-19 cases are high.
These visits are available for comfort, support and assistance of individuals in nursing home or assisted living facilities. Examples of these visits include residents who need support while grieving after the death of a loved one; needs encouragement to eat or drink that was originally provided by a family member; or for residents who are experiencing emotional distress.
As positivity rates decrease, more nursing homes may be able to allow more visitation in additional to the compassionate care visits, Ohio Gov. Mike DeWine said. Visitation is depended on the county positivity rate.
Ohio's facilities are required to report in weekly and update our visitation dashboard to indicate if visitation is allowed at their facility. Families can access the visitation dashboard at bit.ly/2ZGz3Xm.
DeWine said long term care facilities reported 343 new cases last week. In comparison, cases peaked at 2,832 new cases in December 2020.
"We are definitely making progress," DeWine said.
Ohio has had 955,378 total cases of COVID-19 and 16,874 total deaths, the Ohio Department of Health reported Feb. 22.
The number of reported cases increased by 1,611 from Feb. 21. 
The state remains below the 21-day average of reported cases of 2,681. 
The individuals who have tested positive range in age of less than a year to 111 years old; the median age is 42.
The total number of tests conducted in Ohio is 9,805,398. The daily percent positivity of confirmed laboratory tests is 5%, with a seven-day moving average of 5%, according to data from Feb. 20.
The number of reported deaths in Ohio increased by 58 from Feb. 20. The median age of those who have died is 80.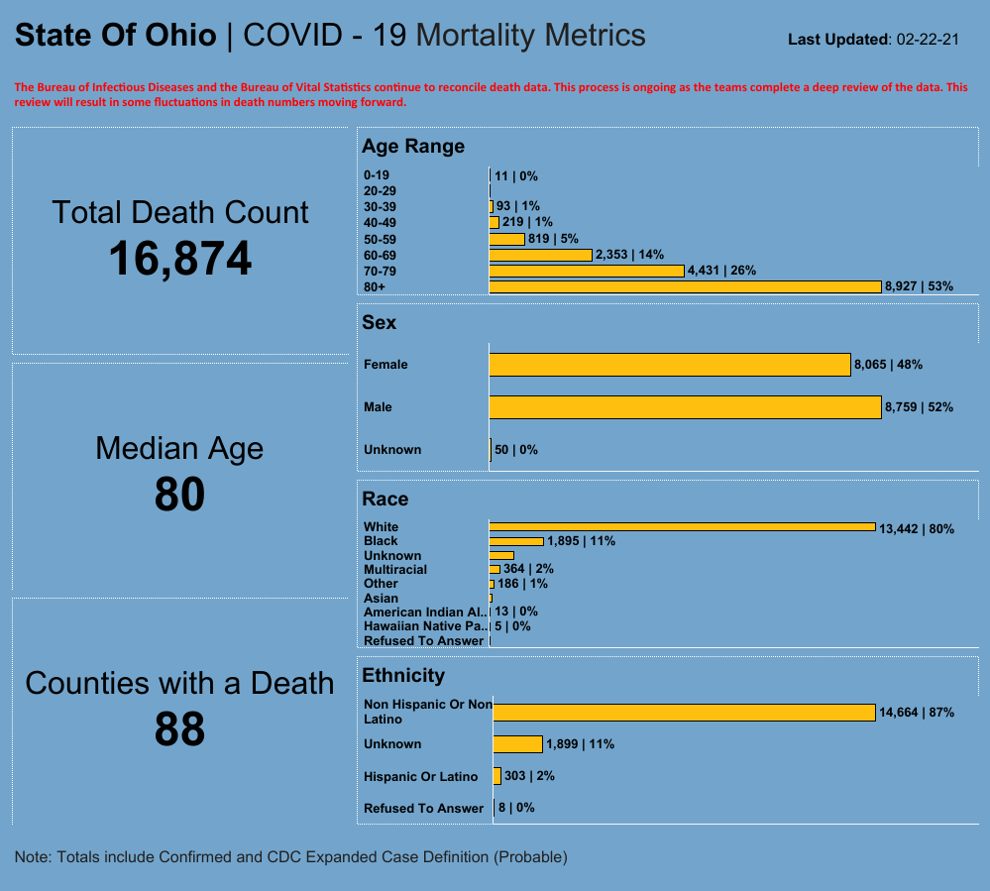 The Bureau of Infectious Diseases and the Bureau of Vital Statistics continue to reconcile death data, which will results in some fluctuations in death numbers moving forward, according to a note on the ODH website.
The ODH reports 49,492 cumulative hospitalizations, and 7,044 individuals have been admitted to the ICU due to the coronavirus. The median age of those hospitalized is 68.
The number of COVID-19 hospitalizations reported in the last 24 hours is 120, with 16 ICU admissions. There are currently 1,374 patients hospitalized with the coronavirus – 367 are in the ICU, and 250 are on ventilators.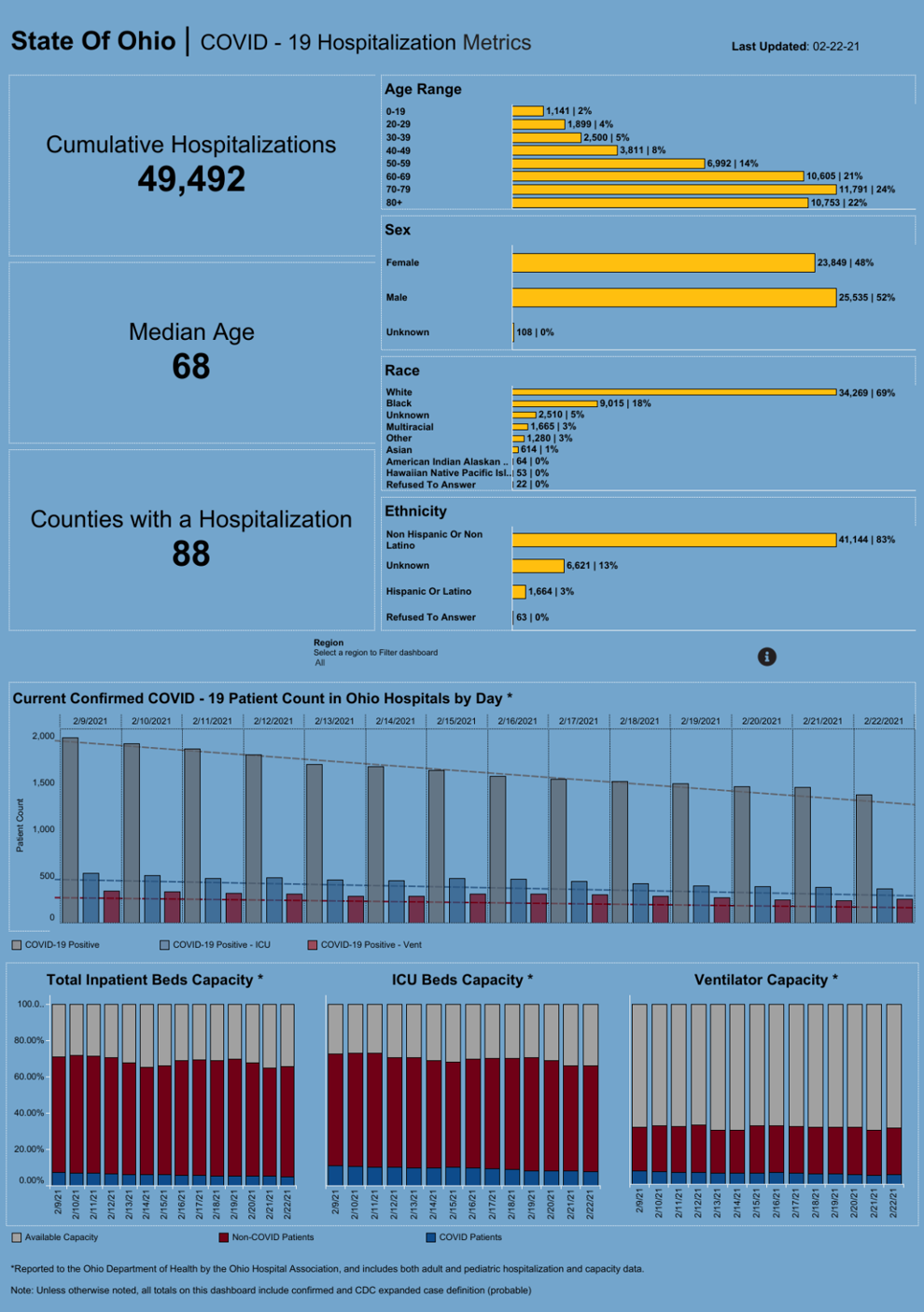 The ODH reports 889,959 individuals are presumed recovered – defined as cases with a symptom onset over 21 days prior who are not deceased.
Cuyahoga County accounts for 94,021 of the cases, 5,796 hospitalizations and 1,695 deaths.
A total of 1,451,107 Ohioans have received the first dose of the COVID-19 vaccine, and 675,105 Ohioans completed both doses as of Feb. 22.
If you have questions regarding COVID-19, call 833-4ASKODH (833-427-5634) or visit coronavirus.ohio.gov.