One person has been confirmed dead after a shooting outside the Embassy Suites in Beachwood and Beachwood police called in the Ohio Bureau of Criminal Investigation to investigate it as a homicide.
A body was covered with a white sheet on the ground in the parking lot of Embassy Suites at 3775 Park E. Drive, the Cleveland Jewish News confirmed. BCI arrived at about 1 p.m.
Steve Irwin, press secretary for Ohio Attorney General Dave Yost, said the crime scene unit and special investigations unit from BCI were called to the scene to investigate, one to do crime scene analysis, the other to investigate the homicide.
No suspect has been apprehended, said Beachwood Police Chief Kelly Stillman.
"A male was shot in the parking lot of the Embassy Suites at 11:44 a.m. this morning and when we got there he was found deceased," Stillman told the CJN April 20. "Right now, BCI is there and the investigation continues. And that's really all we know."
While multiple area schools went on lockdown in response to the shooting, Stillman said there was no reason for schools to be locked down.
"That's erroneous information," he said. "It's a man that got shot in a parking lot and the suspects are long gone, and now it's up to us to try and figure it out. There's nobody we're chasing. ... We're looking for people, but we don't even know who they are."
The Beachwood Police Department issued a message to the community at 2:20 p.m.
"At 11:43 this morning, Beachwood police received a 911 call for shots fired at the Embassy Suites Hotel," the statement read. "This was a contained situation and is being processed by the Beachwood Police Department and the Bureau of Criminal Investigation (BCI). We are aware that messages were sent to area school parents indicating, 'active shooter on Chagrin Boulevard' and schools engaged in a soft lockdown. This message was inaccurate. There was never an active shooter on Chagrin Boulevard and there is no current threat."
Stillman said he did not know what kind of gun was used in the shooting or whether the victim was armed. He said police would be reviewing surveillance video.
"If there were witnesses, we haven't found any yet," he said.
Beachwood Police blocked off Park East at the Strattos and later searched 3700 Park in mid-afternoon.
A person who works at 3700 Park told the CJN that employees within the building were told to stay inside. Stillman later said there was a search for a suspicious person and that nothing was found.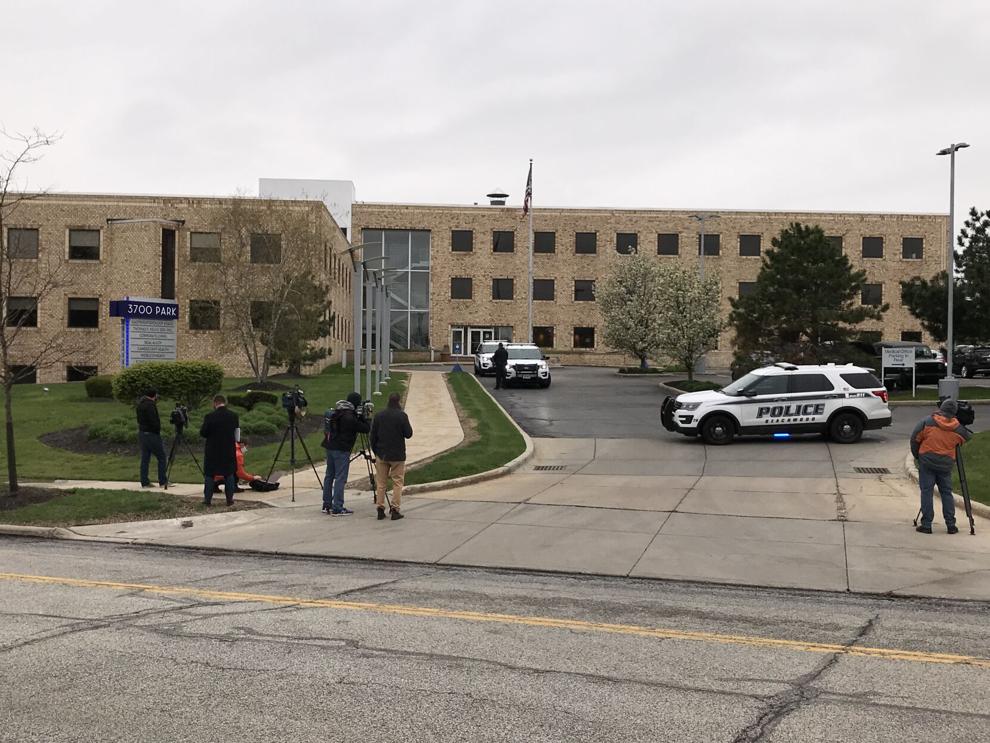 At the scene at 3700 Park, Beachwood patrolman Jamey Appell told reporters, "We had a report that there was male in the stairwell, potentially hiding. That came in from an employee inside the building to maintenance, who called us. So, we cleared the building. There doesn't appear to be anybody in the building. Our K-9 was available, so we checked it, too."
In addition to the K-9, some officers had rifles when they exited the building following the search. There were four Beachwood police vehicles present.
At least four area schools, Fuchs Mizrachi School, the Joseph and Florence Mandel Jewish Day School, Ganon Gil preschool and Bryden Elementary School, all in Beachwood, were placed on lockdown.
"We wanted to inform you of a security update we just received from local law enforcement," Fuchs Mizrachi's letter to the community reads. "We were notified of an active shooter on Chagrin Boulevard. As such, we are currently in a soft lockdown. All of our children have been brought into the building, our outdoor playgrounds and sports fields will not be in use throughout the duration.
"We will continue to share information with you as soon as it becomes available. If you need to pick up your child from school, please call into the front office (216-932-0220) and we will escort your child to the car."
The Joseph and Florence Mandel Jewish Day School sent out the following notice:
"Please note that we were informed by the Beachwood Police Department that there was a shooting at the Embassy Suites hotel. Like other schools in the area, we have decided to go on a SOFT lockdown and keep out students indoors for the remainder of the day unless we hear otherwise. You do not need to call or come pick up your children. If we receive further information, we will update you immediately."
Minutes later, Mandel JDS followed up with a second notice that stated, "Beachwood Police have just informed us that we no longer need to be on SOFT lockdown."