The Montgomery County Coroner Office said autopsy results in the death of Sarah Rae Grossman, a 22-year-old Ohio State University graduate, are expected no later than next week – and not the original timeframe of two months.
"We still have lots of testing," Dr. Kent E. Harshbarger told the CJN June 8. "The autopsy has been completed. Now all the back-end testing is going on, including toxicology and chemistry testing. Blood-work testing is going on, so all those things are still ongoing.
"We are fast-tracking as possible. I know in the original press release, our usual line is eight weeks, but I'm hoping, it's probably not going to be the end of this week because we sent some to a national laboratory for blood cells, so I'm hoping by the end of next week."
Harshbarger, who has been the coroner since 2012 and has worked in the coroner's office since 2002, said his office is not handling this case differently than others.
"Her case is being worked up as every other case that we work on through our office," Harshbarger said.
Grossman graduated May 3 with a Bachelor of Science degree in environment and natural resources.
She died May 30 after attending a protest in Columbus in support of George Floyd, according to television station WCMH. Floyd was a black man who died in Minneapolis when white former Minneapolis police officer Derek Chauvin pressed his knee into Floyd's neck for nearly nine minutes on May 25.
Since Floyd's death, protests have been held across the state and the country. Some led to rioting, looting of businesses and arrests.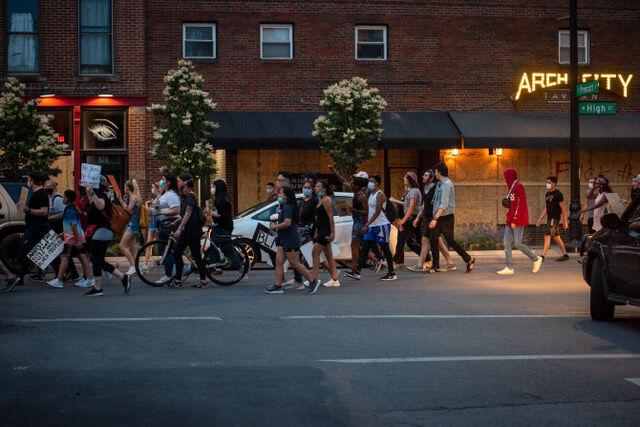 Conflicting reports have surfaced regarding her death and her sister, Jessa, asked via social media that everyone await official word before reaching for conclusions.
Grossman was in a group sprayed by a chemical agent, according to reports. She may have had respiratory issues, according to social media posts.
She died at Sycamore Hospital in Miamisburg, a suburb of Dayton.
The city of Columbus posted on Twitter it had seen social media reports of a young woman passing away as the result of being sprayed during a protest in Columbus, but it had no reports of EMTs being dispatched to the scene.
Grossman, who was born Oct. 7, 1997 in Naperville, Ill., was a Columbus resident and a 2016 graduate of Springboro High School, about 15 miles from Dayton.
Prior to the COVID pandemic, she planned to complete a second degree in Spanish in 2021 while attending the Universidad of Belgrano in Buenos Aires.
According to her obituary: "Sarah had spent the past two summers in Guatemala researching the harvesting industry. After graduation, she planned to pursue work promoting positive environmental, climate and land-use policies, assisting migrant worker and indigenous communities. She wanted to help the voices of the undeserved be heard. She opened our eyes to both lovely ideas and ugly truths. In addition to being a full-time students, she was a hard-working employee, having held over six jobs in her short life. ... We will forever miss those big dimples and sweet smile. Those who knew her will understand what a beautiful soul the world has lost."
Grossman worked at Stauf's Coffee Roasters and Chadwick Arboretum in Columbus.
She is also survived by her parents, Todd and Christi Grossman of Springboro.
A celebration of life will be held at a later date.
Memorial donations can be made to borgenproject.org or rainforest-alliance.org.