Sarah Livingston, Hillel at Ohio University director, found out via text from friend and dean of students Jenny Hall-Jones that the graffiti wall near Baker University Center "had some hate on it," on April 27.
That hate, Livingston would discover, was 11 spray-painted swastikas, a depiction of Adolf Hitler and a racial slur on the student center on the Athens campus.
She said it is believed the creator or creators of the hateful graffiti made it between late April 26 and early April 27. Due to a lack of cameras over the area, "there's no real hope of figuring out who did this hate speech," Livingston said.
"Dr. Hall-Jones told me that the university's policy ­– because the graffiti wall is a free speech zone specifically there for students to be able to say whatever they want – is to not paint over it," Livingston said. "But she was fighting to get it painted over. Going against university policy with a university administration that sticks to the rules — that's quite large. I did remind her that there's a difference between free speech and hate speech, but I told her not to worry about it. It wasn't a fight that she needed to fight because I was going to take care of it."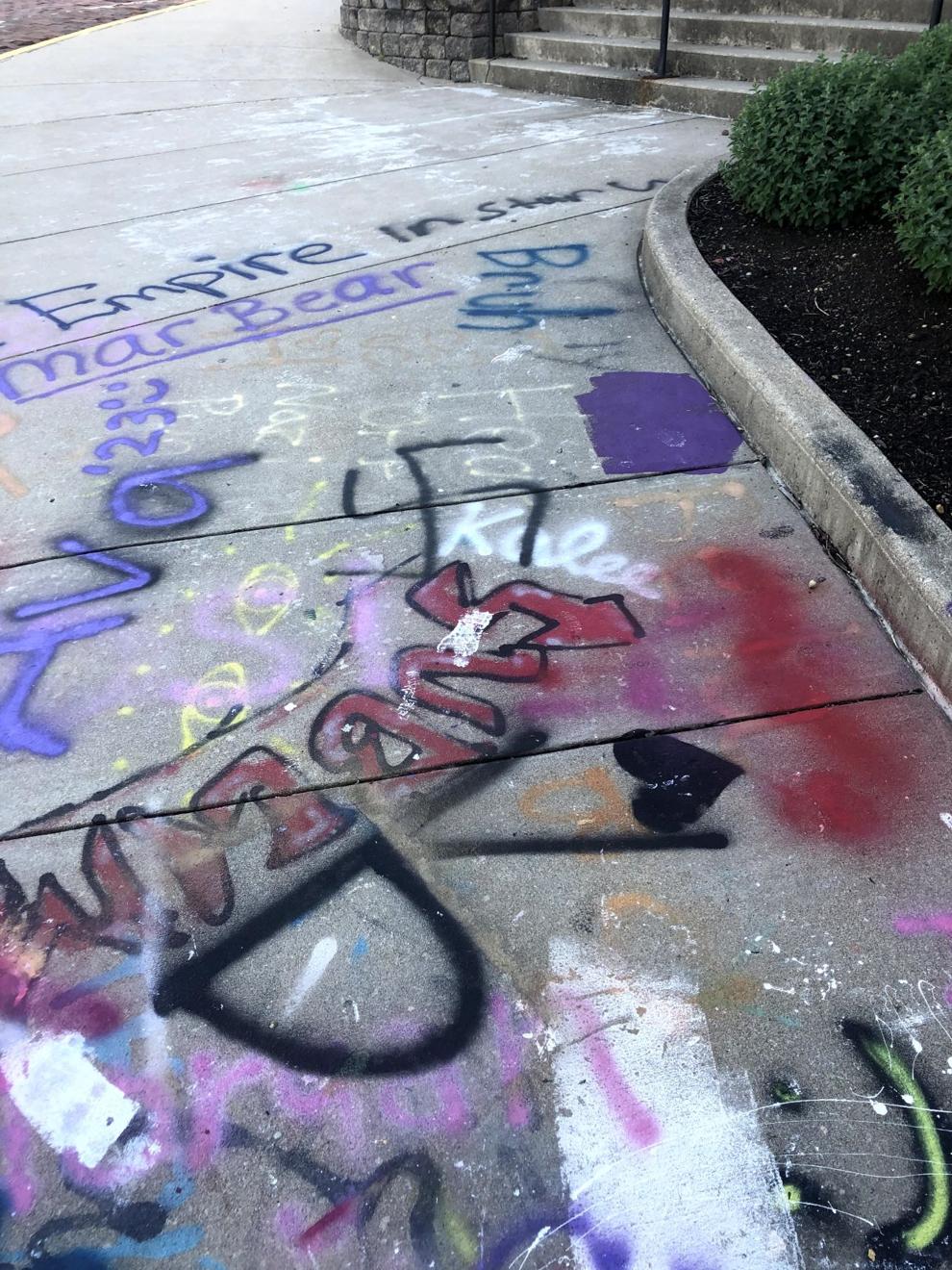 Livingston went to Lowe's and purchased paint and supplies. She contacted Jon McCullough, Hillel's Jewish student life coordinator, and Matthew Barrile, an OU Spanish professor and Hillel faculty partner, and the small team assembled outside the graffiti wall to paint over it.
"The day after, I didn't feel great because there were a lot of swastikas," Livingston said. "It's really bothering me, and it just feels gross. How can you not know what that represents? How can you not understand that 12 million people died? It's very hard for me, and I haven't been sleeping well."
When it came to decide what they should paint to cover up the messages of hate, Livingston knew depictions of love would only be powerful enough.
"There's a quote from Martin Luther King Jr. that said hate will never drive out hate, only love will; darkness will never drive out darkness, only light will," Livingston said. "I really do believe that the only way that we can be better as humankind is to show more love."
Looking back at their work of colorful hearts and "love over hate," Livingston felt accomplished.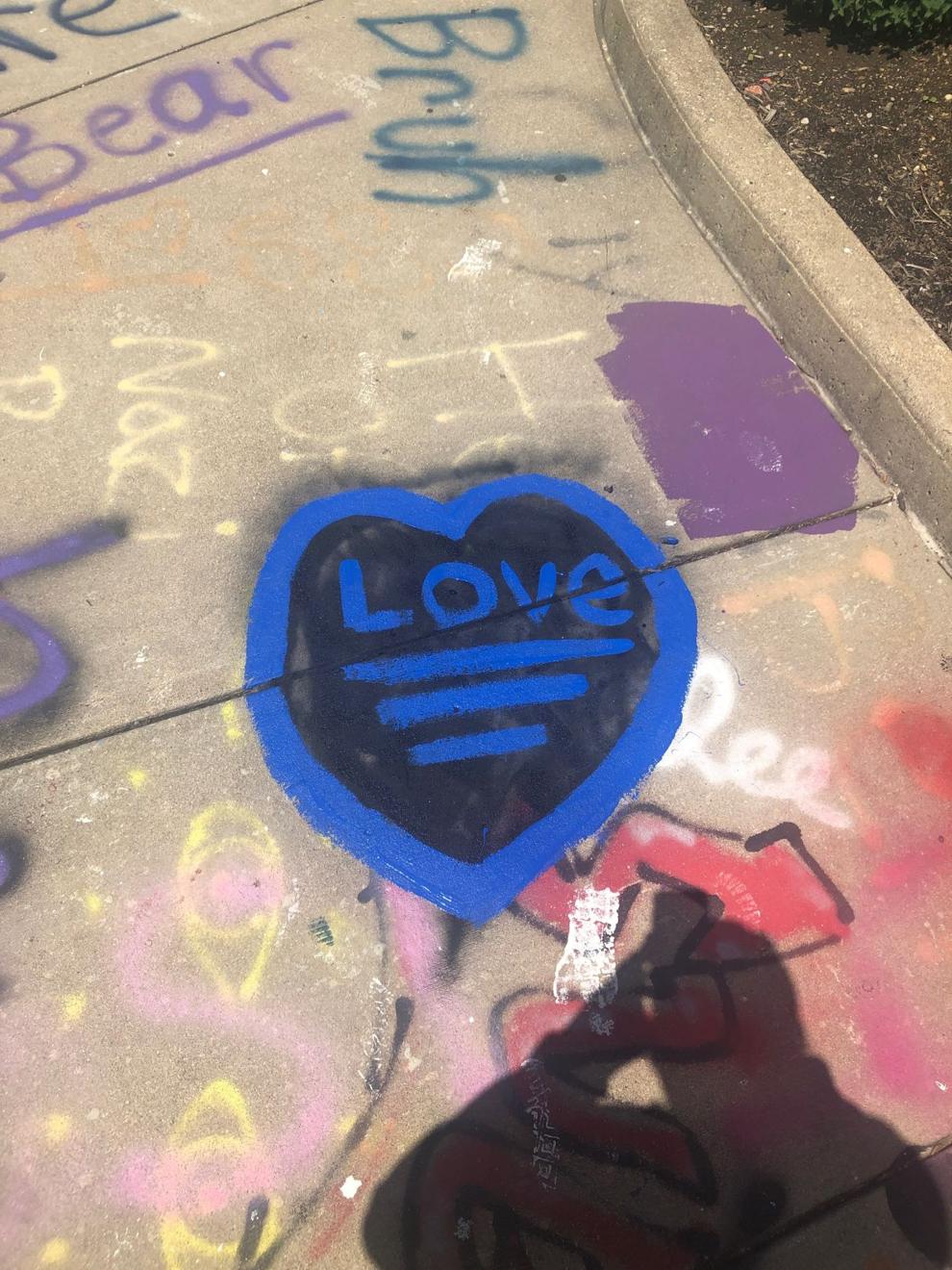 She said she is unsure of the current state of the incident's investigation as it is in the hands of the university.
Carly Leatherwood, senior director of communications services at OU, in an April 29 statement to the CJN also condemned the incident and applauded Hillel for taking action.
"On April 27, Ohio University was made aware of offensive words and symbols that were spray painted on our Graffiti Wall," the statement read. "We condemn these words, symbols and their meanings, which are absolutely counter to our university's core values of diversity and inclusion. As an institution of higher learning, we have a fundamental responsibility to promote inquiry and learning, and it is our hope that the Graffiti Wall will continue to teach our university community that words and images are powerful. We are extremely grateful to our partners at Hillel and other community members for their swift action to help replace the hateful words and imagery with sentiments of hope and kindness."
Livingston said she is happy for the support she received from the Jewish Federation of Cleveland and the Anti-Defamation League in Cleveland.
"There is no place in our communities for spreading hate and anti-Semitism, especially on our college campuses," said James Pasch, regional director of the Anti-Defamation League in Cleveland. "It's appalling, and we applaud the Ohio University Hillel for covering up those messages of hate and anti-Semitism with messages of love and compassion. We will continue to stand with the university and the university's Jewish community because there is no place for hate at OU or anywhere in the state."
Lee C. Shapiro, regional director of the AJC Cleveland office, also commended the Hillel for demonstrating the power of love.
"Ohio University Hillel's 'Love Over Hate' is the perfect anecdote for the horrible anti-Semitic and racist graffiti recently found on campus," Shapiro wrote in an email to the CJN. "In the face of such adversity, we commend Hillel's staff and students in standing strongly against hate."
Despite this incident, Livingston said she feels safe on campus, as this is the first such incident during her first year as Hillel director.
"It's my dream to be a Hillel director, to work with Jewish university students, create an environment where students want to engage with being Jewish on a regular basis and just develop this community of Jewish engagement," Livingston said. "I'm so happy to be here and doing this, and I'll just continue to make this speech even safer. I don't feel unsafe here at all."