When Michelle and Dr. Sam Feinberg learned in June their children's doctor, Senders Pediatrics, was taking part in clinical trials for Pfizer's vaccine against COVID-19, they decided to participate.
"We're involved in the community," Michelle Feinberg told the Cleveland Jewish News. "And we're always wanting to give back and do our part."
Sam Feinberg is a podiatrist who works exclusively in nursing homes and long-term care facilities, including Menorah Park and Montefiore in Beachwood. He has been living with twice-weekly COVID-19 tests for the past several months.
On Aug. 25, the couple, members of B'nai Jeshurun Congregation in Pepper Pike, rolled up their sleeves for their first injections. They were among about 150, 16- to 45-year-olds participating at Senders Pediatrics.
When they went into the South Euclid doctor's office for their two-hour appointments, they were asked a long list of questions and asked to sign releases. Each underwent a COVID-19 test and a mini-physical, including a blood draw. They were given shots of either the vaccine or a placebo, a harmless substance. As a deliberate part of the study's design, they were not told which injection they received.
On a weekly basis, they reported any symptoms on an app they were to download.
Strong reaction
"With both doses, for me I experienced all the side effects they talk about, which was like severe fatigue, fever, shortness of breath," said Michelle Feinberg, adding she also experienced body aches. "I had the chills, I had a sore arm for days. We were so early on in the study… I was actually pretty caught off-guard."
She placed a telephone call to the research study and spoke with a nurse.
"She said most of the people in the study were not experiencing those (symptoms)," Michelle recalled. "So, I was one of the first people to experience any side effects."
Her physical reaction after the second dose Sept. 17 was stronger than the first.
"I got it the day before Rosh Hashanah and we were cooking that night, the next night, and I felt horrible," she said. "We knew I had gotten the vaccine. … You wouldn't get that with a placebo."
Following their second injections, both have continued following precautions: wearing masks, social distancing and washing hands frequently.
Michelle, who is development manager at the Maltz Museum of Jewish Heritage in Beachwood, said her reaction disappeared after about two days.
"I feel great," said the Pepper Pike resident who was born in Cleveland, grew up at Anshe Chesed Fairmount Temple in Beachwood, graduated from Beachwood High School and The Ohio State University in Columbus, and received her master's degree from John Carroll University in University Heights. "I would do it again in a heartbeat."
By contrast, she said, "It was more nerve-wracking living with my husband just because he was in and around (the virus) all the time," due to his profession.
The two went together a third time to Senders Pediatrics in October to check their antibodies. A fourth appointment is scheduled in March.
Son participates, daughter doesn't
Pfizer began a second study in November prior to the roll out of its vaccine for adolescents, and Senders Pediatrics notified patients' families of the option to participate for those ages 12 to 15.
The Feinbergs' daughter, Cydney, 12, a sixth grader at Brady Middle School in Pepper Pike, decided not to participate because she did not want to undergo a COVID-19 test.
Their son, Gabe Feinberg, 15, a freshman at Orange High School in Pepper Pike, decided to take part in the national study that will include 2,000 people across the country. He went in for his first injection of vaccine or placebo Dec. 21 at Senders Pediatrics, where about 100 people his age are participating.
"My mom told me that kids my age would have the opportunity to do the trial," Gabe said. "After seeing my parents go through it, I guess I wanted to do it too, 'cause I just thought it would be super cool to … help science … and get closer to a cure for this."
He said he also thought it would be good to possibly get the vaccine as protection against COVID-19, since 50% of the people in the study get the vaccine. He is involved with Mercury Theatre Company in South Euclid and takes part in U.N. Mock Trial and the Israeli culture club at high school. He said he saw the opportunity to take part in the study as a way to help the community, which he identified as a Jewish value.
"The nurse we worked with was really, really good with us," said Gabe, adding he was concerned about the COVID-19 test. "It was a few seconds of my life. It's just uncomfortable for a second."
Since receiving his first injection, he said he has felt fine.
"Nothing has changed for me since I've gotten it," Gabe said in a Dec. 28 interview. "I felt completely normal for the past seven days."
Unblinding health care workers
On the same day Gabe received his first injection, his father received a third shot.
This time, Sam Feinberg was told he was getting the vaccine. He was one of 15 health care workers participating in the study through Senders Pediatrics who were told what injection they received initially and were vaccinated subsequently, if needed. Sam learned he had been given the placebo in his August and September visits.
Dr. Shelly Senders, a member of Green Road Synagogue in Beachwood, said this was an unprecedented step on the part of Pfizer.
"Once emergency use authorization was granted last month, there was an ethical dilemma," said Senders, as some individuals participating in the study – including health care or front-line workers – received a placebo and thus were not protected against the virus after the first two shots.
Senders said all participants in the adult study will have the opportunity to be vaccinated, if needed, in visit four. His office will enroll more than 250 adults and adolescents in the Pfizer clinical trials. He has seven people on staff who work in his clinical trials division.
So while Sam and Michelle Feinberg initially started the study together, he is now getting more injections on his other arm.
"The person dispensing said, 'This is the first time I can actually tell someone what I'm giving to them,"' Sam said as he received the actual vaccine. "Most of the day I felt fine."
He said that evening, his arm began to feel sore and the following day, his arm continued feeling sore. That afternoon, "I just felt achy, I felt tired, a little fatigued – kind of wanted to not do anything."
Sam was born in Chicago, grew up at Congregation B'nai Tikvah in Deerfield and graduated from Deerfield High School northwest of Chicago and the University of Kansas in Lawrence. He received his medical degree from Kent State University's College of Podiatric Medicine, formerly Ohio College of Podiatric Medicine, in Independence.
About the research
Senders Pediatrics has been involved in more than 200 clinical trials over the past 20 years, Senders said.
"Almost every vaccine that is studied in children has gone through our office," he said.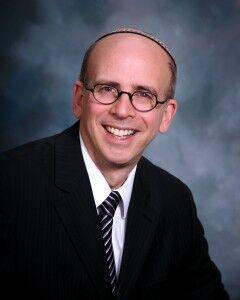 Pfizer approached Senders Pediatrics about participating in the adult study, initially on people ages 18 to 85 and later including those as young as 16.
"Part of the reason that they engaged with us was because they knew that once we enrolled the adults, we would be in perfect position to enroll children," Senders said. "We actually enrolled the first teenager in the country in a COVID trial a couple of months ago."
Pfizer is planning to run clinical trials on the same vaccine for children in June, and Senders Pediatrics will seek subjects who are 5 to 11 years old for that study.
Senders said the speed with which the adult and adolescent trials have been conducted has not compromised the quality of the data. He said time savings has been found in data review, with turnaround measured in hours and days rather than months.
"Every piece of data has to be submitted by the end of the day," Senders said. "Then it is scrubbed, or looked at, by somebody in India overnight, and we have questions or queries in our inbox at 8 the next morning."
He said responses from his office are made that day in real time.
"So the turnaround is two days instead of 60 days," he said. "So it's the exact same amount of information. It's just how quickly that information is being submitted, evaluated and scrubbed."
Question of immunity
Pfizer's vaccine is a messenger RNA vaccine that dissipates quickly in the body and triggers production of the COVID-19 "spike" protein that in turn triggers the immune response, Senders said.
"We're not injecting foreign protein," he said, adding that side effects some people have from the vaccine can be attributed to the body's immune response. "You want that type of reaction because it means your body is producing an immune response to that particular vaccine."
Senders said the length of time the vaccine will give protection to people depends on the vaccine's effect on the cells within the body. He said the key question that has to be answered is whether the vaccine will provide immunity in both antibody protection and T-memory cell, which are both necessary in guaranteeing long-term protection against COVID-19.
Taking no chances
Sam Feinberg said even after he receives his second dose, he has no plans to change what he does in his practice.
"I think I'll feel a lot better … eight days after my second shot (when) I'm at 95, 96% protection," he said. "I'm not changing any of my habits in the way I've been practicing."
Like his wife, Sam said the couple wanted to give back.
"Because of my medical background … I really appreciate science," he said.
Michelle's parents are in their 70s and part of her motivation in participating was to protect them.
"I think maybe there's a little bit peace of mind that you're protected," she said.