Photos that may contain images of convicted Nazi collaborator John Demjanjuk at the Sobibor death camp raise the specter of a story that divided Cleveland and the world for decades.
The photos were released Jan. 28, the same day the U.S. Holocaust Memorial Museum in Washington, D.C., took legal possession of the photos.
As in many revelations regarding the case, there are complexities and questions surrounding the identity of figures in the photos identified as Demjanjuk, the Seven Hills auto worker who was extradited in 1983 and deported in 2009 by judges in the U.S. District Court for the Northern District of Ohio in Cleveland. He was tried four times for war crimes in Germany and Israel.
Demjanjuk died in 2012 at the age of 91 in a nursing home in Germany while awaiting an appeal.
His case deeply divided the Ukrainian-American and Jewish communities in Cleveland as both Jews and Demjanjuk's supporters demonstrated at the time. Some Jews donned costumes modeled after the uniforms of concentration camp prisoners.
Two of the 361 photographs – from a collection of two photo albums, loose photos and papers belonging to Johann Niemann, the deputy commandant of the Sobibor camp – may contain images of Demjanjuk.
The images depict commandants relaxing, the exterior of the camp as well as Trawniki officers on duty. Some of the images were taken at other locations, including another death camp, Belzec.
At least 167,000 Jews were murdered at Sobibor between April 1942 and November 1943.
"Martin Cueppers, a Holocaust historian at the University of Stuttgart, said researchers concluded that Demjanjuk is 'probably' depicted in at least one case in conjunction with the criminal police office in Germany's Baden-Wuerttemberg state, whose biometric department agreed to examine the historical photos," The Associated Press reported.
However, sources who were close to Demjanjuk cast doubt on the identity of the person pictured, while historians analyze the historical significance of the photos.
Identity unknown
Demjanjuk's son, John Demjanjuk Jr., who lives in Broadview Heights, cast doubt on the possibility his father was pictured in the photos.
"The photos are certainly not proof of my father being in Sobibor and may even exculpate him once forensically examined," Demjanjuk Jr. wrote in a Jan. 28 email to the Cleveland Jewish News.
He also alluded to his father's status as a prisoner of war.
"Further, as an American of Ukrainian descent who has studied the subject for most of my life, it's shameful for Germans to continue generally blaming Ukrainian POWs for the crimes of the German Nazis," Demjanjuk Jr. wrote. "Historical evidence has proven that captured Soviet POWs were coerced to serve under a threat of death if they were not among the millions who perished in German POW camps."
Comparing photos, Demjanjuk's lawyer in Germany, Ulrich Busch, said he believes the new photos do not show the evidence the researchers describe.
"The publishers did not produce the results of the experts," Ulrich Busch wrote in a Jan. 28 email to the Cleveland Jewish News. "They did not say which photos they used for a comparison. ...If you compare the new pictures with (a photograph) 1393, you do not need to be an expert to right away see that 1393, whoever it shows, is a completely different person. Especially the chin and the nose are completely different. The attempt to show evidence, that Demjanjuk was in Sobibor, failed."
Edna Friedberg, a historian at the U.S. Holocaust Memorial Museum, said she does not know whether the photos contain images of Demjanjuk.
"We have not even seen a copy of the police report or what the analysis was, so it's not that we confirm or doubt it. We just haven't seen it in order to even assess," Friedberg said.
However, she said regardless of who is pictured, the photo collection points to issues of "guilt and complicity" as it depicts almost 400 auxiliary guards, who trained at Trawniki SS Camp and served at Sobibor.
"Whether it's a name we recognize or not, it represents a human being who murdered other human beings," she said. "So I don't want us to be distracted by a famous name and not forget that either way, it is someone who was central to genocide."
Photos reveal other new information
The photos will have value to those trying to understand the Holocaust, Friedberg said, as they paint a picture of the Final Solution and how it was carried out.
"For example, it shows us how professional networks among people (were) involved in different killing programs," she said. "So the 'euthanasia' program of people with disabilities provided a direct staffing pipeline into the killing centers in Occupied Poland – and this collection illustrates that vividly. We see the same personnel advancing up the career ladder of the Nazi hierarchy."
She also reflected on the role of women in the Holocaust and what the photos demonstrate. For example, wives of perpetrators are shown with their spouses and local civilian Sobibor women are shown relaxing and socializing with members of the SS.
In addition, she said the photos show the close relationships between the upper echelons and the Trawniki auxiliary guards.
"It shows us the centrality of the close to 400 Trawniki auxiliary guards who served at Sobibor over the course of this operation," Friedberg said. "We have images of them patrolling the perimeter of the camp. We have images of them on a junket to Berlin that was given as a reward for good performance. And just looking at the body language of the people in these images, we see high-ranking officials of Hitler's chancellery looking relaxed and chatting with some of these Trawniki auxiliaries. So the pictures give us a sense of how closely these people worked together."
In addition, she said, the photos corroborate eyewitness testimony about Sobibor, one of six Nazi-run camps during World War II. Sobibor was also the site of the most successful attempt by prisoners to escape a Nazi extermination camp during the Holocaust.
"There is an image that shows the entrance gate to Sobibor with tree branches woven into the fence to camouflage what's happening inside and the description of how the gate was decorated with SS flags directly corresponds to testimony of a survivor in West German court in 1962," she said.
"It puts into literal black and white what we had known to be true, but just confirms it. And it confirms it through the souvenir album of one of the people who ran the killing center."
A home for the collection
In addition to two photo albums, there are about 50 loose photographs of Sobibor, "a handful" from the Belzec death camp and 14 loose photographs that show Niemann's funeral, along with letters to his wife, Henriette, Friedberg said.
Niemann's grandson turned over the materials to two volunteer German historians, who donated them to the U.S. Holocaust Memorial Museum.
"Often one reason that material like this is so rare is that perpetrators or their families would destroy material like this lest it be used as evidence against their loved one in a criminal proceeding," Friedberg said. "But because Niemann had been killed, he couldn't be prosecuted. So, presumably, it just stayed in the family home and it wasn't until 2015 that Niemann's grandson shared it with a local historian who was doing research into his hometown. So, for decades, it just lay there. Whether it was forgotten or thought unimportant, I don't know. But it was unknown to us."
Sobibor Perpetrator Collection from the United States Holocaust Memorial Museum
Friedberg said the German researchers chose to donate the collection to the museum partly because one of them had served as a fellow at the museum.
"They were looking for a repository for the collection that could accomplish two things: one, make sure that it was conserved and safe in perpetuity, and two – equally significant – make sure it was accessible and could be examined and analyzed in a much broader context of other evidence of the Holocaust," Friedberg said. "And the size and scope of our collections are the largest in the world so that made it a natural place, but we are very, very grateful to these German partners. They've worked on it meticulously for several years and we are all the beneficiaries of their research."
Niemann was the first person killed during the prisoner revolt and escape that took place on Oct. 14, 1943.
"Niemann was known to be very vain," Friedberg said. "He had special uniforms made for himself. And the album includes vanity shots, posing looking very dramatic on a horse wearing these special uniforms.
Friedberg said it was that vanity that led to his death.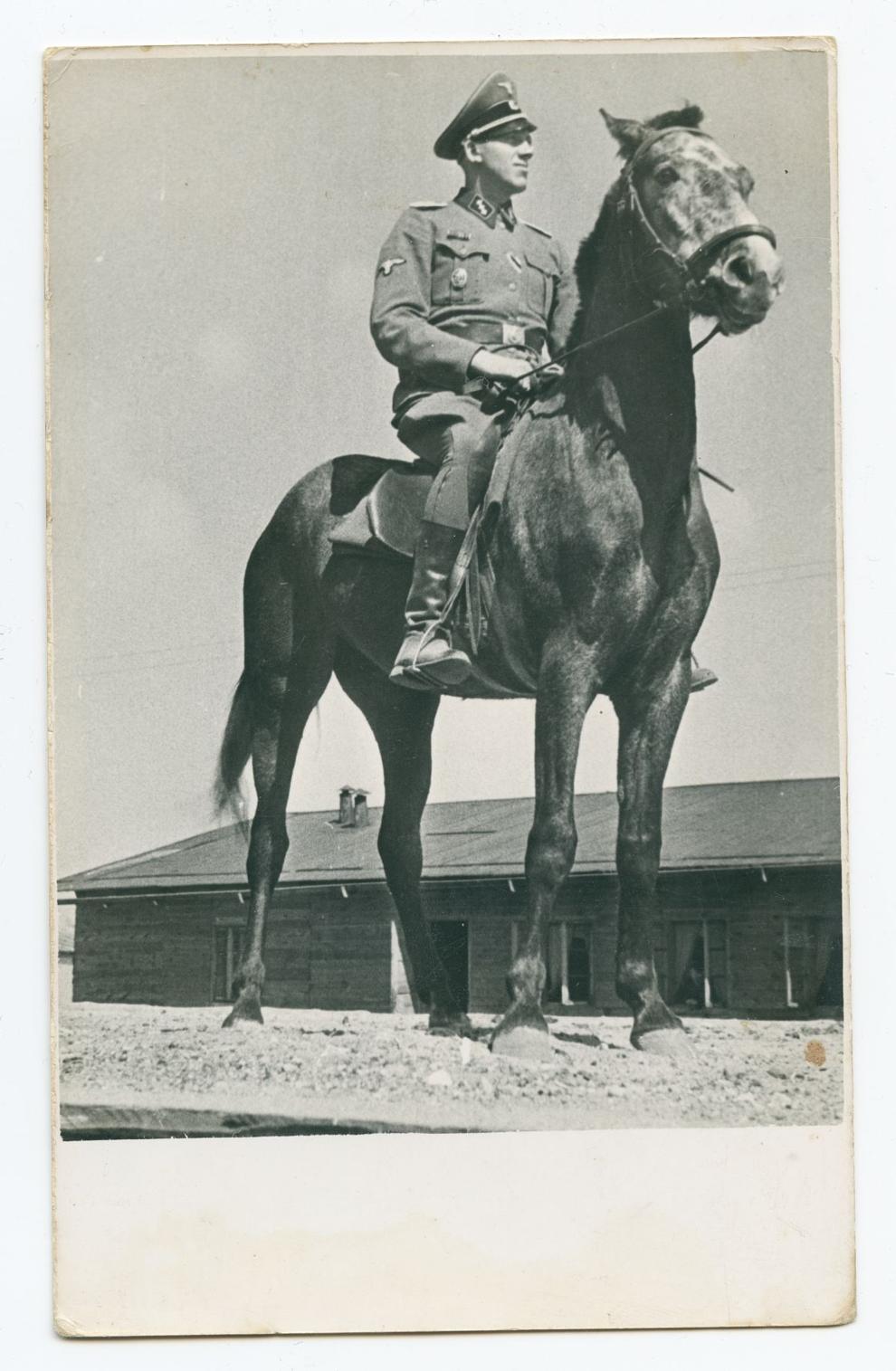 "On the day of the Sobibor uprising, Niemann was lured to a tailor shop in the killing center for a fitting," she said. "And it was there that he was hit over the head and killed. So the prisoners, the Jewish prisoners, knew that – that was a weak spot for him and used that to their advantage."
Kurt Thomas, who lived in Columbus and died in 2008, described watching Niemann walk to his death in a clip from a videotaped interview the U.S. Holocaust Museum has on its website with information about the collection.
"He came on a horse," Thomas recalled, explaining that there was a bakery near the entrance gate to the camp.
He said Niemann told the baker, "'Baker, hold her, keep the horse.' … He walks just as slow as ever with his hand on the back and his whip, and enters the tailor shop. And as soon as he entered, they must have hit him over the head – was the end of Niemann. … That was the only SS man I have seen walking to his death."
A survivor and her son
Esther Raab, who lived in Vineland, N.J., escaped from Sobibor as well. She died in 2015.
She lived in Berlin after World War II and recognized the "gas master" of Sobibor at a park riding a merry-go-round with his family. She turned him into the police at the time and identified him at trial. She also attended trials of others at Sobibor, including that of Karl Frenzel, the camp's commandant.
In a videotaped interview remembering her experience in the concentration camp, she said camp transports typically came in at night. The prisoners were alerted with a whistle to unload them.
"That whistle would tear out your insides," she said in the video.
Marvin Raab, of Cherry Hill, N.J., said his mother remembered Demjanjuk as a guard at Sobibor.
"She remembers being there and seeing him, but she didn't have a lot of interaction with him," Raab told the CJN. "It wasn't like he was the guard over the women's section."
Demjanjuk's son said Esther Raab did not definitively identify his father at Sobibor.
Raab, who visited Sobibor with his mother, said he had no opinion about whether the images portray Demjanjuk.
"After the escape, they tore everything down," Raab said. "They planted trees. You could still see the area where the ashes (are), because no trees or anything will grow on it. So there's a big mound of ashes like in a round, circular thing they built. Israel had put up a monument there where the gas chamber was.
"And they found like people's rings and people's jewelry," he said. "They found pieces of things Jews had. You basically now can walk through at the camp. It's not buildings, but you can see a path that the people took. There's a little museum there as well."
Raab serves on the New Jersey Commission on Holocaust Education. New Jersey requires two weeks of Holocaust education per year for high school students. He said seeing the images from Niemann's collection had an impact on him.
"Seeing the pictures and seeing the faces of the murderers makes it difficult," he said. "It's difficult to think that these people made her life so miserable. … Each person there, they were selected to do this kind of work. They went through training. They had to be a special kind of lowlife to do this kind of work, and they did anything they wanted."