The death of U.S. Supreme Court Justice Ruth Bader Ginsburg on Sept. 18 has reverberated with three women who met the Supreme Court icon at different points in her life.
Ginsburg, who is the first woman to lie in state in the U.S. Capitol, is remembered as a champion of women's and minority rights, a fierce believer in the separation of church and state, as well as an opponent of discrimination.
Ginsburg as a mentor
Barbara Kaye Besser came to Cleveland to study law at Cleveland-Marshall College of Law at Cleveland State University, where she became a clerk for two summers at the Women's Law Fund Inc., which worked on sex discrimination cases in the 1970s and widened its focus in later years.
When Besser applied for a full-time job as a staff attorney at the Women's Law Fund, one trustee objected to her candidacy on the basis that Besser's husband was employed at the Equal Employment Opportunity Commission.
That objection did not sit well with Ginsburg, a board member, Kaye Besser recalled to the Cleveland Jewish News.
"Judge Ginsburg started making arguments on my behalf," she said. "Instead of me being conflicted out, the board member was conflicted out."
Kaye Besser, who served as a staff attorney for about a decade, lives in Beachwood. She remembers being intimidated when she approached Ginsburg for legal advice, not because of the then-professor's demeanor, but because of her reputation in the field.
"I was scared to death," she said. "She was highly thought of. We were just little kids."
Ginsburg as an icon
As a child, Gayle Horwitz first became aware of Ginsburg after she was appointed to the U.S. Supreme Court.
"I just knew that she was a Jewish woman on the United States Supreme Court, and that alone was incredible to me just because she seemed like she could be a member of my own family," Horwitz told the CJN. "She just seemed to have such a connection to the life that I knew and the people I knew."
The Solon resident said she studied Ginsburg while she was in college, writing a term paper about her legal career. She sent Ginsburg a letter about the term paper. In return, Ginsburg sent Horwitz a personal note and a signed photo.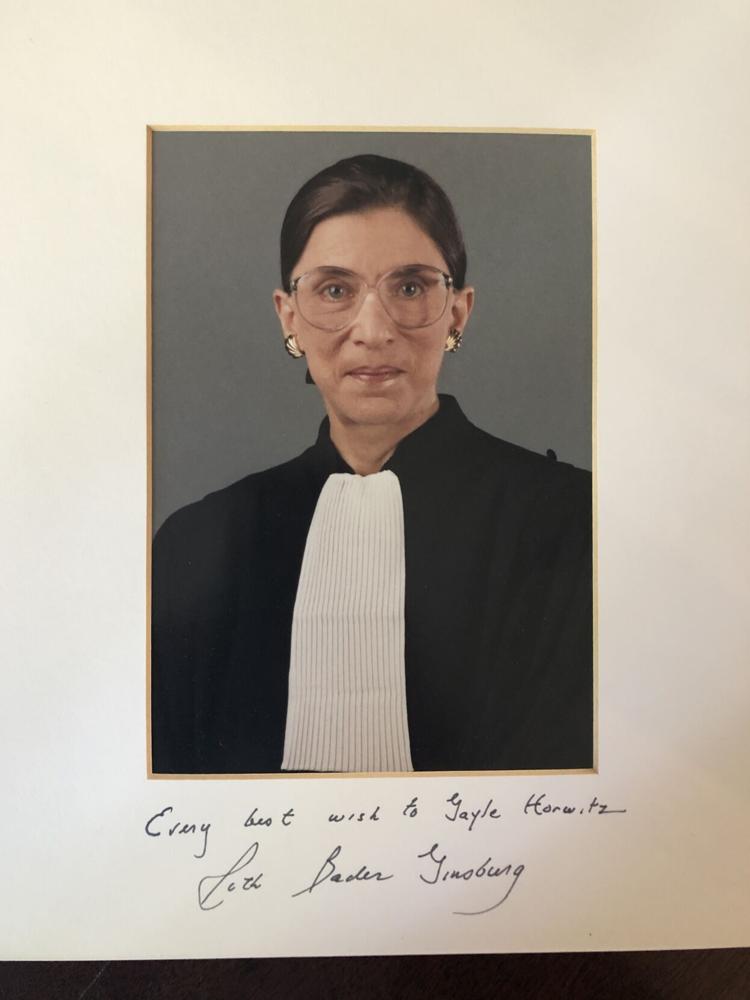 A year after graduating, Horwitz volunteered in order to attend the American Constitution Society convention in 2003, at which Ginsburg delivered the keynote address.
The interns were seated at the back of the hall.
"I never dreamed that we actually would have the chance to speak," said Horwitz, but she approached Ginsburg, whom she described as a "tiny woman."
She recalled the justice was wearing "these beautiful little gloves. She was just so elegant.
"It seemed like the waters parted," she said. "I looked and she was standing right next to me."
Horwitz asked Ginsburg if she could have her photo taken with the justice.
"I was almost frozen with excitement, but I felt this is going to be (my) one chance," Horwitz said.
And yet, there was another chance 10 years later. Her final time meeting the Supreme Court justice was at a lunch with her mother-in-law, Besser, in Chautauqua, N.Y., in 2013.
Besser and Ginsburg had kept in touch and arranged to meet for lunch after Ginsburg delivered a speech at the Chautauqua Institution.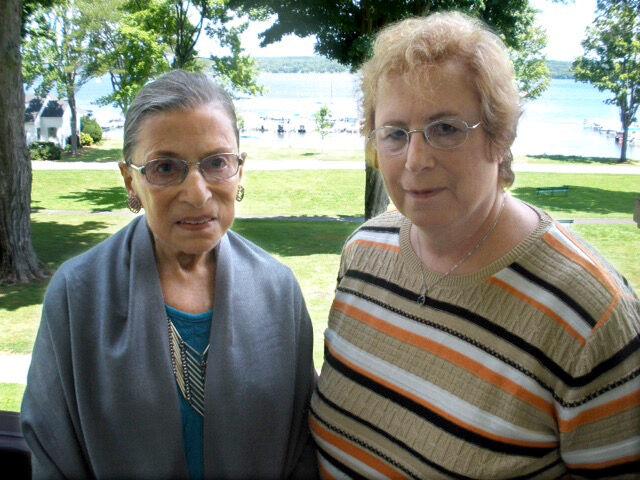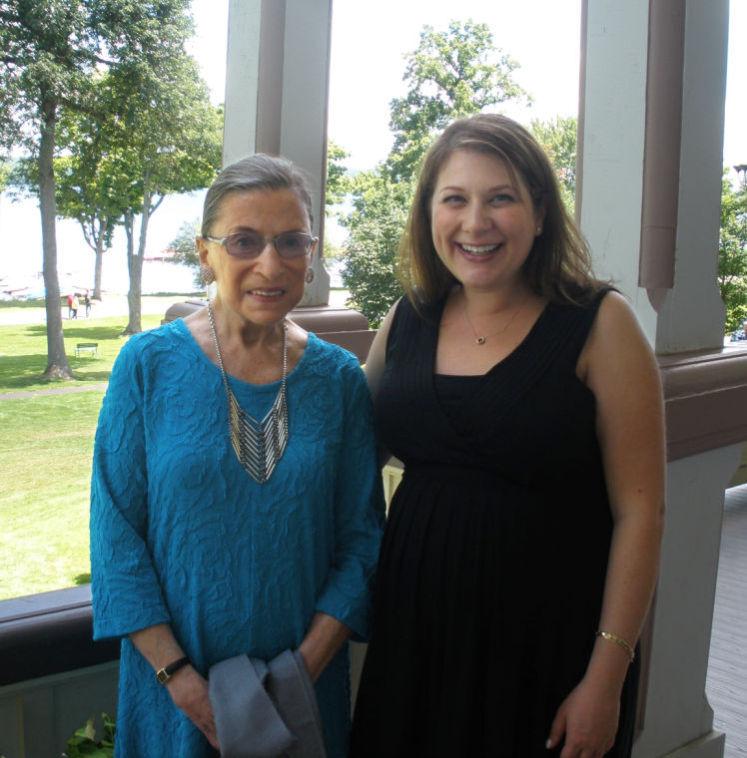 "It was an extraordinary thing," Horwitz said, who sat next to Ginsburg at the lunch, where there was a small group of friends and associates.
Ginsburg told stories about her husband, Martin, about being a female lawyer and about serving as a justice.
At the time, Horwitz was more than eight months pregnant with her first child, a son.
"I told her that I was pretty nervous about the transition from being not just a working woman, but a working mother," Horwitz said. "She was really reassuring and told me how much she … liked hiring clerks who are parents, and how much she worked to support their work-life balance, how it was really important to also advocate for yourself when you're in that position."
At that lunch, Ginsburg also spoke about her objection to the words "In the year of our Lord Jesus Christ" being on the admissions document to the U.S. Supreme Court.
"For years she had talked to Chief Justice (William) Rehnquist (and said) there should be sort of an opt out," Horwitz remembered Ginsburg telling her.
Rehnquist changed that four years later.
"She really lived her values," said Horwitz, a former CJN intern. "She was completely committed to making sure there was a place (for her staff) to have their family life and their professional life, as long as they were working for her."
In addition, Horwitz recalled that Ginsburg confided to Besser and to her that she was "extremely excited" to be having lunch with then-President Barack Obama the following day.
After Horwitz's son was born, Ginsburg sent a handwritten note addressed to him.
"To Samuel Joseph Brennan Besser," it read in a neat, calligraphic handwriting. "Welcome to the world, and every good wish to all in your family."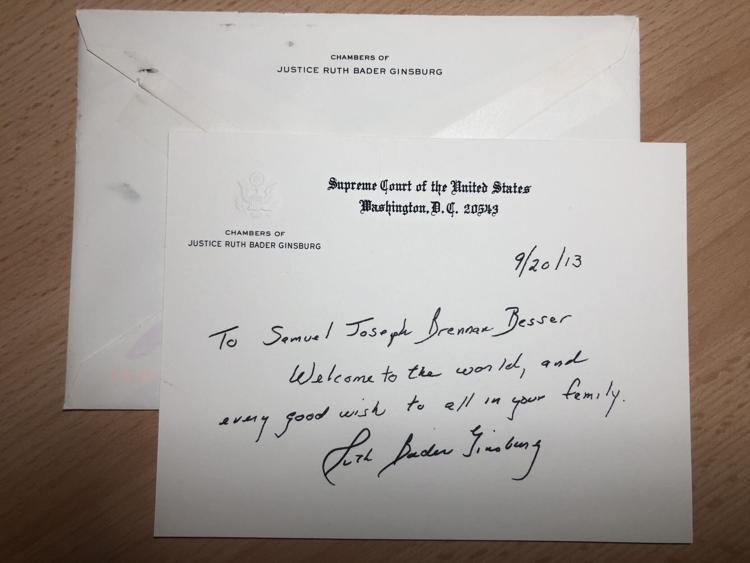 Horwitz said Ginsburg's genius was in her understanding of the impact of discrimination on society.
"What was so genius about her is that she showed how when our society discriminates, it really hurts us all," Horwitz said. "It hurts every single person because it's depriving our society of the gifts of whatever the discriminated against group is."
Ginsburg as a camper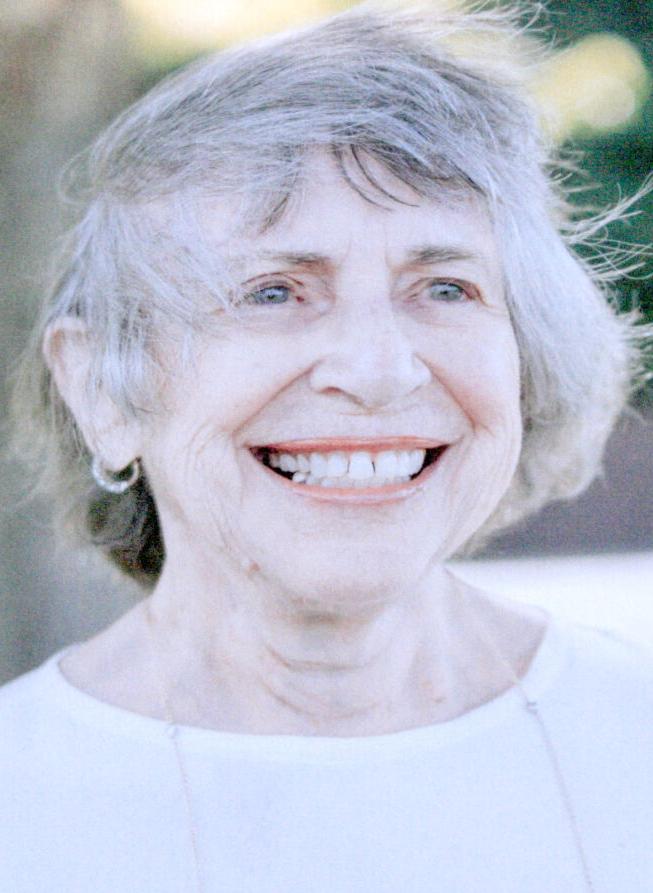 To Elaine Gross, 96, Bader Ginsburg will always be Kiki.
Gross met Ginsburg when she was a counselor and Ginsburg was a camper at Camp Che-Na-Wah in Minerva, N.Y.
"She was quiet," Gross recalled. "She was the sweetest little girl."
Gross, who was born in Troy, N.Y., and lives in Beachwood, said Ginsburg wrote for the camp newspaper and was "quite athletic."
In July 2009, the two corresponded.
"Your note revived sunny days on Lake Balfour," said Ginsburg, referring to the camp in the Adirondacks. The letter referred to others at the camp and Ginsburg enclosed a photo of herself and her daughter.
She signed it, "With appreciation and every good wish, Kiki."