Marking the eighth anniversary of her stabbing outside of 75 Erieview Plaza in downtown Cleveland, Beachwood nurse Aliza Sherman's family and friends recalled her impact and kindness toward all who knew her at a combined in-person and virtual vigil on March 24.
Jennifer Sherman, Sherman's daughter, addressed more than 60 people tuned in to remember the 53-year-old Cleveland Clinic in-vitro fertilization nurse, who died at MetroHealth Medical Center in Cleveland on March 24, 2013.
"While it wasn't perfect, going down there, as much as it is extremely difficult, it is important to stand there and go where it happened to remind everyone," Sherman told the Cleveland Jewish News March 31. "I made a commitment to my mom that we would go down there every year to advocate for justice. It was a nice experience to still be able to have a lot of our support system with us."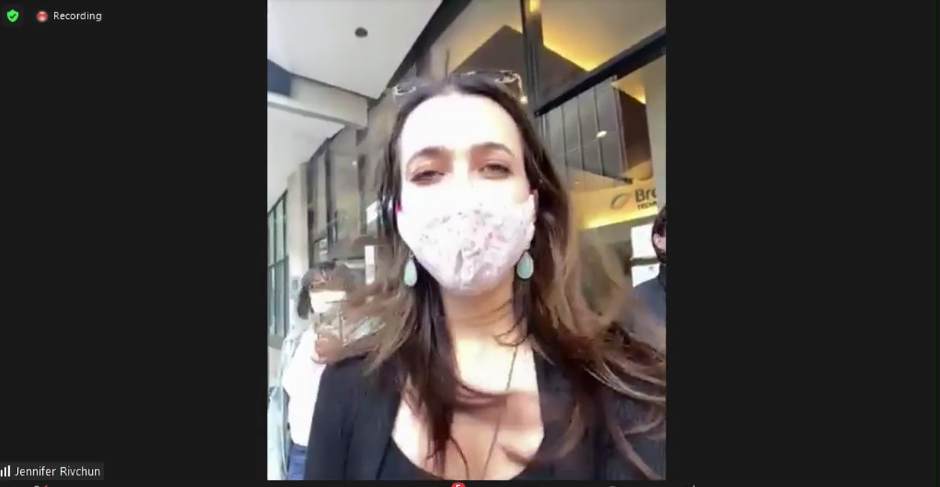 Holding it partially in-person and partially virtual allowed for even more people to mourn as a group, Sherman said. Last year, the pandemic hit Northeast Ohio a week before the seventh anniversary of her mother's death, causing a quick pivot to a virtual-only vigil. While it got the job done, Sherman said she learned a lot, applying many of those ideas to this year's meeting.
"That Zoom call really opened my eyes to the possibility of this, and it was nice to have my mom's brothers, cousins and my in-laws from out of state, allowing them to join and be part of it when they normally wouldn't because of time and distance," she said.
During the vigil, Sherman reflected on the years that have passed since her mother's death. Saying there is always a focus on justice, two more words also come to mind – kindness and safety.
But in telling the CJN, Sherman expressed concern that Clevelanders and visitors alike continue to visit downtown, with an unsolved murder still hanging over the city. Sherman added her family has also formally requested Cleveland Police to turn the case over to the Ohio Bureau of Criminal Investigation.
"They reassured everyone within a day that this was a targeted attack and that no one else was in danger, and if that is true, then prove it," she said. "What are you doing about it? And that still doesn't change the reality that someone was able to do this in broad daylight, and nothing happened. It shows the level of tolerance of that type of crime because nothing has been done. No one has been caught. There is still someone that was able to get away with it."
Jan Lash, Aliza Sherman's best friend, read a poem in memory of her late friend. Two more speakers also addressed the attendees, one identified just as Amy, an in-vitro patient of Aliza Sherman's. Because of her mother's care, Amy now has a 9-year-old son.
While the last eight years have been "devastating," Sherman said she gets a lot of messages from people with similar stories.
"I would do anything to go back in time and get my mom back, but I also look forward to the blessings I have in my life that I am sure my mom sent my way," she said.
The other speaker was a private investigator the family hired to look into the case, Ken Brennan. He addressed viewers and reporters, giving his opinion on the case and what he's found. He focused on the realities of solving murder cases, noting it's never like it is on TV.
"I can understand the levels of despair, anger and frustration that you're all feeling, especially Jennifer, of course, without any kind of resolution or justice in Aliza's case," he said during the vigil. "I'm sure you all know that real life and real tragedies aren't like the movies or TV where within an hour the case is solved, the guilty guy is arrested and sentenced. A lot of the time, it doesn't happen like that – it's a marathon, not a sprint."