Drivers taking Lorain Avenue past West 20th Street in Cleveland might have noticed some interesting signs alongside One West Twenty, an upcoming development from Brickhaus Partners. The signs include black-and-white sketches featuring important figures in American history and a quote attributed to them. 
The sign on the far left of Lorain Avenue features President George Washington with the quote, "Few men have virtue to withstand the highest bidder"; President Abraham Lincoln is there with the quote, "Those who deny freedom to others deserve it not for themselves"; President Harry S. Truman is alongside his quote, "It is amazing what you can accomplish if you do not care who gets the credit"; there's President Franklin D. Roosevelt with the quote, "Remember, remember always, that all of us, and you and I especially, are descended from immigrants and revolutionists"; and Martin Luther King Jr. is displayed alongside the quote, "I have decided to stick with love … Hate is too great of a burden to bear."
In between Roosevelt and King is President Donald J. Trump. The president's quote is lifted straight from a now-infamous hot mic recording from a 2005 Access Hollywood taping that was uncovered shortly before Trump was elected in 2016 and contained audio of Trump bragging about kissing, groping and attempting to have sex with women without their consent: "Grab 'em by the %#@&!"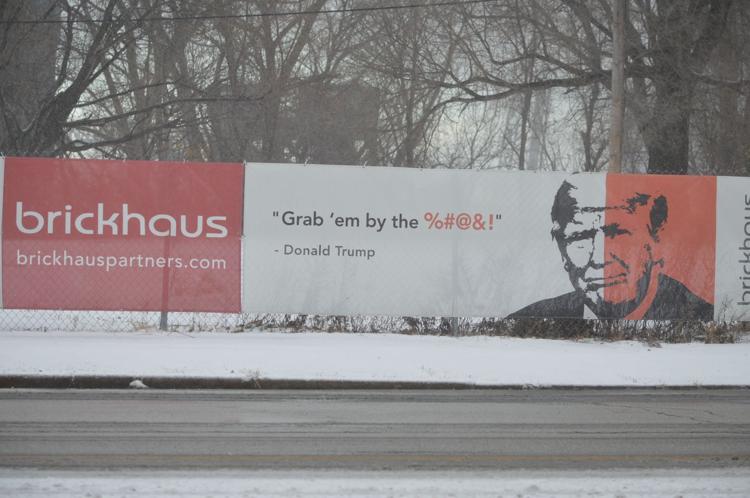 It's a stark contrast between Trump's quote and the other quotes, and according to Andrew Brickman, developer at Brickhaus Partners, that's deliberate in an effort to bring back civil discourse.
"I put (the signs) up because I wanted there to be civil discourse in this country again," Brickman said. "I think one thing that makes America so great is we can all harbor our own opinions and we can agree to disagree. But (in) the current atmosphere, there's so much acrimony and rancor, that I think when you see that being acceptable at the highest level, you sort of translate that it's acceptable at your level. So, it has an effect upon the entire culture, I believe. I think we need to get back to having meaningful dialogue. I think that we also need to try and engage one another and help one another. It certainly wasn't meant to be anything political."
To his last point, Brickman points to there being non-presidents and presidents from different political parties on the signs, and he said he thought that using the quote he selected from Trump, especially with the recent outpouring of sexual harassment and misconduct allegations and firings among powerful men in politics, the media and entertainment, could have a "subtextual approach" regarding the harassment allegations Trump himself faces from numerous women.
"The main point is we need to be more civil to one another," Brickman said of why he put up the signs. "And we need to have a more civil dialogue. That's the main thing, that our leaders need to inspire us to be great. But to be great means to be civil to other human beings. I mean, you can't imagine Mahatma Gandhi or the Dalai Lama saying these sorts of things. 
"I think by our leadership saying them and we seeing them, it condones that it's acceptable. And I don't know, to me, I would just want more from both parties. Not just from one party, but more from both. And that's why I chose to put up presidents and leaders from a variety of different parties so it wouldn't be interpreted as a political statement. It would be apolitical."
The signs have gotten people talking, at least. Brickman said he's received calls "out of the blue" from people he "hasn't heard from in years" and he said all the comments he's gotten have been positive, from across the entire political spectrum. 
"I didn't know what was going to happen, but I at least wanted to create some sort of awareness," he said.
The signs appear temporary, having gone up a couple of weeks ago, but Brickman didn't commit to the signs coming down at any point or provide a timetable for how long he wants to keep them up. He said he's concerned more about the signs, which were designed by Brickhaus Partners, being stolen, and said he thinks they will be gone before the properties at One West Twenty are ready. 
"They could be pieces of art, I mean we really created what I think is a very artistic display," Brickman said. 
When asked if he had been a supporter of Trump's, Brickman, who is also developing Twenty Four Hundred in Beachwood, said he was "a supporter of this country."
"I'm a supporter of whoever our democracy has deemed to be its leader," he said. "But I'm an American first. I don't identify as a Democrat or Republican, liberal or conservative. On some things, I probably lean more conservative, on others, probably more liberal. I just want thoughtfulness and dignity and discourse that is productive rather than the antagonism and the attacks on everybody."