Legendary composer Stephen Sondheim, whose lyrics transformed the American musical comedy, was remembered by Ohioans not only for his artistic prowess and influence on American culture, but as a kind and generous person. He died Nov. 26 at the age of 91.
Sondheim, who first rose to prominence as the lyricist of "West Side Story," went on to score musicals and win awards, while injecting a heightened level of honesty and grit into the genre.
Sondheim said his favorite show was "Sunday in the Park with George," his first collaboration with Mansfield native James Lapine, who wrote the book. Sondheim wrote the lyrics and score. The play won the Pulitzer Prize for Drama in 1985.
Lapine and Sondheim went on to collaborate on several shows. Later, Lapine documented Sondheim in the Peabody Award-winning HBO documentary "Six by Sondheim," which chronicles Sondheim's life and career through six songs he wrote.
Lapine chose Cleveland native Miky Wolf to edit the documentary, which was his first feature-length documentary.
"A lot of people wanted to make films about him, but he trusted James to do it," Wolf told the Cleveland Jewish News Nov. 30. He learned about the editing opportunity through a mutual friend.
"I sort of threw my hat in the ring and he took a chance on me," Wolf said. "Two Midwestern Jews kind of hit it off."
Wolf said he met Sondheim several times, but felt he got to know him most deeply through reviewing more than 200 hours of archival footage in making the film.
"And then by the time I met him, it was still a pleasure because … just to be in his presence was special," Wolf said.
Wolf said Sondheim "was not shy in front of the camera. And he was a very consistent storyteller and very articulate about his craft and passionate about his craft. So, he made for an incredible subject and somebody I've been obsessed with since my high school days when I was … acting in these musicals.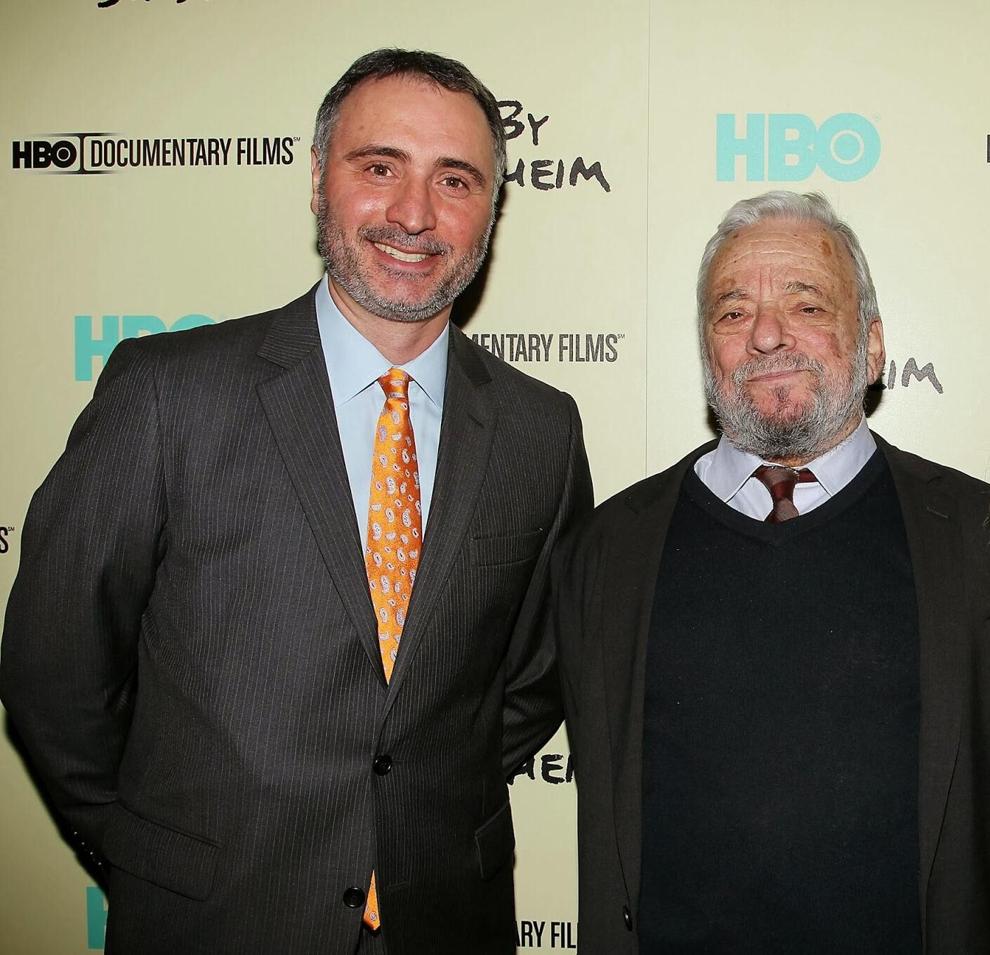 "And so it was a pleasure," said Wolf, likening the work to "somebody paying me to do something I'd be happy to have done in my off hours, on my own time."
In a 2014 interview with the CJN, Wolf spoke of Sondheim's approach.
"The thing that I consider the most Jewish trait of Steve's is his tendency to always examine and explore and question things," he said. "This can be seen in how he works as well as in the subject matter of his musicals and the inquisitive nature of his characters. That is a very Talmudic approach to one's craft."
Sondheim credited Oscar Hammerstein II with teaching him everything he knew about writing for the musical theater, after a teenage Sondheim presented Hammerstein with a show he had written and asked for a professional critique.
At one point during "Six by Sondheim," the camera shows a game in Sondheim's apartment called "The New Game of the Jew," which he described as a game that "taught kids to be antisemitic."
Sondheim said it was "a hateful game" but "pretty to look at." The gift of that game, he said, started him collecting games from the 19th century.
Pamela Hill, a director for the Jewish Community Center of Greater Columbus' Gallery Players theater troupe, remembered Sondheim as a kind, generous man with whom she and her friends corresponded.
Hill and another 10 Columbus women, who make up a social group called Ladies Who Lunch Club, named for the song "the Ladies Who Lunch" from the play "Company," had corresponded with Sondheim for close to 40 years.
"I think he found us refreshing," Hill told the Cleveland Jewish News. "We didn't talk about music – we were interested in his other passions, his love of games, mysteries, puzzles, dogs, travel, etc."
Hill said it was always her group's dream to meet him. In 2010, the group invited him to Columbus for lunch. While Sondheim wrote them to say he would be "delighted to meet us," he asked the group to come to his house in New York for lunch and to treat them to see his new show "Sondheim on Sondheim."
"He and his secretary greeted us at the door," she said. "He served us mimosas and took us on a tour of his garden and downstairs living room and dining room that were filled with games. We ate lunch, he told us stories, he posed for group and individual photos, and he talked to each one of us before we left to see his show. Later that night we flew home. It was a magical day. "
Their years of correspondence and the meeting made a lasting impression on Hill and her friends.
"Stephen Sondheim is known for his incredible music and lyrics, but for us, he will also be known for his generosity, kindness and sense of joy and fun," she said.
Born in New York City on March 2, 1930, Sondheim was the only child of Herbert and Janet Sondheim. His parents divorced. He attended George School in Bucks County, Pa., and graduated from Williams College in Williamstown, Mass. He married actor Jeff Romley in 2017.
Bob Abelman, who covers theater and cultural arts for the CJN, had a brush with Sondheim – through the mail.
Abelman said Sondheim was famous for writing letters back to theater artists asking for advice on their careers, who "received a very personal letter back, usually encouraging them, praising their artistic talents."
Abelman sought to set his novella "Murder Center Stage" on the set of the Sondheim operetta "Sweeney Todd." The book is published by Gray & Company, Publishers, in partnership with the CJN.
"'Sweeney Todd' is a dark musical that's grounded in murder," Abelman told the CJN Nov. 30. "I think it was just the perfect vehicle for a real murder to take place and then develop. … So I think it sort of provided the perfect context. And his words were beautiful to use. ... It just seemed a natural fit."
After Abelman wrote, Sondheim replied.
"And he sent me a personal letter personally typed on his letterhead, personally signed, and mostly what it contained was his lawyer's name and address," Abelman said. "It wasn't quite the letter I expected."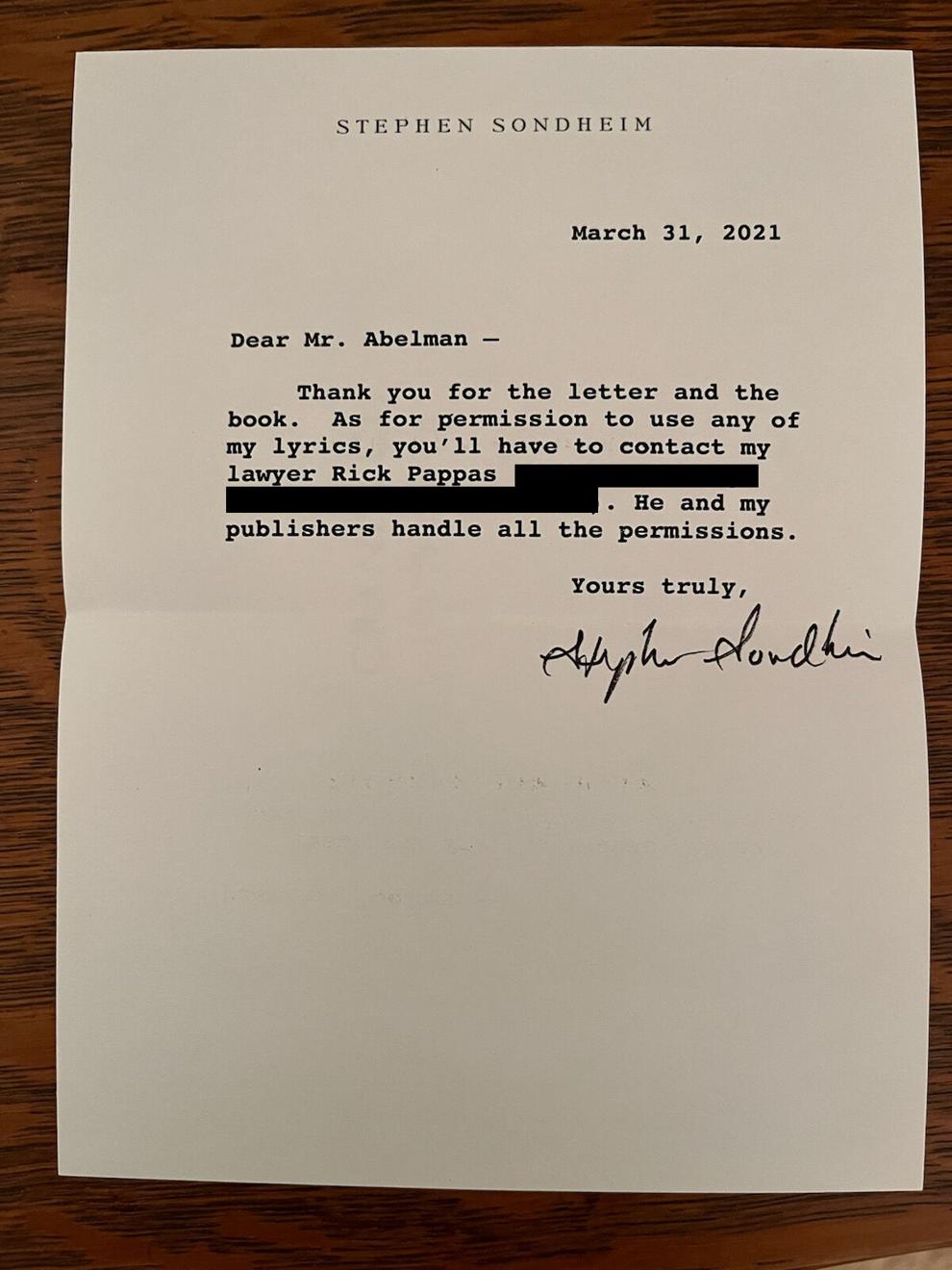 Over the years, Sondheim made several appearances in Ohio, including at Oberlin College in 2008.
"I don't create characters; I empathize with them," Sondheim said at the time. "It's easy to empathize and expand upon them when you're writing from your imagination."
Stephen Langel contributed to this story.